Matt James' 'Bachelor' Final Four, Final Two and Final Rose Spoilers
If you're anything like us, you're probably only going to enjoy this new season of The Bachelor if you know how it ends.
Hear us out: The start of Season 25 was anything but peaceful, as dozens of women were toppling over one another, begging for Matt James' attention. But there's a way to get through all of the petty drama, though, long before it eventually fades as feelings get more serious. And in our opinion, that's by knowing where The Bachelor's heart will land when all is said and done.
This season, there are spoilers for the show's end, though they're to be taken in with the knowledge that things can change. Bachelor Nation's beloved Reality Steve has been accurate about most season's endings, though this time, he's warned that there's a chance the news will shift as the season gets closer to its finale.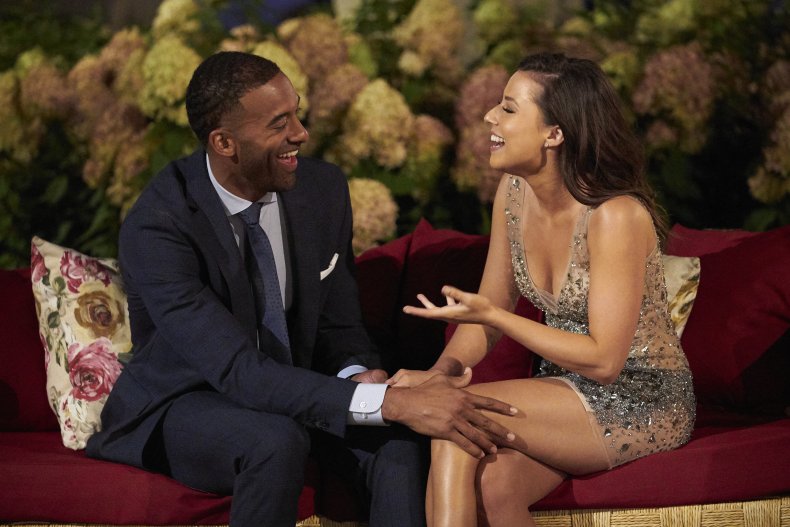 Still, Reality Steve has reported who the frontrunners in James' competition supposedly are, as well as the woman that he's said to be in a relationship with now, even after all of the cameras have turned off.
So what does the end of the season look like? So far, Reality Steve has only reported three of James' final four. That doesn't mean these women are the final three; any of them could be eliminated before the fantasy suite episode, and that unknown fourth woman could fill their spot.
The three who are known to enter the Hometown Dates on James' season, according to Reality Steve, are Serena Pitt, Rachael Kirkconnell and Michelle Young. Young's name may be new to readers, as she has yet to enter the series. Next week, five additional women are expected to join James' group of contestants, though out of them, only Young is reported to make it far in the competition.
While the info isn't totally solid, Reality Steve does have an inkling about who that fourth woman during Hometown weeks could be. "I do not know who the 4th girl is, although I was told it was Bri Springs, I haven't gotten the confirmation I needed," he wrote in a recent blog post. "But since I'm just laying out everything for you that I was told pre-season, there you go."
Spoilers for the rest of the season come from word of mouth in small-town Georgia, which is where the rumored winner is from. Apparently, Kirkconnell will win the series and the runner-up will be Young.
Reality Steve has his doubts, though. "Maybe Rachael did win," he wrote. "All I'm saying is that if she did, she, her family, and her friends are doing an awful job of keeping it secret because word is spreading around Cumming, GA faster than you can shake a stick at. So are these people just dumb and not keeping their mouth shut, or, is this another [Madison Prewett, who was falsely rumored to be Peter Weber's winner] situation where one person says it, it spreads like wildfire, and it isn't true?"
So there are rumors to go off of this season, but the actual endpoint for Season 25 has yet to be revealed. If James' run is like any recent one, there may even be unexpected relationship hurdles or switch-ups after filming ended. For now, though, there's no reason to think that James didn't get his "happily ever after."