Matt James' 'Bachelor' Season Just Got a Whole New Ending—Spoilers
If you've been following the spoilers for Season 25 of The Bachelor, you probably know who Matt James is expected to choose at the end. The pair are no longer together, though, Reality Steve reported on Monday, and it seems to be because of the major controversies surrounding the recipient of James' final rose.
Until now, it's been reported that James and Rachael Kirkconnell ended the season in a relationship and were happily dating post-filming. If they were ever engaged is still unknown, though it seems likely given the normal Bachelor finale fashion: a ring is typically involved, even if the couple chooses to have a long engagement.
Ring or no ring, Kirkconnell and James apparently called it quits after photos of Kirkconnell attending a "plantation-themed" sorority party surfaced online. There were other photos, too, that popped up, of Kirkconnell apparently dressed in culturally insensitive costumes. These sorts of revelations would be upsetting to viewers during any season of the reality TV show, but they stung particularly hard given that James is the first-ever Black Bachelor.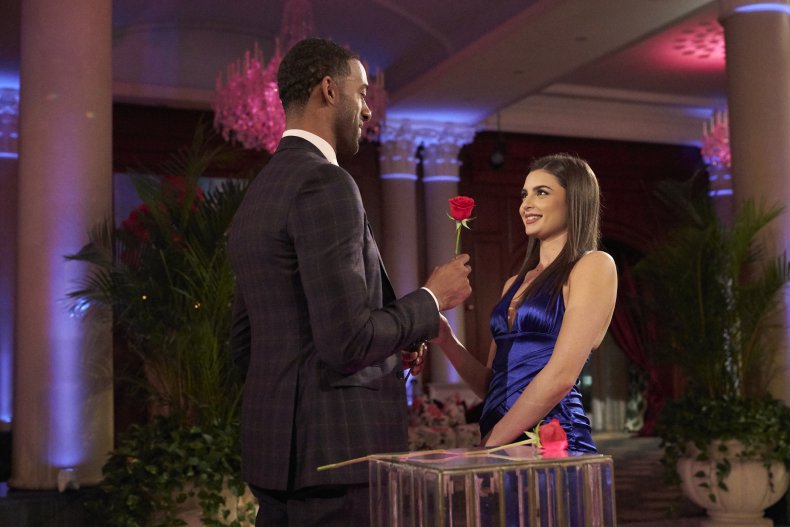 Kirkconnell apologized for her past behavior in a lengthy Instagram statement on February 11. "I am ashamed about my lack of education, but it is no one's responsibility to educate me," she said. "I am learning and will continue to learn how to be antiracist, because it's important to speak up in the moment and not after you're called out. If you are a person who doesn't understand the offense in question, I urge you to learn from my mistakes and encourage you to use them as a teachable moment."
She released her statement after (now former) host Chris Harrison spoke up to ask for compassion and understanding on Kirkconnell's behalf. Backlash ensued following Harrison's remarks, and he ended up apologizing and stepping aside from the show.
James shared his own statement on Instagram on Monday night and revealed that the recent controversies have been "heartbreaking." While James never publicly admitted to being in a relationship with Kirkconnell (there are still a few weeks until the Bachelor finale) his statement mentions her specifically.
"The reality is that I'm learning about these situations in real time, and it has been devastating and heartbreaking to put it bluntly," he wrote. "This moment has sparked critical conversations and reporting, raised important questions, and resulted in inspiring displays of solidarity from The Bachelor nation. It has also pushed me to reevaluate and process what my experience on The Bachelor represents, not just for me, but for all the contestants of color, especially the Black contestants of this season and seasons past, and for you, the viewers at home."
Near the end of his statement, James said, "I will continue to process this experience, and you will hear more from me in the end."
Viewers can expect the full story when James and Kirkconnell's relationship is finally confirmed on the series. At this point, it seems necessary for ABC to address the behavior of both Kirkconnell and Harrison publicly—even on the "After the Final Rose" special this season.
James' season was praised at the start for featuring the most diverse cast in Bachelor franchise history. Now the season's been tainted by a flurry of controversies that don't seem to be dying down, and which may likely end up undercutting the tension of the next few episodes.