Matt James and Rachael Kirkconnell Spotted Together, 'Bachelor' Reports Say They're Dating
The Bachelor didn't end well for Matt James, but it seems like his love story could have a happy ending after all. James was apparently spotted in Brooklyn, New York, this week with Rachael Kirkconnell, the woman he broke up with after the series.
If you're reading this, you probably know the backstory. Kirkconnell found herself the center controversy when photos of her attending an "antebellum-themed" sorority party in 2018 surfaced. Kirkconnell apologized multiple times for the behavior and promised to do better. But James left her after they promised to keep dating after the show, and he encouraged her to educate herself on the struggles of Black Americans.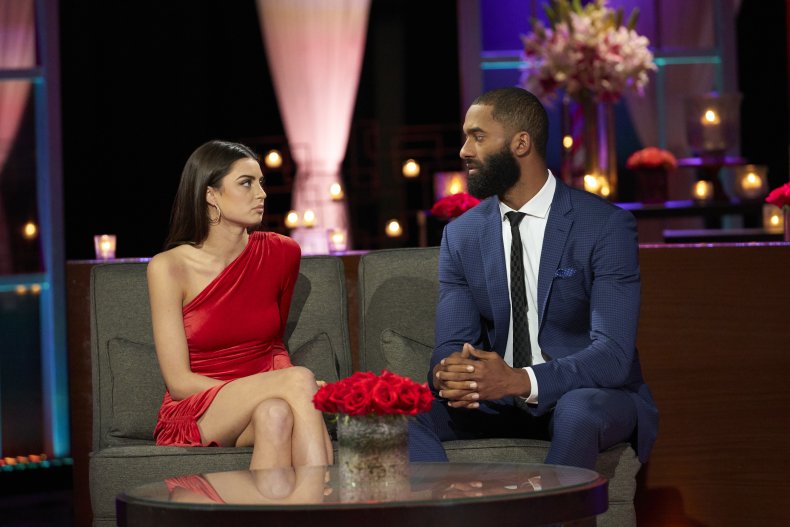 Kirkconnell and James didn't get engaged at the end of the series. Instead, James revealed he wasn't ready for an engagement but wanted to exclusively date Kirkconnell outside of the show. She agreed with no issues, and they left The Bachelor as a couple.
They split around Valentine's Day, and viewers of the "After the Final Rose" special could feel the heartbreak on both sides. Kirkconnell continued to claim James was the love of her life, even after the breakup. While there's no confirmation from the couple that they're dating again, Reality Steve brought it up on Twitter Tuesday.
"It's been a while but here's some news: Matt and Rachael? Yeah, they're not over. They're currently in New York together. FYI," he wrote.
And Reality Steve wasn't the only one with the news. An anonymous follower of Instagram gossip account Deuxmoi submitted two photos of people, who appear to be James and Kirkconnell, walking in Williamsburg together on Tuesday. While the source isn't confirmed, and everything mentioned on Deuxmoi's account should be taken with caution, the photos align with Reality Steve's claims, down to the day.
So what does it mean for Kirkconnell and James moving forward? There's no way to tell if the couple will last, but Kirkconnell has been far more outspoken on her Instagram account on Black Lives Matter content, and other important social issues.
Meanwhile, Chris Harrison, host of The Bachelor franchise, has yet to be reinstated as the series host. Harrison stood up for Kirkconnell against the heavy backlash, and in his own words, found himself a new enemy in Bachelor Nation. He temporarily left his position as host with no word on when, or if, he'll return.
James' time on The Bachelor is over, but fans are still hoping for an ABC update on Kirkconnell and James as soon as they're ready to let viewers in on their reunion.