Matt Lauer Allegedly Raped NBC News Colleague During Winter Olympics, Ronan Farrow's New Book Claims
Matt Lauer allegedly raped an NBC News colleague in his hotel room during the Winter Olympics in Sochi, investigative journalist Ronan Farrow's new book has claimed.
Brooke Nevils is the former NBC News employee whose complaint about Lauer led to the co-anchor's firing from the Today show in the fall of 2017, Farrow's book Catch and Kill reveals, Variety reported.
When Lauer was ousted, Nevils was kept anonymous by NBC News at her request. The full details of her allegations against Lauer have been revealed for the first time in Farrow's book, which details his investigation into Harvey Weinstein and the obstacles he faced from his then-employer NBC News that led to him taking the Pulitzer Prize-winning story to The New Yorker instead.
Nevils alleges that Lauer, who was married at the time, anally raped her in his hotel room while they were both covering the 2014 Sochi Olympics, according to Variety who obtained a copy of Farrow's book.
On Wednesday, Lauer wrote an open letter, provided to Variety, saying the rape allegation against him is "categorically false, ignores the facts, and defies common sense." Lauer said he and Nevils had an "extramarital affair" that began in Sochi and continued when they returned to New York.
Newsweek has contacted a representative for Lauer for further comment.
In a statement to Newsweek, NBC News said: "Matt Lauer's conduct was appalling, horrific and reprehensible, as we said at the time. That's why he was fired within 24 hours of us first learning of the complaint. Our hearts break again for our colleague."
Nevils said she was assigned to work with former Today co-anchor Meredith Vieira in Sochi. One night she was having drinks with Vieria at the hotel bar where the NBC News team were staying when Lauer joined them. She had six shots of vodka that night, she told Farrow.
Nevils said she went to Lauer's room twice that night. Once to retrieve her press credential, which she says Lauer had taken as a joke, and the second time after Lauer invited her.
She "had no reason to suspect Lauer would be anything but friendly" based on her previous experience, Farrow wrote in the book. But once she was in the room, Nevils claimed that Lauer, wearing a T-shirt and boxers, pushed her against the door and kissed her. He then pushed her onto the bed, flipped her over and asked her "if she liked anal sex."
Nevils said she declined several times—and she "was in the midst of telling him she wasn't interested again when he 'just did it,'" Farrow wrote.
The encounter was "excruciatingly painful" for Nevils, she told Farrow, as Lauer didn't use any lubricant. "It hurt so bad. I remember thinking, Is this normal?" Nevils told Farrow.
Farrow added that Nevils told him she eventually stopped saying no and just "wept silently into a pillow." Afterwards, when Lauer asked her if she liked it, she said yes. But she told Farrow that she "bled for days."
Nevils said to Farrow: "It was nonconsensual in the sense that I was too drunk to consent. It was nonconsensual in that I said, multiple times, that I didn't want to have anal sex."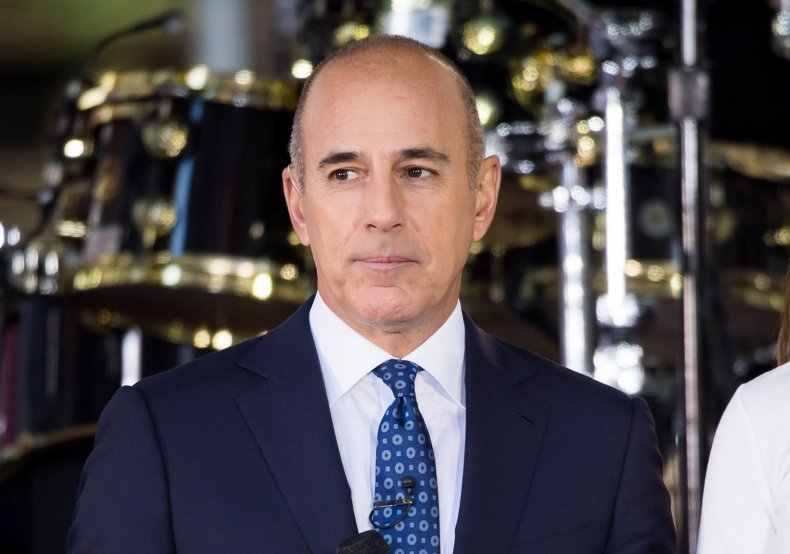 Nevils had further sexual encounters with Lauer after returning to New York City. Farrow wrote that sources close to Lauer said she sometimes initiated that contact.
"'This is what I blame myself most for,'" Nevils told Farrow. "It was completely transactional. It was not a relationship."
Nevils feared the control Lauer had over her career, but after her encounters with him ended, she said she told "like a million people" about what happened with Lauer, including colleagues and superiors at NBC.
"This was no secret," Farrow wrote. But nothing happened until the fall of 2017 when her former Today colleagues asked her about Lauer in the wake of the Harvey Weinstein scandal, which had sparked the rise of the #MeToo movement.
Nevils told Vieria, who urged her to go to NBC Universal human resources with a lawyer, which she did, according to the book.
Lauer had been a morning television staple for more than 20 years when he was fired from the Today show in November 2017. He was also one of NBC's highest paid personalities, earning $20 million a year, according to Fortune magazine.
NBC News chairman Andrew Lack said in a statement at the time that Lauer had violated the company's standards.
"While it is the first complaint about his behavior in the over twenty years he's been at NBC News, we were also presented with reason to believe this may not have been an isolated incident," Lack said.
But Nevils later learned that Lack and Noah Oppenheim, the president of NBC News and MSNBC, were "emphasizing that the incident hadn't been 'criminal' or an 'assault.'"
Her work life became "torture" as she was forced to sit in meetings with colleagues who were loyal to Lauer and cast doubt on her claims, she told Farrow.
Although she was promised anonymity by human resources, Lack revealing the complaint stemmed from an encounter in Sochi limited the pool of accusers, she said, and soon everyone was aware it was her.
Nevils told Farrow she didn't want money, but she went on medical leave last year and was eventually paid "seven figures." Farrow reported that NBC News had proposed she suggest she left to pursue other opportunities, that she had been treated well and that NBC News was "a positive example of sexual harassment."
RAINN, the nation's largest anti-sexual violence organisation, branded the allegations against Lauer as "horrific."
Spokesperson Erinn Robinson said: "The new details that emerged in Ronan Farrow's Catch and Kill are horrific. No one should ever have to go through what Brooke Nevils experienced, and RAINN will work tirelessly until no one ever does. We also want to remind other survivors that help is available 24/7 through the National Sexual Assault Hotline."
Catch and Kill: Lies, Spies and a Conspiracy to Protect Predators will be released on October 15.