Matt and Rachael's Breakup on The Bachelor Is a Symbol of a Broken America | Opinion
On the first episode of this season of The Bachelor, Matt James, who was the franchise's first Black bachelor in its 25-year run, did something you don't often see on reality TV: He invited the contestants to pray with him. "Dear Heavenly Father... give these women the courage to get through these next few months," he said.
One contestant was especially moved: Rachael Kirkconnell, who would ultimately get Matt's final rose, told Matt's mother in the season finale that this prayer helped to confirm her belief that God had brought her to the show for a reason—to fall in love with Matt.
Unbeknownst to Rachael at the time of filming, photos had resurfaced online of her at an antebellum-themed party in college three years ago. Viewers of The Bachelor experienced the season in a surreal split screen, with Rachael winning Matt's heart on TV while the online outrage factory upended Rachael's life offscreen.
I thought about Matt's prayer last night, as Emmanuel Acho, hosting the "After the Final Rose" ceremony, guided Rachael through a ritualistic confession of racial ignorance and insensitivity over the photos.
"How often did you lay awake at night, worried that these photos might come out and ruin your life?" Emmanuel asked her.
"I didn't think about it one time," Rachael answered honestly, so completely unaware was she of what attending such a party signified.
It's hard to decide what's worse: lying awake at night obsessing over every single thing you've ever said or done that a stranger could leverage to "ruin your life"—or sleeping soundly, unaware of the mistake that will be your future downfall.
Rachael, of course, is not alone; every day, a fresh public figure is fed to us for judgment and punishment. Just a week ago, the new editor of Teen Vogue, Alexi McCammond, a 27-year-old Black woman, was publicly scrutinized for tweets she wrote in college that negatively stereotyped Asians—tweets she had already apologized for.
Our accountability culture demands public apology, even humiliation. And yet, even when this self-flagellation occurs, I see no pathways opening up for forgiveness, no doorways to mercy. I'm sure Matt knows the Lord's Prayer by heart: "Forgive us our trespasses, as we forgive those that trespass against us." But oftentimes, prayers are easier said than acted upon.
The producers of The Bachelor thought a snack-sized reparative justice process would help heal Bachelor Nation, with a Black host in the seat that usually belongs to Chris Harrison (Harrison was forced to step away from the franchise for defending Rachael from what he derided as the "woke police."). But last night's intense "After the Final Rose" appears to have left all parties unsatisfied, broken-hearted, and clinically depressed.
Matt, who broke up with Rachael over the fallout, is nowhere near ready to forgive. And to be honest, it's unclear what he's supposed to forgive her for: Is the idea that Rachael successfully hid her crypto-racism from Matt long enough for him to fall in love with her as a candidate in the running to be the mother of his future children? Is such an idea plausible?
Emmanuel Acho had a more nuanced take on Rachael's crime: "There's a difference between being racist and racially insensitive or racially ignorant. What you did was racially insensitive and racially ignorant and the way it plays itself out is racism. But that doesn't necessarily classify someone as racist."
By this point in the interview, Rachael had broken out in hives on her neck, which she tried to cover with her lustrous hair. It was painful to watch, not least because it was unclear what else she could have done.
I have been immersed in online social justice activism since 2014. I have memorized all the rules in the playbook for how to survive a public shaming and Rachael followed them meticulously: She took responsibility for her ignorance and insensitivity, she didn't make excuses for her behavior or cast blame on others, and she never grew defensive with Emmanuel's line of questioning; she may have shed a few tears but she deliberately exercised emotional restraint, she promised to "do better" than just listing the books she's reading and the documentary films she's watching to educate herself.
For the online crowd, it wasn't enough. It will never be enough.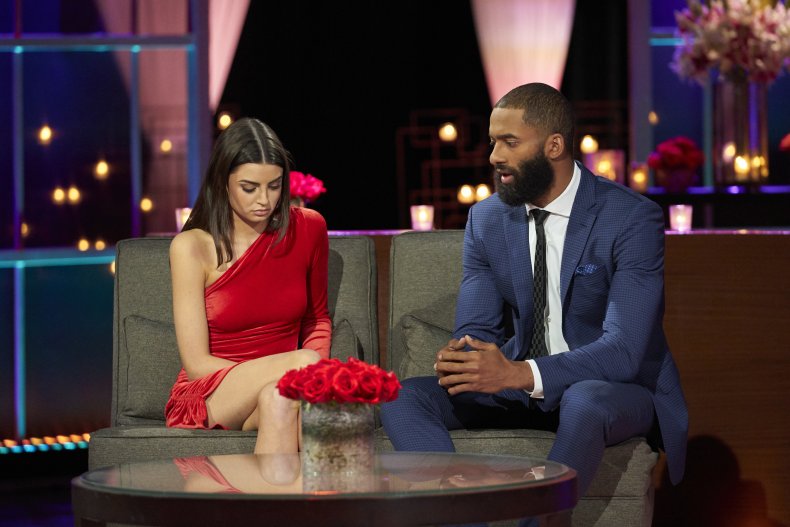 Nor was it enough for Matt, who has spoken openly about the burdens he's felt as the first Black Bachelor contestant.
I can't help but wonder if his response to the scandal, breaking up with Rachael so he could "take a step back" while she does "the work," is part of the heavy burden he carries not only to be himself but to be a representative of Black America. Matt said last night that he wasn't sure if Rachael could ever fully understand his Blackness, or what it means to be a black man in America, and this is undoubtedly true. Rachael will never literally know what it's like to be a black man.
But part of the work-in-progress of America that we are collectively drafting requires us to use our empathic imaginations to try to understand one another, because that's necessary in repairing harm and offering one another the kind of grace we would want at our own darkest hour.
I see Rachael doing that work.
After all, human beings are weak and fallible: We make mistakes; we harm one another, willfully or not; every single one of us has said or done something we wish we could take back.
When Emmanuel asked Rachael what she would say to Matt if this was the last time she ever saw him, she said, "I thank God for ever putting you in my life to begin with and I'll always be thankful for everything that we shared and the time that we did have together."
Here's my own prayer: Let us not be so consumed by our grievances that we'd rather be right than humbled by love.
Leigh Stein is the author of five books including the novel Self Care. The Cut named her "the poet laureate of The Bachelor."
The views in this article are the writer's own.