Republican Lawmaker Matt Shea Was Involved in Domestic Terrorism and Is a 'Risk to Others,' Investigators Say
A Republican lawmaker from Washington helped organize and promote acts of domestic terrorism and was involved in three armed conflicts against the U.S., an investigation has found.
Both Democrats and Republicans are calling for the resignation of Matt Shea after a report for the state legislature concluded he had planned, with far-right militia leader Ammon Bundy, to take over the Malheur National Wildlife Refuge in Oregon in 2016.
The report said that Shea, from Spokane Valley in eastern Washington, had "participated in an act of domestic terrorism" when he went to the wildlife refuge to back its armed occupation in a six-week conflict that ended after one protester was shot dead and dozens were arrested.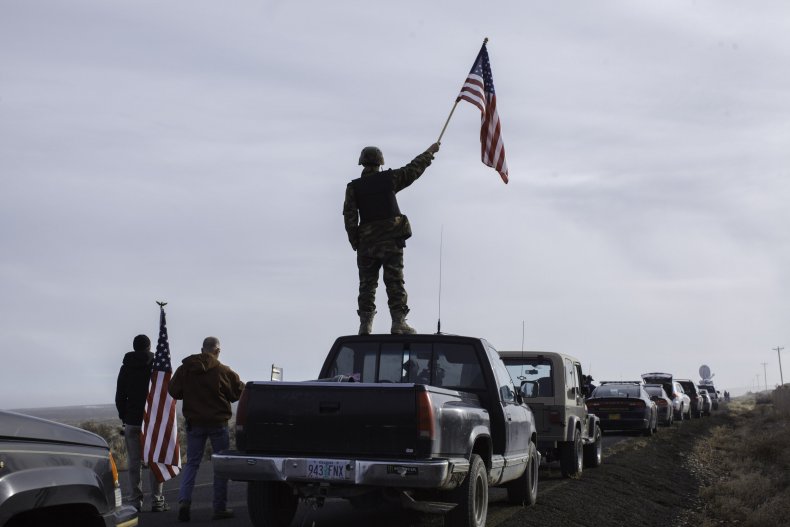 Shea, a lawyer who was first elected in 2008 and hosts a weekly show on the American Christian Network, was also involved in a standoff at a Nevada ranch with FBI agents in 2014. He has promoted militia training by the Patriot Movement, which is drawn from rural conservative groups who oppose the federal government.
The report said that between 2014 and 2016, Shea had "engaged in, and promoted a total of three armed conflicts of political violence against the United States ... in three states outside the state of Washington over a three-year period to include 2014, 2015 and 2016."
Shea also promoted violence against federal government employees and local law enforcement officers, the report said, adding that he represents "a present and growing threat of risk to others through political violence."
Rep. J.T. Wilcox, the Republican minority leader of the state legislature, tweeted that Shea had been suspended from any role in the House Republican Caucus and his name and picture were removed from the House GOP website.
The FBI and the U.S. Attorney's Office will examine the report. Incoming Democratic House Speaker Laurie Jinkins said, according to The Seattle Times: "This is about a state lawmaker who, according to the investigative findings, engaged in an act of domestic terrorism rather than choosing political or legal avenues to change laws and policies he disagrees with."
"This is why we believe formal action needs to be taken that sends a clear message upholding the values of a free and democratic society, and supports the safety of all Washingtonians."
Prior to the report's publication, Shea issued a defiant message on Facebook, writing: "Like we are seeing with our President this is a sham investigation meant to silence those of us who stand up against attempts to disarm and destroy our great country.
"I will not back down, I will not give in, I will not resign. Stand strong fellow Patriots," he added. Comments from supporters to his post included, "Praying for you, and as always, will continue to support you. Stay strong and God Bless you and your family."
Another wrote, "Stand strong brother, we're standing with you! God bless." Newsweek has contacted Shea for comment.