Jim Jordan's Witness Matt Taibbi Defends Record in 'Twitter Files' Hearing
Matt Taibbi, who published the Twitter Files late last year, defended his record of reporting at a congressional hearing on Thursday after Democratic Virgin Islands Representative Stacey Plaskett called him a "so-called" journalist.
Taibbi and fellow journalist Michael Shellenberger were present at a hearing held by the Select Subcommittee on the Weaponization of the Federal Government Hearing to discuss the Twitter Files.
The files released by Taibbi and Shellenberger were based on records that revealed communications between the FBI and former Twitter executives that occurred before the social media platform was acquired by Elon Musk.
The journalists posted Twitter threads that revealed internal records of Twitter employees' emails, showing the platform's past decision-making process and its efforts in monitoring content.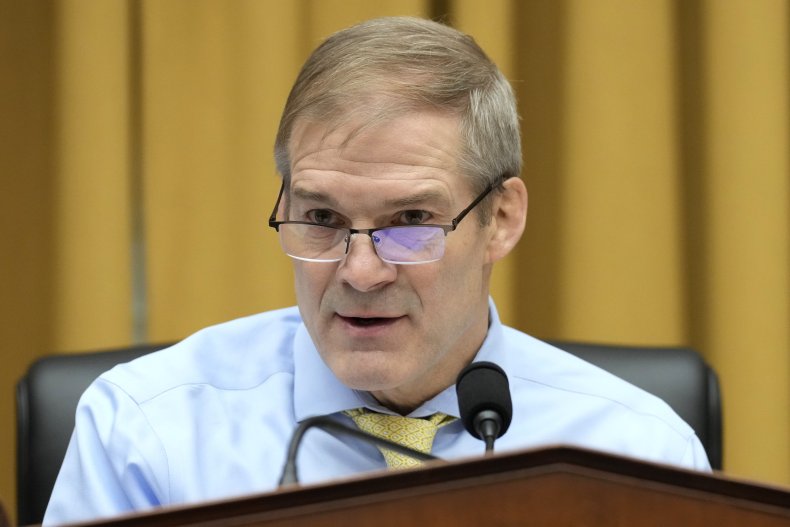 Plaskett, who is a ranking member on the subcommittee chaired by GOP Representative Jim Jordan of Ohio, questioned the credibility of Taibbi and Shellenberger on Thursday and referred to them as "so-called journalists."
During his testimony, Taibbi commented on Plaskett's remarks and said that he has been a reporter for 30 years and a "staunch advocate of the first amendment."
"Much of that time was spent at Rolling Stone magazine. Ranking member Plaskett, I'm not a 'so-called' journalist. I've won the National Magazine Award, the I.F. Stone award for independent journalism, and I've written 10 books, including four New York Times bestsellers," he said.
Plaskett's remarks on Thursday come after she and Democratic Representative Jerrold Nadler of New York recently released a new report discrediting three of Jordan's key "whistleblowers" brought before the subcommittee, accusing them of touting conspiracy theories.
The report also highlights the failure of the "whistleblowers" to provide any actual evidence of any wrongdoing by the FBI and the Department of Justice (DOJ).
Plaskett on Thursday also referred to Taibbi and Shellenberger as "two of Elon Musk's 'public scribes'" and questioned them about how they accessed the Twitter data.
"I want to underscore the very real threat posed by Twitter Files and by the witnesses in front of us today. Here's Yoel Roth [former Head of Trust & Safety at Twitter] describing the harassment he and other former Twitter employees have faced because of the irresponsible way in which the witnesses in front of us and others have released this cherry-picked and out-of-context data," she said.
Jordan spokesman Russell Dye told Newsweek on Thursday that its "disappointing" Democrats are using testimony to "attack" whistleblowers brought in before the committee.
"It is beyond disappointing, but sadly not surprising, that Democrats would leak cherry-picked excerpts of testimony to attack the brave whistleblowers who risked their careers to speak out on abuses at the Justice Department and FBI," Dye said.
"These same Democrats vowed to fight our oversight 'tooth and nail,' and they are willing to undermine the work of the Congress to achieve their partisan goals. It's clear that Democrats would rather defend bureaucratic abuses than work collaboratively with Republicans to protect fundamental civil liberties."
Taibbi and Shellenberger have been backed by some Republicans who have repeatedly accused Twitter and the FBI of censoring conservative voices.
Representative Matt Gaetz, a Florida Republican, tweeted in December that the FBI needs "serious reshaping" and added that the bureau is "designing what u see so they can control what you think & how u behave."
"The FBI is the largest criminal gang in the country. It is more dangerous than any other gang because it is run by 'thugs with badges' and also because it is funded and supported by Congress and the White House. It's America's version of the KGB or the Chinese state police," right-wing political commentator Dinesh D'Souza tweeted in December.
The weaponization subcommittee consists of 11 Republican members, including Gaetz, and eight Democratic members. It aims to investigate a number of subjects, including the alleged involvement of the FBI in censoring conservative voices and the DOJ's investigations into former President Donald Trump.
Update 3/9/23, 3:10 p.m. ET: This story has been updated with comment from Jordan spokesperson Russell Dye.