Matt Taven Looks to Cement His Spot Atop of Ring of Honor at G1 Supercard in MSG
The Ring of Honor and New Japan Pro Wrestling G1 Supercard show going down this weekend at Madison Square Garden is one of the biggest events in the world of wrestling, or otherwise.
MSG has held some of the largest and most influential shows in wrestling history, and ROH and NJPW are set to put on a show that wrestling fans won't soon forget. At the top of this historic card is the Triple Threat Ladder Match between Ring of Honor World Champion, Jay Lethal, Matt Taven and Marty Scurll.
Lethal is technically the longest-reigning ROH World Champion because of combined days, but its a distinction Taven refuses to recognize. Taven, who leads the faction The Kingdom, has taken Lethal to the limit on multiple occasions. He nearly captured the title at the recent ROH 17th Anniversary show after the two wrestled to a 60-minute time limit draw.
Taven considers himself the real ROH World Champion and he walks into MSG to cement his spot atop of the promotion.
Newsweek had a chance to talk with Matt Taven ahead of his title match this Saturday where he spoke about his rivalry with Jay Lethal, and what his future as ROH Champion would look like for him and The Kingdom.
Note: This interview was edited for clarity and length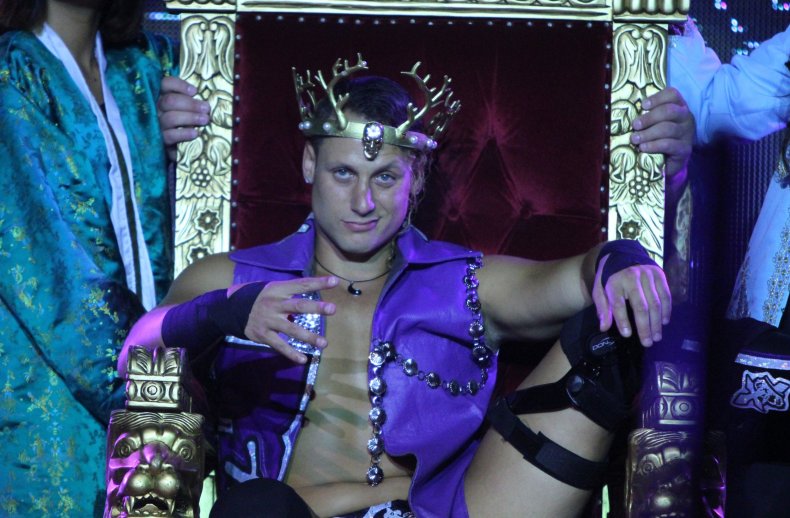 You have a big match coming up this Saturday. How are you feeling?
I feel pretty good. I'm as relaxed as I possibly could be knowing that I'm about to headline MSG, which is a place where I wanted to be in the main event since I was a child. It's hard not to feel a little giddy with anticipation and anxiety. You just want to have it now and stop thinking about it. With that natural feeling set aside, I feel good and relaxed going into this. It kind of makes sense since I'm the real Ring of Honor champion in the first place.
Is it fair to say this is your biggest match of your career?
That's fair to say. I did the Anniversary show in Arena de Mexico this year, which was a pretty big house. But there's nothing like the legacy of Madison Square Garden and like I said, I've been a lifelong wrestling fan. So many memories of my fandom and childhood took place in MSG. To get in there to see the roof will give me some goosebumps, but I have a giddy smile on my face, a nervous, nail-biting feeling.
When will the feeling that you're wrestling at MSG sink in?
You feel it a little bit, but I don't think it'll really sink in until you start walking the halls of MSG. Especially that roof. I'm a giant basketball fan, and growing up in the 90s so many things happened at MSG. You think of the Knicks and the Bulls playing, anytime the Celtics would go there. The roof and lighting. It's going to be pretty surreal to be looking up at that ceiling.
You have a long history with Jay Lethal, what's this feud mean to you?
There are those rivalries that live forever, the rivalries you love to see. And me and Jay have slowly become one of those feuds from being in television title matches to my manager Truth Martini being his manager. To the cage matches, 60-minute time limit draws. And now to have a match at Madison Square Garden. What else do you need to cement a rivalry?
Someone sent me a statistic the other day. We are 4-4-2 against each other, which I think is just nuts. We have this even record against each other. Jay has that one thing that I feel I'm entitled to and that I am right now, except the record books don't show that. If you look at my career and all the things that I've done, I like to etch my names in certain accomplishments. Being the only person to hold titles in CMLL, New Japan and ROH. Being one of the only foreigners to hold a title in NJPW to holding the NWA Welterweight title in CMLL. Having the longest TV Title reign at the time. One win away to becoming a grand slam champion at Ring of Honor. Jay doesn't have the title that I want, because I believe he smashed that title, but he has the label that I want. I want all the "Melvins" to realize who the real Ring of Honor Champion is.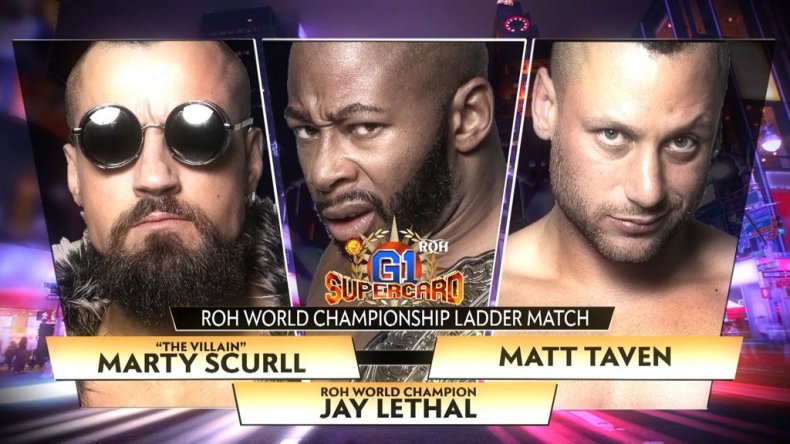 So we have you and Jay, but there's a third wheel to this story. How do you feel about Marty and what he brings to the match
Talk about a third wheel.
People want to say Marty is the wild card, but he isn't because it's a ladder match. The ladder is the wild card. Anything can happen in a match of this format, so whether it's just me and Jay, me and Marty, Jay and Marty it doesn't matter because it's an unpredictable match in general. It's kind of why I feel so laid back because you can't have too much of a game plan because you don't know what will happen. You just have to be prepared for the unexpected.
Jay holds the title, and Marty has his affiliations. But do you feel people are overlooking you in this match?
Anyone that would say that I'm being overlooked is someone that doesn't watch the product. All you would have to do is watch the past nine months of my career, especially this year to see why I've earned this title opportunity and why I am in the main event of Ring of Honor's biggest show of the year. It's one of those things that I don't give a shit about, but if anyone wants to say that maybe they should actually sit down, watch some Ring of Honor TV and get out of their mom's basement.
What changes with you as ROH champion?
The first thing that will change is that terrible piece of tin that Jay Lethal is walking around with. I'm going to restore the ROH World Title to something beautiful, prestigious, something that is fit for a king. Something like the belt Jay Lethal destroyed. That only means we're going to get a second version of that, so that means upgrades. Once it becomes official that Matt Taven is the Ring of Honor World Champion, that will be my very first act. And that is restoring the prestige of the ROH World Title.
You're going to keep that purple strap right?
I mean, I'm not going to give away all the secrets to the hot sauce.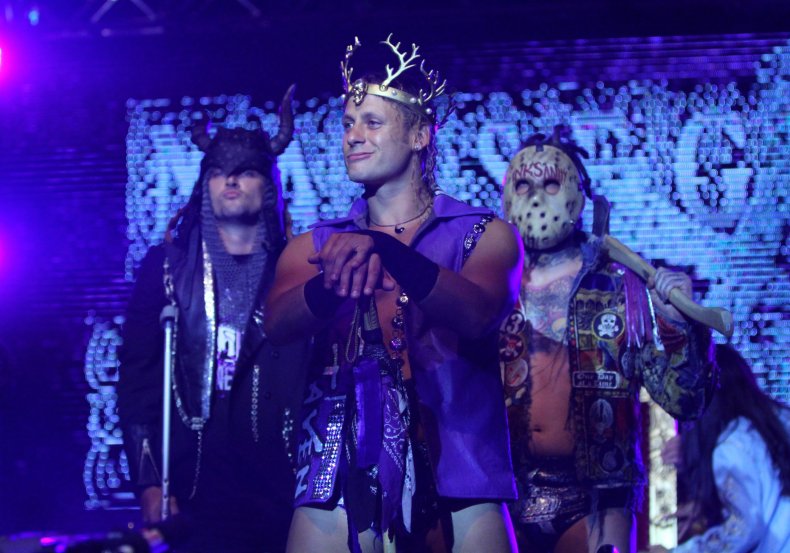 After MSG what's the next step for the Kingdom?
I always look to set records. And I don't believe Jay Lethal is the longest-reigning ROH world champion because the last nine months have been a fraud. I want to beat the actual record held by Samoa Joe and become the longest-reigning ROH World Champion.
At the same time, I do still believe the Kingdom is the best trio on the planet. And anyone who wants to step up to the plate, we can prove that. The fact that those six-man titles aren't around our waist right now is an injustice and is something we will need to correct in the near future.
Would you give Jay Lethal a rematch?
I'm a man that talked about a conspiracy for a good year and a half because time honored traditions in wrestling weren't being abided by. So a man of my word, like I am, I'm going to do exactly what champions are supposed to do and give the former champion his rematch because I fear no Jay Lethal. That's no problem. I'll give that paper champion his rematch just to solidify my name as Matt Taven, the real Ring of Honor World Champion.
ROH & NJPW present G1 Supercard on Saturday, April 6 from sold-out Madison Square Garden in New York City. The historic event airs LIVE at 7:30 EDT/4:30 PDT on traditional pay-per-view and streaming FREE for all HonorClub members. HonorClub content can be streamed via the ROH and FITE apps and at ROHHonorClub.com.