Watch: Whitaker Admits DOJ Didn't Track Children Separated From Parents, Gets Asked, 'Do You Understand the Magnitude of That?'
Acting Attorney General Matt Whitaker in his testimony Friday admitted that the Department of Justice, of which he is temporarily in charge, did not keep track of children separated from their families at the border with Mexico—and got a fiery rebuke from Democratic Representative Pramila Jayapal.
"When parents are prosecuted and sentenced, they are in DOJ custody, correct?" Jayapal asked Whitaker, whose tenure is sent to end in the coming weeks.
"Correct, their custody is transferred to the U.S. Marshals," Whitaker replied at the hearing before the House Judiciary Committee.
"So these parents are in your custody, your attorneys are prosecuting them, and your department was not tracking parents who were separated from their children?" Jayapal said. "Do you know what kind of damage has been done to the children and families across this country, children who will never get to see their parents again.
"Do you understand the magnitude of that?" Jayapal said in an emotionally charged response.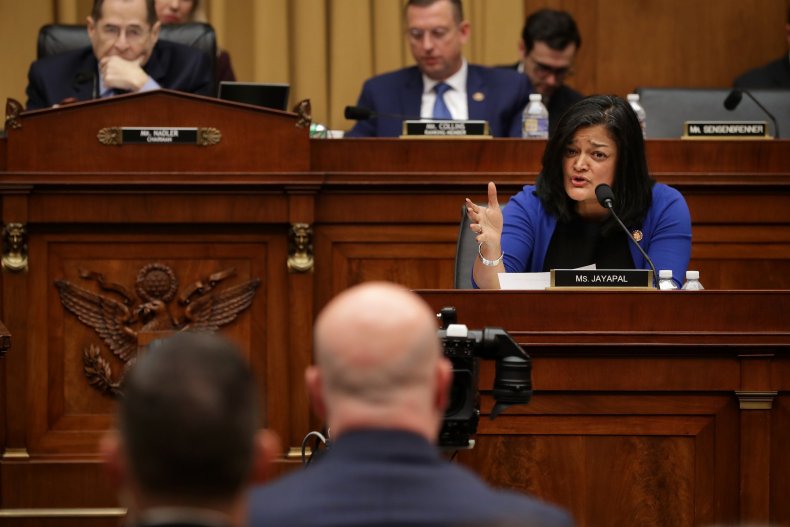 "I understand that the policy of zero tolerance…" Whitaker said, before Jayapal cut him off.
"Has the Justice Department started tracking parents and legal guardians who were separated from their children at the border?" the congresswoman asked.
Whitaker said, "I appreciate your passion," to Jayapal and said he knew she has been at the front lines of the issue.
"This is about more than my passion," Jayapal continued. "This is about the children's future, Mr. Whitaker. Please answer. Go ahead."
Whitaker explained: "The responsibility for the arrest, the detention and together with the custody of the children, was handled by DHS [Department of Homeland Security] and HHS [Department of Health and Human Services] before those people were ever transferred to DOJ custody, to the U.S. Marshals."
The Trump administration has been heavily criticized for a since-canceled "zero-tolerance" immigration policy that dictated that adults caught crossing the border illegally face criminal prosecution. As parents were detained, their children were taken into custody by the government.
Democrats have taken aim at Whitaker since he replaced Jeff Sessions, who was forced out as attorney general in November. As acting attorney general, Whitaker has overseen, and criticized, special counsel Robert Mueller's probe into Russian interference and possible collusion with the Trump campaign in the 2016 presidential election. Whitaker had refused to testify without the guarantee that he would not be subpoenaed.
Whitaker is set to be replaced by William Barr, who will likely be confirmed by the Senate.