Matthew Cherry, Former NFL Player, Wins Oscar for Best Animated Short Film, Dedicates Award to Kobe Bryant
Former NFL wide receiver Matthew Cherry's Hair Love won an Oscar Sunday night for best animated short film, and he dedicated it to the late Kobe Bryant.
"May we all have a second act in life as great as his was," Cherry said after receiving the award.
His award dedication to Bryant came just a few weeks after the Los Angeles Lakers star died in a helicopter accident in Calabasas, California.
In 2018, Bryant also won an Oscar in this category, for his film Dear Basketball. Written and narrated by Bryant, it focuses on a letter written to The Players' Tribune, where Bryant announced his retirement from the NBA in 2015.
Hair Love, which was written and directed by Cherry, is a seven-minute animated film detailing the story of an African American father trying to do his daughter's hair for the first time. According to his speech, which he posted to Twitter, "Hair Love was born out of wanting to see more representation in animation but also wanting to normalize black hair."
Speaking to NBC News before winning the award, Cherry described his film as a way to improve the media's representation of black fathers. "Black fathers get a bad rap in mainstream media," Cherry said. "So I also wanted to show them as present and caring, versus the deadbeat dad stereotype that is often ascribed to them in film."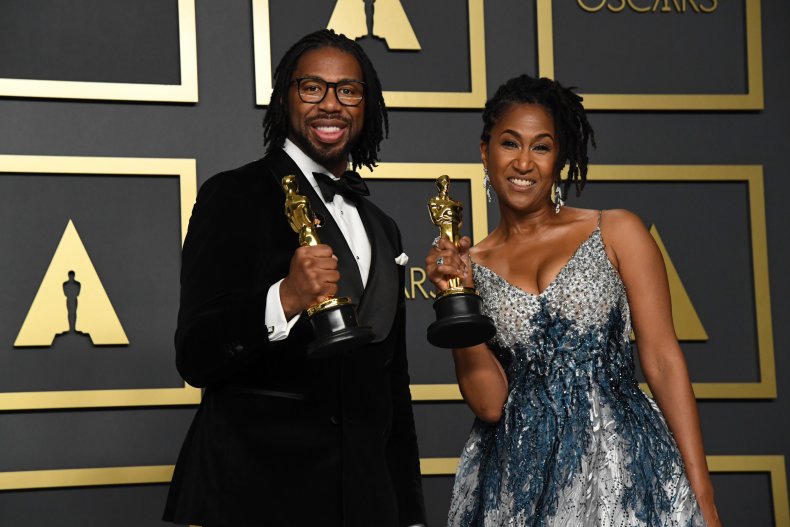 Cherry never appeared in an NFL game but was listed on the practice rosters for the Jacksonville Jaguars, Cincinnati Bengals, Carolina Panthers and Baltimore Ravens.
In addition to dedicating his award to Bryant, Cherry brought a special guest, DeAndre Arnold, a Texas high school student who was told he could not attend his graduation unless he cut his dreadlocks.
"Since DeAndre Arnold's school didn't want to let him walk at his graduation because of his hair we figured that he should walk with us on the red carpet at the #Oscars as our special guest," Cherry wrote on Twitter a few days before the awards show.
In his acceptance speech, Cherry mentioned Arnold as well as the CROWN Act, which stands for Creating a Respectful and Open World for Natural Hair. He said, "We have a real chance to make hair discrimination illegal through the Crown Act and get it passed as law in all 50 states for the people like our special guest DeAndre Arnold and many more."