Matthew Dolloff, a security guard hired to protect local reporters covering dueling protests in Denver, fatally shot a man with a semiautomatic handgun after the man discharged pepper spray at him following altercations with others, according to court documents.
Denver Police said Dolloff, 30, was being held in jail for investigation of first-degree murder in connection with Saturday afternoon's shooting near Civic Center Park, but has not been formally charged.
Protesters had been leaving the area following two demonstrations—a "Patriot Muster" and a "BLM-Antifa Soup Drive" counterprotest—when the shooting occurred.
Lee Keltner, a 49-year-old U.S. Navy veteran who ran a hat-making business, was the man killed, his son told The Denver Post.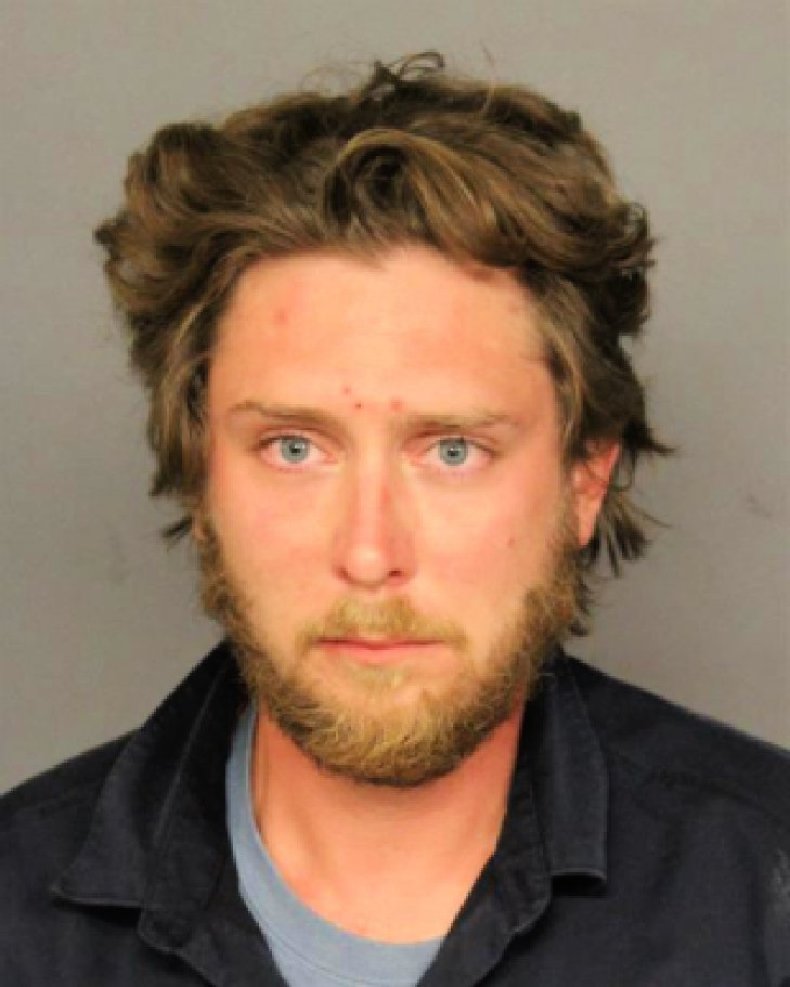 An arrest affidavit, The Associated Press reported, says Keltner had gotten into a verbal dispute with a 27-year-old man before his altercation with Dolloff.
During the dispute, both Keltner and the 27-year-old man "yelled and postured," prompting others to believe it was going to turn physical, the affidavit said.
A 60-year-old man stepped in to break it up, according to the affidavit, before Dolloff and a 25-year-old "engaged in an altercation" with Keltner while he was still arguing with the 27-year-old man, who was not identified.
Keltner slapped Dolloff in the head before Dolloff pulled out a semiautomatic handgun and shot Keltner as the man blasted pepper spray at him, the affidavit said. Police said Dolloff was taken into custody moments after the shooting and a homicide investigation was launched.
The Post on Monday published a chronological sequence of 71 photos taken by a photographer for the newspaper that captured both confrontations and the shooting.
They show a man, who had a gray goatee and was wearing sunglasses, standing between Keltner and another man wearing a shirt that says "Black Guns Matter" near the Denver Art Museum.
Images taken moments later show Dolloff putting his hand on Keltner's chest, while a man in a blue shirt stands behind Dolloff. All three are wearing masks or face coverings.
Keltner is pictured hitting Dolloff in the head, knocking his sunglasses and hat off. Dolloff is later pictured with his gun pointed at Keltner as the man blasts pepper spray at him. Keltner is seen in the series of images falling to the ground after being shot.
Doug Richards, an attorney representing Dolloff's family, told The Post that Dolloff was acting in self-defence. He said Dolloff opened fire because he saw Keltner reach into his shirt and he feared for his safety.
However, the photos published by The Post do not appear to show that.
During a news conference, Denver Police Department Division Chief Joe Montoya said two guns had been found at the scene as well as a canister of mace. The affidavit did not address a second gun, the AP reported.
On Twitter, the police department said the suspect "was a private security guard with no affiliation with Antifa."
Richards added that the photos show that Dolloff put his body between the man and a reporter he was hired to protect.
He and the police department have been contacted for further comment.
After the shooting, Denver television station 9NEWS, also known as KUSA-TV, said it had hired private security guards for months to accompany its staff at protests. Dolloff was hired through the Pinkerton security company, the station said.
On Tuesday, the station said it had directed that guards accompanying its employees not be armed. None of the station's crew who were accompanied by Dolloff on Saturday were aware that he was armed.
In a statement provided to Newsweek, Pinkerton said Dolloff is not an employee and had been contracted through a "long standing industry vendor" that it didn't name.
The company said it is "fully cooperating" with law enforcement authorities in their investigation.
"We take loss of life in any situation very seriously and are our hearts go out to those impacted by this situation," the statement said. "As it relates to the incident in Denver on October 10, the agent in question is not a Pinkerton employee but rather a contractor agent from a long standing industry vendor. Security professionals often serve as guides to protect media crews during potentially dangerous situations or hostile environments."
Authorities confirmed Dolloff didn't have a license to work as a security guard in Denver at the time of the shooting and that the entities that hired him could face civil or criminal action, CBS 4 reported.
"Licensed security guard employers that hire unlicensed security guards could face disciplinary actions against their licenses ranging from a. fine, to suspension, to revocation," a statement from the city attorney's office said on Monday.
"Businesses could also face criminal charges for permitting or directing an unlicensed person to preform security services. Regarding Matthew Dolloff, there could be civil or criminal actions taken, or both, against Mr. Dolloff, Pinkerton, 9News, and/or any other entity that hired and deployed Dolloff in an unlicensed security guard capacity."
KMGH-TV, another Denver news station, reported that it has previously hired security through Pinkerton and that Dolloff provided security at a U.S. Senate debate the station hosted on Friday.
The station said it had requested guards not be armed, which Pinkerton agreed to, and that no guns were visible at the event.
Dolloff had a concealed carry weapons permit for Colorado, but Elbert County Sheriff Tim Norton told CBS 4 he has suspended it.
"I have suspended it until the outcome of his criminal case and he will not be able to carry a concealed weapon in the State of Colorado," Norton said.