Who Is Matthew Harris? Former UCLA Lecturer's Shooting Threat Investigated by Police
Matthew Harris, a former postdoctoral fellow and lecturer at the University of California Los Angeles, was identified as the person who sent threats to faculty, including a video that references a mass shooting.
UCLA canceled in-person classes on Tuesday, according to a tweet from the university.
"We do not have specific information that this individual is in California," the tweet said. "Nonetheless, out of an abundance of caution, all classes will be held remotely tomorrow, Feb 1."
The university earlier tweeted that the UCLA Police Department "is aware of a concerning email and posting sent to some members of the UCLA community today and actively engaged with out-of-state law enforcement and federal agencies. We will keep the community informed as we learn more."
UCLA spokesperson Steve Ritea told Newsweek on Tuesday morning that "out-of-state law enforcement has confirmed the person who made threats to UCLA is under observation and not in California." He added that classes would remain remote on Tuesday.
Harris joined the university as a postdoctoral fellow in philosophy after completing his dissertation at Duke University, according to a newsletter from UCLA's Philosophy Department in the spring of 2019.
"He works on philosophy of race, personal identity, and related issues in philosophy of mind," it said.
Harris was placed on leave in the spring of last year while campus officials investigated reports that he sent a video with pornographic content to a student, according to the Daily Bruin student newspaper. His term as a postdoctoral fellow was set to end in June 2021.
Harris' behavior was described as unprofessional in reviews left on Bruinwalk, a forum where UCLA students can leave anonymous reviews of professors and other staff members.
He "is extremely unprofessional and has sent his personal p*rnographic content to a student," one review said.
In another review, a student described his class as their least favorite "ever" and that many other students who were taking the class had complained to the department that Harris was "unreasonable."
The student said their grade was changed three times, and another student's grade was changed 43 times after the end of the academic quarter.
"He sounds mad that he has to lecture," the review said. "Many people in my class complained to the department that he was being unreasonable throughout the quarter and he kept on changing the syllabus, presumably because the department kept on getting mad at him.
"There was someone in my class who's grade was changed 43 times AFTER the quarter ended. He started messaging people in the middle of the summer saying that he spilled Chinese food on their final and that they need to resubmit it. It is so laughable that I would not believe this about a professor had I not experienced it."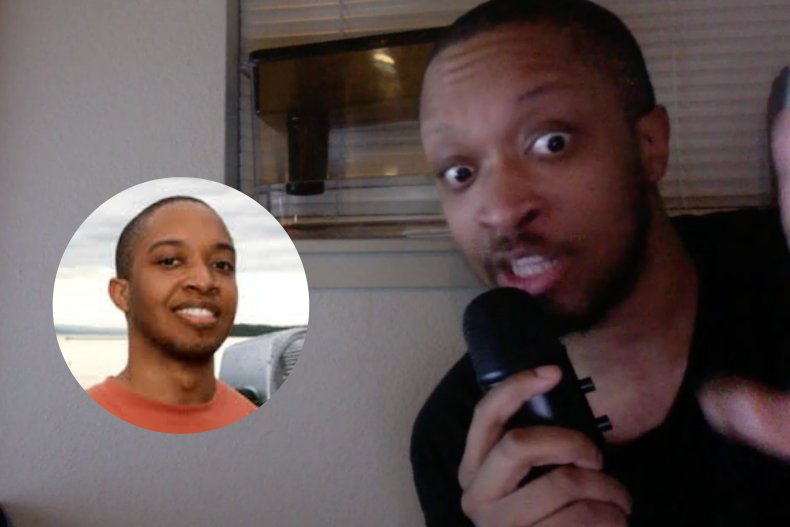 Harris made references to race and used expletives in an email to members of the UCLA philosophy department. "da war is comin," he wrote, according to the Los Angeles Times. "forward dis [expletive] to our tha goldhead caucasoid princess."
Harris had sent a link to the "UCLA Philosophy (Mass Shooting)" video on his YouTube and an 800-page manifesto outlining "specific threats" to some members of the philosophy department, according to an email a member of the philosophy department sent to staff and students informing them about the threats Harris had made.
"For those new this year to the department, this person was a postdoc whose highly erratic behavior and threatening communications and online activity caused great distress last spring," the email said.
"He had left the area as of June last year, but his whereabouts are currently being investigated because today he sent a barrage of threatening email to many in the department, and many others. The material includes a video entitled 'UCLA Philosophy Mass Shooting' and an 800-page manifesto with specific threats toward some members of the department."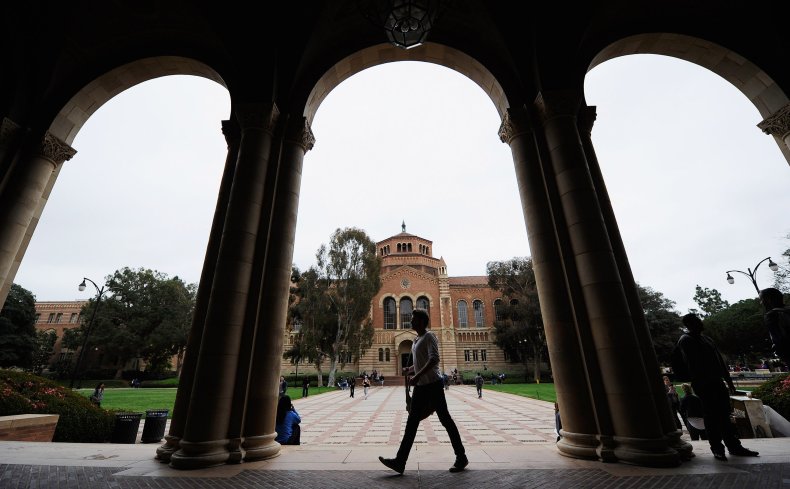 The "UCLA Philosophy (Mass Shooting)" video, which is five minutes long, was posted on Sunday and contained footage of the 2017 mass shooting at a music festival in Las Vegas.
Harris' YouTube account was taken down early on Tuesday. It had contained more than 300 videos, most of which were uploaded in the past 24 hours.
Details of the content of Harris' YouTube videos and manifesto is circulating on social media, including on Twitter and Reddit.
Meanwhile, several students have taken to social media to criticize UCLA officials for not informing students about the threat sooner. "The way I found out about ucla sh*oting threats from a past philosophy prof through REDDIT and TWITTER and not the administration," one student tweeted.
Update 2/1/22, 5:22 a.m. ET: This article has been updated with additional information.
Updated 2/1/22, 10 a.m. ET: This article has been updated with a comment from a UCLA spokesperson.