Matthew McConaughey's July 4th Speech in Full
Matthew McConaughey took to Twitter and Instagram to share his love for America and to celebrate the Fourth of July with his 8 million followers. He posted a two-and-a-half-minute video with the caption "happy 245th birthday America—lets rock" where he made some interesting comments. At one point, the Oscar winner described America as "going through puberty" compared to other countries, and made a passionate call for unity.
Matthew McConaughey, 51, is best known for his performance on screen and captivating acceptance speeches at award ceremonies.
On July 4th, 2021, McConaughey made an address to the nation via his social media platforms, catching the attention of Americans and his fans across the world.
Wearing sunglasses and sitting in front of the American flag, McConaughey alluded to the social and political upheaval the U.S. witnessed in 2020 alongside the disruption and devastation at the hands of the coronavirus pandemic.
He described America as going "through the growing pains" and on the path to becoming the best version of itself.
McConaughey also made a call for unity, asking his fellow American's to keep "striving, climbing and building" together.
Matthew McConaughey's July 4th Speech in Full
"Happy Birthday, America. Yes, indeed.
"As we celebrate our independence today, as we celebrate our birth as a nation, the day that kick-started a revolution to gain our sovereignty, let's admit that this last year, this trip around the sun, was also another head-scratcher.
"But let's also remember that we're babies as a country.
"We're basically going through puberty in comparison to other countries' timelines, and we're going to go through growing pains. We are going through growing pains.
"This is not an excuse, this is just the reality, and this is good because we got to keep learning, we got to keep maturing, we gotta keep striving, we gotta keep climbing, we gotta keep building. And we gotta make sure we maintain hope along the way, as we continue to evolve.
"Why? Because it's who we are. Why? Because the alternative sucks."
He continued: "I believe that America and you and I... I believe we are an aspiration.
"We're constantly in motion, we're on the way, trying to get wiser, trying to get braver, trying to dream more, trying to do more, trying to be more fair, take the right kind of responsibilities, to gain the right kind of freedoms, and we gotta keep realizing that we're a place where our individual pursuits and desires need to be appreciative and supportive of our collective responsibilities as Americans.
"Hence, the United States of America.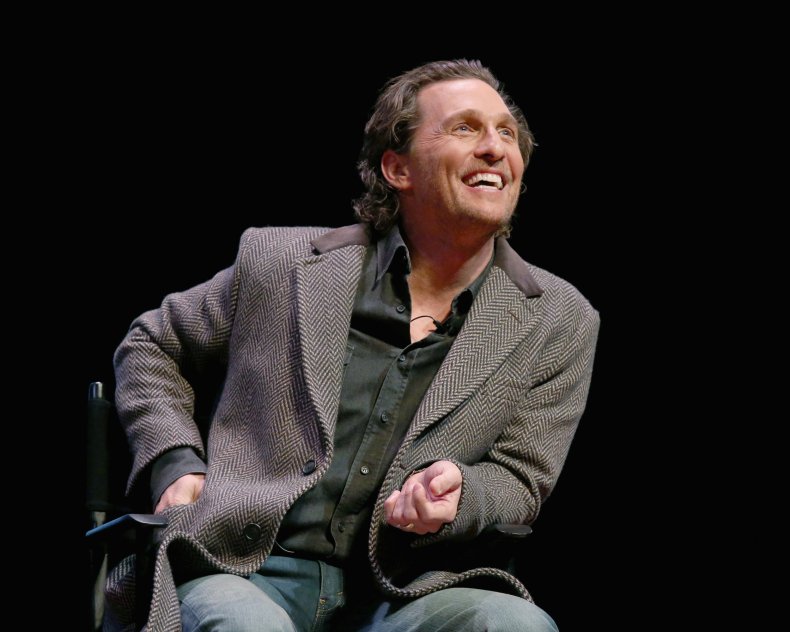 "Sure, we're each unique. We're each independent. We each have innate abilities that others don't have, as people and as states. But at the same time, we are all in this together, and if you don't purchase that, move on. Go somewhere else.
"So, as we celebrate the Red, White and Blue this weekend, let's be sure and just reflect just a minute, take a little bit of inventory on where we've come from, where we are and how and where we want to go from here on the way to being the best we can be.
"Now what if that was a song, and each of us just said, 'I can't not sing that song'? I want to be a little bit better, you want to be a little bit better. Let's be on the way to being the best we can be. Let's make that a song we can't not sing. Why? Because it's who we are. It's who we gotta be, and again, the alternative sucks.
"Let's rock, America. Happy Birthday, just keep livin'. I'll see you there."
McConaughey's Fourth of July online speech may be the first of many to come.
For month's the Dallas Buyers Club star has been flirting with the idea of running for Texas Governor in 2022.
When asked about his potential candidacy In May 2021 by Jimmy Fallon on The Tonight Show, McConaughey teased: "I'm gonna say to you now the same thing I've been saying, which is true. It's not a dodge. And when I say it's something I'm giving consideration, absolutely.
"What an honorable thing to even be able to consider. But that's no further than that right now, sir."
If he were to run, McConaughey would most likely challenge the Republican incumbent governor, Greg Abbott.