What Matthew McConaughey Said About the 'Illiberal Left'
Matthew McConaughey has criticized Hollywood's "hypocrisy" over the 2016 and 2020 election results in a rant against the "illiberal left."
Speaking on Russel Brand's podcast, Under The Skin, the True Detective actor lambasted those who label people who voted for Donald Trump or Brexit as "dumb."
"[There is] a kind of offhandedness, like, 'Oh, they're dumb, they're voting for Brexit, they're voting for Trump.' I don't like it, and I don't like to hear it," Brand said.
McConaughey, 51, agreed, responding: "There are a lot [of people] on that illiberal left that absolutely condescend, patronize, and are arrogant towards the other 50 percent."
Speaking about how many people in Hollywood struggled to accept the result of the 2016 presidential election which saw Donald Trump elected commander-in-chief, McConaughey said the roles had now been reversed, with Republicans struggling to accept Joe Biden's victory.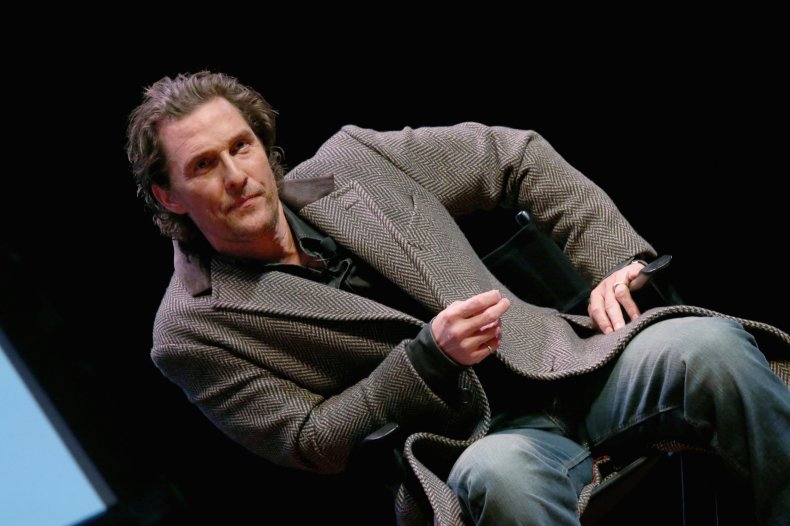 "I'm sure you saw it in our industry when Trump was voted in four years ago, they were in denial that was real. Some of them were in absolute denial," McConaughey told Brand.
"[Now] it looks like Biden's our guy. Now you've got the right that's in denial, cause their side has fake news. And I understand, they've been fed fake news. No one knows what the hell to believe, right? So they're putting down their last bastion of defense."
The How to Lose A Guy in 10 Days star suggested a move away from partisan politics in favor of centrism.
"I almost feel like it's a move to say, 'Let's get aggressively centric. I dare you,'" he said.
The Texan actor further spoke about politics this week in an interview with Time where he discussed how divided Americans are.
"I think what this year's election did is expose what we all kind of didn't want to say out loud: that there is a great divide and there has been a great divide," he said. "My hunch is that moving forward in this time where people have run to the extremes is that there's a common denominator of values that we can all agree on that are bipartisan and nondenominational."
He added: "I think that we should really work on breaking down what we consider to be a contradiction, which is the selfish choice and the selfless choice—the choice for 'I' and the choice for 'we.' I don't believe those are as contradictory as we make them out to be."