Matthew McConaughey Loses Ground to Greg Abbott in Tight Poll for Texas Governor
While Matthew McConaughey has yet to commit to a run for Texas governor, a new poll shows that he stands almost neck-and-neck with incumbent Greg Abbott.
In recent months, the Hollywood actor, 51, has teased that he could well make a move into politics in his native state as he eyes a future away from the big screen.
And a poll, released by The Dallas Morning News and the University of Texas at Tyler on Sunday, has found that 39 percent of registered voters in Texas support Abbott, while 38 percent favor McConaughey in a hypothetical election match-up.
Abbott's razor-thin lead over McConaughey shows a significant rebound for the two-term Republican governor, after the actor led him by 45 percent to 33 percent in a similar poll taken in April.
McConaughey has stated in recent months that he is mulling a bid for governor of Texas, though he has yet to make things official—or comment on whether he would run as a Republican, Democratic or Independent candidate.
Dallas Buyers Club star McConaughey has attracted strong support among Texas Democrats in the latest poll, with 56 percent saying that would support him over Abbott, who was favored by 15 percent of those aligned with the same party.
The figures among Democrats show a significant boost for Abbott, who trailed McConaughey by 58 percentage points in the April poll.
Texas Independents also favored McConaughey, with 39 percent saying they would back him for office, while 29 percent said they would vote for Abbott. In the April poll, McConaughey held a 16-percentage-point lead over Abbott among independents.
However, McConaughey trails Abbott considerably among Texas Republicans, with 69 percent of those polled favoring the incumbent, while 22 percent support the star. In April, Abbott had a notably smaller lead of 26 percentage points.
Meanwhile, 23 percent of all respondents in the latest poll—which surveyed 1,090 registered voters between June 22 and 29, with a margin error of 3.4 percentage points—said they would not be casting their votes for McConaughey or Abbott, opting instead to back other candidates.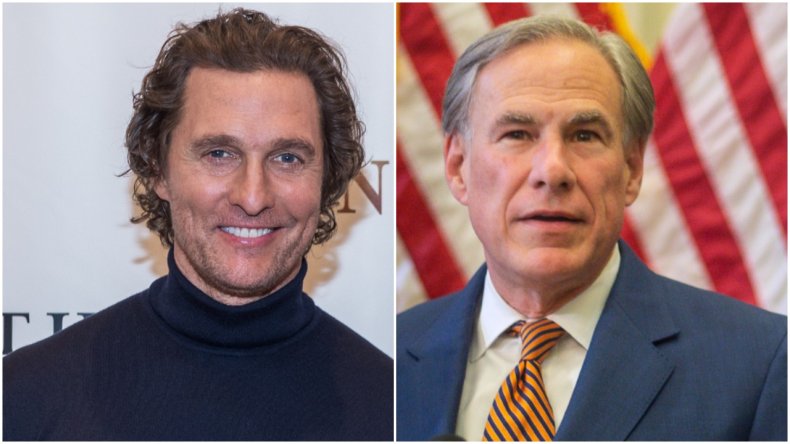 Former President Donald Trump threw his support behind Abbott in June, as the Texan prepares for the November 2022 gubernatorial election.
"Governor Greg Abbott will continue to be a great leader for the Lone Star State, and has my Complete and Total Endorsement for re-election. He will never let you down!" Trump said in a statement, per The Hill.
During an interview on OZY's The Carlos Watson Show, which was released in May, the titular host asked McConaughey if the prospect of a political career would give him a "buzz" or prove to be "challenging."
"Challenging it definitely would be, but I don't know if that's the buzz," McConaughey said. "I'm not interested in going and putting a bunch of Band-Aids on that are gonna be ripped off as soon as I'm out. I'm interested in building something that can last."
When asked if he had the "constitution" for taking on the tough political discussions that would come with the job, McConaughey said: "I trust my core beliefs enough and my values enough to feel comfortable listening to an opposing [belief]."
In an interview with the Longview News-Journal in March, McConaughey also addressed his reluctance to politically align himself with Democrats or Republicans.
"I've said this analogy a few times before, but someone told me: 'There ain't nothing in the middle but dead armadillos and yellow lines,'" McConaughey said. "I said, 'Well, I'm walking right down the yellow lines, right in the middle of the highway right now. And the armadillos are free having a great time because right now, both sides are so far to the right or the left, there aren't even tires on the pavement.'
"So I think, going in, to think Democrat or Republican or one or the other, is small thinking now and even becoming unconstitutional because you're supposed to serve the American people or the people of your state."