Matthew Todd Miller Speaks About Isolation of North Korean Imprisonment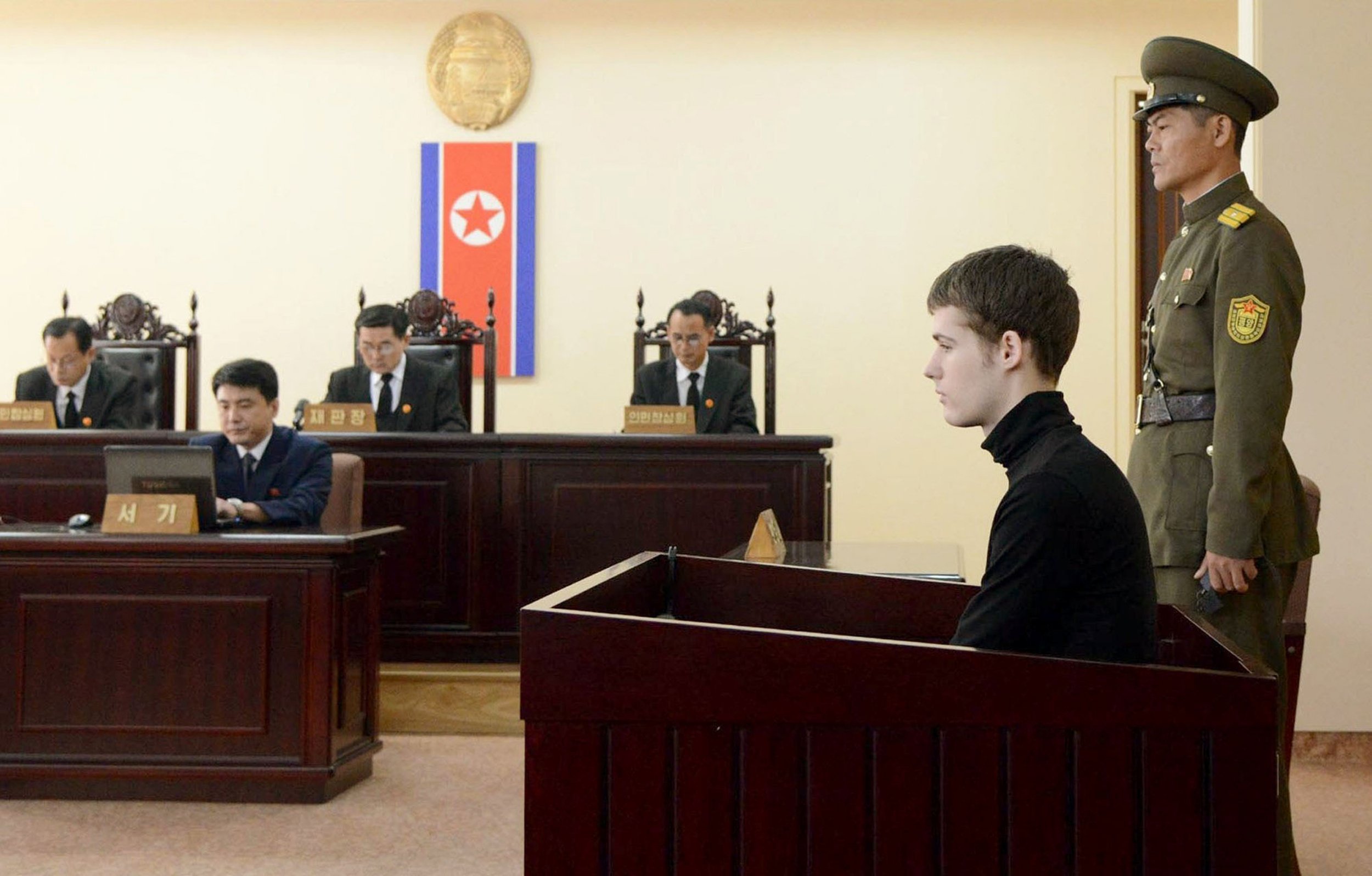 Ten days after being handed a sentence of six years of hard labor in North Korea, U.S. citizen Matthew Todd Miller was briefly allowed to talk to The Associated Press about the isolating conditions of his imprisonment.
Miller, 24, was accused by North Korea of entering the country to commit "hostile acts," according to a statement carried by state media, and sentenced on September 14.
According to an Associated Press report Thursday, Miller was taken to a hotel in the North Korean capital city of Pyongyang to make a phone call to his parents and was allowed to answer one question from an AP Television News reporter.
Appearing in a gray uniform, accompanied by a North Korean guard and "showing little emotion," Miller told the AP that "prison life is eight hours of work per day. Mostly it's been agriculture, like in the dirt, digging around.
"Other than that, it's isolation, no contact with anyone. But I have been in good health, and no sickness or no hurts," he said.
Euna Lee, a South Korean-born American journalist who was detained in North Korea along with her colleague Laura Ling for more than four months in 2009, tells Newsweek that although Miller says he is being treated well, his fragile appearance is a cause for concern.
Lee recalled her own experience in mostly solitary confinement. "It is difficult to be by yourself with no human interaction," says Lee, who spent most of her time alone with two female guards instructed not to engage with her. "The time goes very slow, there's nothing to do, looking at the wall."
Miller is not the only American currently detained in North Korea. Jeffrey Fowle has been held since May of this year and is awaiting trial after being accused of leaving a Bible at a hotel, according to South Korean news agency Yonhap. Kenneth Bae, a Christian who ran a tour group specializing in trips to North Korea, has been detained since 2012, accused by the country's Communist authorities of crimes against the state and sentenced to 15 years hard labor.
While at the hotel in Pyongyang, the AP reported, Miller was allowed to send home letters he had written to American leaders, including first lady Michelle Obama, U.S. Secretary of State John Kerry and former U.S. secretary of state Hillary Clinton. As the AP's video pans across images of the letters, Miller's pleas are visible:
"I am now directly writing this letter in hope that someone will become involved with my case and release me from this sentence," reads one addressed to the secretary of state.
It's unclear why the North Korean government has allowed Miller to call home and speak to Western media, according to the AP, but it's possible this is an attempt to exert pressure on the U.S. to send a high-level envoy to discuss his release.
"It's very important to [the government] to show their citizens that they are a very strong country," Lee tells Newsweek, something that could be illustrated by a visit from a high-level representative from the United States.
The State Department has said that it would send Robert King, its special envoy for North Korean human rights issues, a State Department spokesman told Reuters, but that "Pyongyang has twice rescinded invitations for King to visit at the last moment."
"Our foremost goal is to resolve these cases and secure the earliest possible release of our detained U.S. citizens," the State Department spokesman said.
The North Korean government released Lee and Ling after former president Bill Clinton visited Pyongyang, and freed another American, Aijalon Gomes, in 2011 following a visit by former president Jimmy Carter.