Has Mattis Gone Rogue? The Defense Secretary Has Stood Against Trump Multiple Times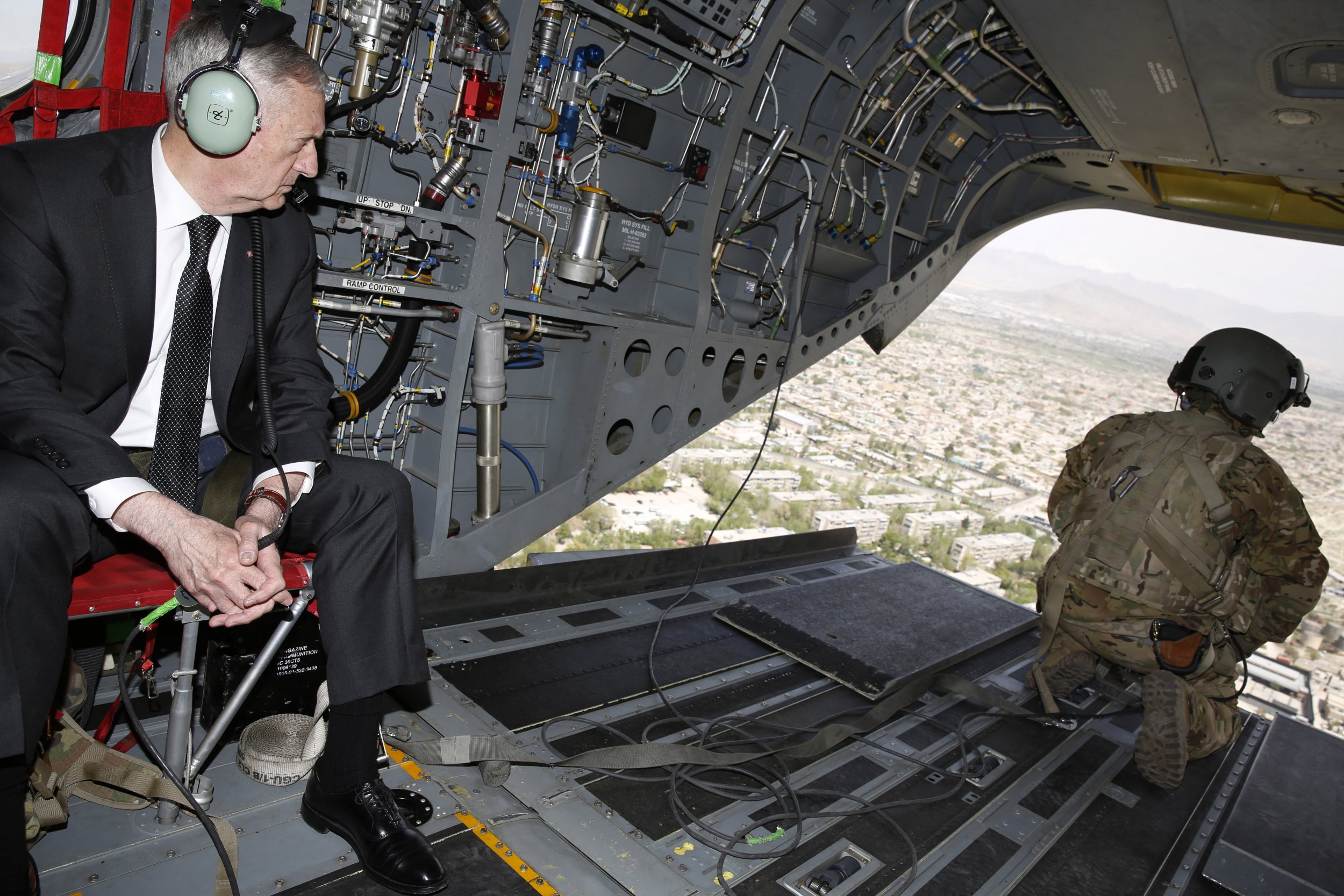 Recent statements and decisions made by Defense Secretary James Mattis have led some to suggest he's working to undermine President Donald Trump's agenda.
Eric Pahon, a spokesman for the Department of Defense, tells Newsweek the notion Mattis has gone rogue is "absolutely untrue."
Why do some think Mattis is rebelling against Trump?
This idea recently started gaining more traction after a video surfaced on Facebook last week that showed Mattis speaking with troops stationed abroad.
Mattis is seen saying: "Our country right now, it's got problems we don't have in the military.... You just hold the line until our country gets back to understanding and respecting each other and showing it."
He adds: "The power of inspiration—we'll get the power of inspiration back."
Mattis never explicitly references Trump in his remarks, but many interpreted what he said as a veiled indictment of the president, and the video went viral.
Subsequently, it was reported on Tuesday Mattis froze Trump's transgender ban, which further fueled the idea he's opposing the president's agenda. Some went as far as to label him a "hero" after hearing the news.
But Mattis is not actually halting the ban, and many have misinterpreted this development.
In reality, Mattis has simply ordered a review of the ban in order to determine how best to implement it. In a statement the Department of Defense released about this on Tuesday night, Mattis explicitly states: "The department will carry out the president's policy direction."
Under the ban, which was instituted through a memo Trump signed on August 25 (not via a tweet, a form of presidential communication that Mattis is reportedly "appalled" by), openly trans people currently in the military will be allowed to serve for the time being, but that doesn't mean the ban has been frozen, as some reports suggested.
The ban is set to go into full effect on March 23, 2018, at which point openly trans people in the military will apparently be removed from service.
Trans people have been allowed to serve in the military openly since June 2016, and it's estimated there are up to 6,600 transgender troops on active duty and more than 4,100 in the Reserves, according to the Rand Corp.
Depending on the findings of the assessment Mattis has ordered, there is a slight chance he could recommend to Trump not to move forward with the ban. But, at the moment, there's nothing to suggest Mattis will do this.
Research already shows transgender people do not affect military readiness and lethality, which Trump has cited as justification for the ban. In his initial tweets on this issue, the president referred to transgender people as a "disruption."
A 2016 Rand Corp. study, which was commissioned by the Pentagon, concluded allowing trans people to serve openly would have "little or no impact on unit cohesion, operational effectiveness, or readiness," and wouldn't be especially costly in terms of health care expenditures.
Accordingly, any new study that concludes otherwise is likely to be met with skepticism.
Mattis has questioned the numbers in the Rand study, another sign he's not necessarily opposed to Trump's transgender ban.
On top of the viral video and the confusion over the transgender ban, remarks Mattis made in response to a tweet Trump sent about North Korea on Wednesday have boosted the notion he's rebelling against Trump.
Trump tweeted, "The U.S. has been talking to North Korea, and paying them extortion money, for 25 years. Talking is not the answer!"
The president was seemingly suggesting diplomacy is not a sound option in terms of convincing North Korea to dismantle its nuclear program.
When asked about the tweet at the Pentagon later in the day, Mattis contradicted Trump.
"We're never out of diplomatic solutions," the defense secretary stated.
Responding to Mattis's comments on North Korea, former Hillary Clinton adviser Peter Daou tweeted: "Mattis is asserting increasing independence from Trump's views. Not sure where this is headed…"
Similarly, VoteVets, a progressive nonprofit focusing on veterans that makes its opposition to Trump well known, tweeted, "Wow! Second time in two days (transgender ban was first) that Mattis has moved to separate from Trump."
Both of these tweets highlight how convoluted the narrative on Mattis is at the moment, as well as the apparent desire among many on the left to see members of the Trump administration defy the president.
Unlike his decision to review the transgender ban, it could be said Mattis's remarks on North Korea represent a moment in which the defense secretary stood directly against the president (but it's hardly the first time Trump and members of his Cabinet have not been on the same page).
With that said, it is still arguably quite premature to say Mattis plans to consistently stand against Trump moving forward.
The defense secretary has a strong personality, and it's certainly possible he doesn't agree with the president on an array of issues.
Beyond the comments on North Korea, there have been other times when Mattis exhibited polar opposite perspectives to Trump, on issues ranging from the use of torture to the Iran nuclear deal. Mattis has also characterized climate change as a national security threat, which stands in stark contrast to Trump's stance on the issue.
But it must be said the idea Mattis has somehow gone rogue is largely unsubstantiated.