Mattis Arrives in China: What Is the Agenda for Trump's Pentagon Chief?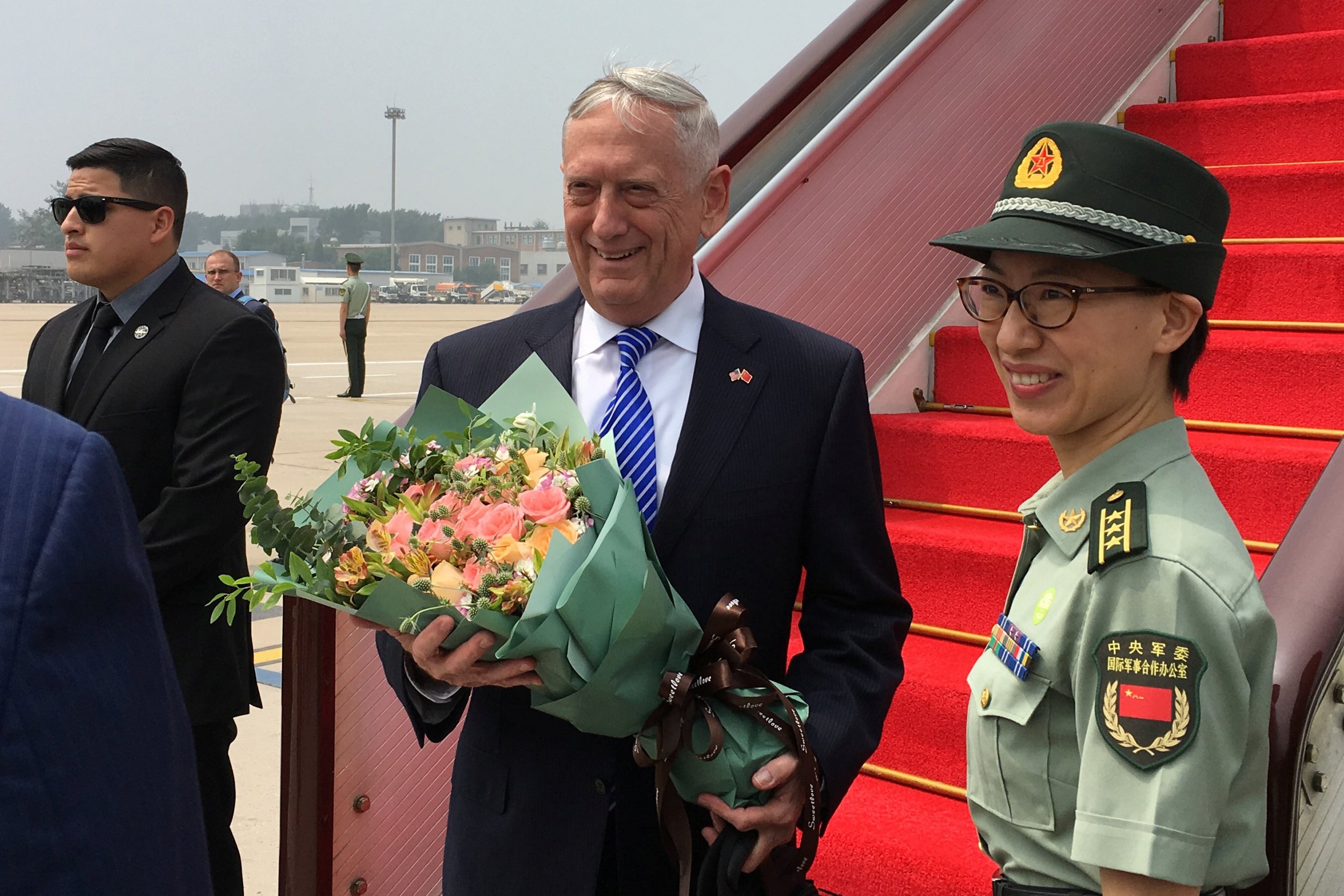 U.S. Defense Secretary Jim Mattis arrived in Beijing today for a three-day state trip. His aim will be advancing security dialogue with China amid declining relations over trade, militarization, Taiwan and the South China Sea. He is the first Pentagon chief to visit China since 2014.
Mattis was handed a large bouquet of flowers as he walked off his plane in Beijing on Tuesday. Ahead of his trip, the defense secretary assured reporters that he intended to use the visit to strike an "open dialogue" at a strategic level with his Chinese counterparts, reported Reuters. "I want to go in, right now, without basically poisoning the well at this point, as if my mind's already made up," Mattis said. "I'm going there to have a conversation."
China has signaled that it would welcome Mattis' diplomatic approach. "Both sides should learn to be good listeners," state-run tabloid The Global Times wrote in an editorial. "Mattis' visit suggests that the Trump administration is still willing to hold military dialogue with China… Such bilateral talks will alleviate tensions between the two countries and is better than blindly guessing the other's 'strategic ambitions.'"
Although Taiwan and the South China Sea are two major concerns when it comes to Washington-Beijing relations, Professor Steve Tsang, a political scientist and director of the SOAS China Institute, told Newsweek that these issues won't likely be addressed during the visit. "Before he left Washington, Mattis seemed to be deliberately trying to be diplomatic," he said. "I suspect that he won't raise issues that will be particularly difficult, like the South China Sea. There's no way they would bridge their difference there."
"[Mattis] has signaled to the Chinese that he is willing to come and talk in a friendly way... He's not going to Beijing to pick a fight."
Instead, Tsang said Mattis is likely to shift the focus onto developments in North Korea and furthering "military cooperation" between China and the U.S. to reduce risk of incidents. "General mechanisms to minimize the rise of confrontations may well be on the agenda," he said. "Also, the Americans have made, albeit unintended originally, major concessions over the military exercises on the Korean peninsula so Mattis may seek to determine what kind of cooperating and support the U.S. could expect to get from China."
Lu Kang, a Chinese Foreign Ministry spokesperson, said military-to-military relations between U.S. and China have been a crucial part of diplomatic ties between the two nations, despite trade difficulties. "I believe that as long as both countries have this desire to meet each other halfway, there are no difficulties that cannot be overcome," Lu said.
On the same day of Mattis' arrival, Beijing state media announced that Chinese warships had been holding military combat drills in waters near Taiwan every day for over a week amid rising tensions between the self-governed island and mainland.
Last week, North Korean leader Kim Jong Un spent two days in Beijing with Chinese President Xi Jinping. It was his third visit to China since March and came just one week after his historic meeting with U.S. President Donald Trump in Singapore. Following the state visit, North Korea state media confirmed that the two leaders discussed denuclearization of the Korean peninsula and came to an understanding.
Mattis was quick to point out that the U.S. and China both wanted denuclearization and shared similar interests in that area. "The People's Republic of China also want to denuclearize the Korean Peninsula. That's their policy," he said.