Mattis Exit Prompts Speculation About Future of Trump White House—'There's Going to Be an Intervention'
The sudden resignation of Defense Secretary Jim Mattis and his rebuke of President Donald Trump have signaled a new level of crisis at the White House, one that may require an "intervention" according to a report.
In a curt parting shot, Mattis wrote in his resignation letter how he believed in "treating allies with respect and also being clear-eyed about both malign actors and strategic competitors."
Related: GOP Leader McConnell 'Distressed' Over Mattis's Departure
He added that the president had the right to a secretary of defense "whose views are better aligned with yours."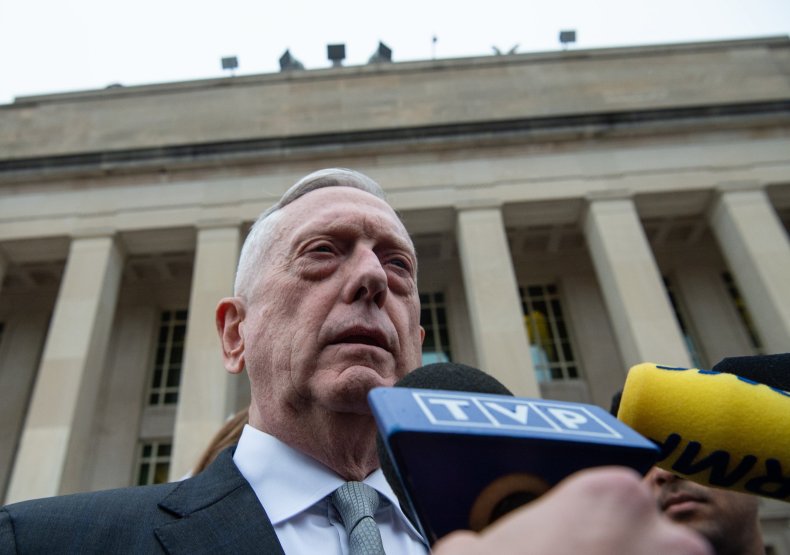 The letter followed an equally abrupt decision by Trump to withdraw troops from Syria, along with a drawdown of around half the 14,000 U.S. troops posted to Afghanistan.
A former White House administration official told The Washington Post that Mattis's departure was significant and could mark a turning point in Trump's tenure.
"There's going to be an intervention. Jim Mattis just sent a shot across the bow. He's the most credible member of the administration by five grades of magnitude.
"He's the steady, safe set of hands. And this letter is brutal. He quit because of the madness," he told the paper.
Journalist Bob Woodward wrote in his book Fear that Mattis was able to curb Trump's wilder suggestions, and that he told aides the president had the policy understanding of "a 10- or 11-year-old child." Mattis denied Woodward's version of events.
Leon Panetta, who was defense secretary, CIA director and White House chief of staff for Democratic presidents, told the Post that the country was now in a "constant state of chaos."
"While it may satisfy [Trump's] need for attention, it's raising hell with the country," adding that it "puts the security of the nation right now at some degree of risk."
Meanwhile, Democratic Senator Tammy Duckworth, an Iraq War veteran, called on Mattis to explain to Congress what he wrote in his resignation letter.
"Secretary Mattis should testify before Congress and answer questions about the alarming contents of his resignation letter," Duckworth wrote.
She also went on to tweet: "Congress should use its power to check this President, defend our alliances and hold our adversaries accountable when Donald Trump refuses to."
The Senate majority leader, Mitch McConnell, who rarely challenges the president, issued an unusually direct statement saying he was sorry to learn that Mattis, who valued post-World War II alliances and understood that Russia was a foe, was leaving.
"I am particularly distressed that he is resigning due to sharp differences with the president on these and other key aspects of America's global leadership," he said.
Mattis will leave the job at the end of February. His replacement will need to be approved by Congress.