U.S. Military Must 'Be Ready' for North Korea Threat, Mattis Warns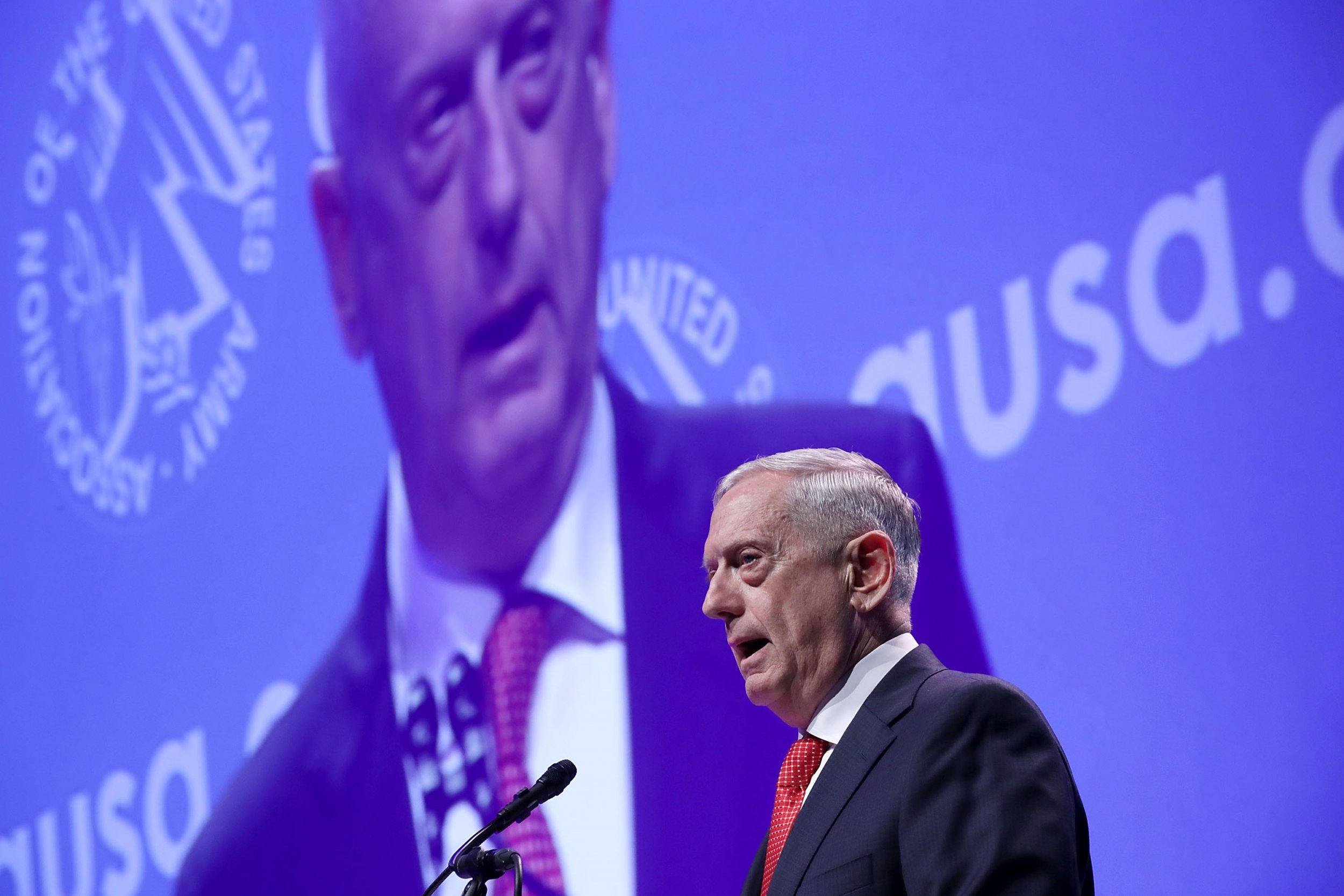 The U.S. Army has "got to be ready" to confront the North Korean threat if diplomatic efforts are unable to resolve the U.S. dispute with Pyongyang over its nuclear weapons, Defense Secretary James Mattis said Monday.
Addressing the Association of the United States Army's annual meeting, Mattis said: "What does the future hold? Neither you nor I can say. So there's one thing the U.S. Army can do.... You have got to be ready to ensure we have military options that our president can employ if needed."
Mattis stressed that the Trump administration's current approach to North Korea is a "diplomatically led, economic sanction–buttressed effort," but expressed skepticism that the strategy will work.
"How many times have you seen the U.N. Security Council vote unanimously, now twice in a row, to impose stronger sanctions on North Korea?" Mattis asked. He added that the U.S. Army "must stand ready" and that the military will "always do its duty."
Mattis's remarks arguably contradict recent statements made by President Donald Trump on North Korea, including a tweet the president sent a few hours before the defense secretary spoke.
Trump has made it clear he does not believe diplomacy or dialogue will lead North Korea to adhere to the U.S. government's desires and relinquish its nuclear program.
"Our country has been unsuccessfully dealing with North Korea for 25 years, giving billions of dollars & getting nothing. Policy didn't work," Trump tweeted.
Similarly, Trump sent tweets on Saturday claiming North Korea had been making "fools of U.S. negotiators" for years, adding that "only one thing will work" in terms of confronting Pyongyang. The messages seem to suggest that the president considers military action the most viable approach to handling North Korea.
The U.S. has roughly 24,000 military personnel in South Korea, including 15,000 from the Army, according to the most recent government numbers. It has around 40,000 military personnel in Japan, roughly 2,600 of which are in the Army. American forces in both countries would likely be involved in a violent conflict with North Korea.
Without accounting for the use of nuclear weapons, it is estimated that as many as 1 million people would die from a conflict between the U.S. and North Korea.
The U.S. military ranks No. 1 in the world in terms of overall strength, while North Korea is ranked 23, according to the Global Firepower Index.
More than 1.1 million people serve in North Korea's armed forces, representing approximately 5 percent of its total population. The U.S. does not have complete intelligence on North Korea's military capabilities, but the country is believed to have up to 60 nuclear weapons.
The North Korean regime is also believed to have roughly 1,300 aircraft, 300 helicopters, 430 combatant vessels, 250 amphibious vessels, 70 submarines, 4,300 tanks, 2,500 armored vehicles and 5,500 multiple rocket launchers, according to the Council on Foreign Relations.