British pop/rock band The 1975 made an unspoken deal with their fans early in their career: They're allowed to change. It's probably a reason why the group constantly teases an end...or a new beginning.
1975 fans are used to lead singer Matty Healy's scares, often claiming the band's end is near, or that another project will take over what they've already built. They're just as used to Healy walking back these statements and releasing album after album, even with inherent anxiety that any expression could be the last. It's not that Healy is trying to disrupt the fanbase. He just has a list of plans that demand his time. From reviving their preemptive group, Drive Like I Do (which Healy told Newsweek is still in the works) to a wish to write music for video games, Healy has a lot on the horizon.
Right now, though, he's focused on their upcoming album release, though: Notes On A Conditional Form.
Healy's changing plans have pushed the album back a year from its original, teased release date. But fans don't seem mad, or even annoyed by the project's delay. And they certainly have no reason to be with a record boasting 22 songs...one that's filled with diversity so extreme, they'll barely know what to call it. It's the unexpected they've come to expect, Healy divulges.
The frontman weaves in and out of the spotlight. At times, he's an average voice on Twitter, communicating with fans and working on new music. Other times he's criticized for the things he says and does—like when he kissed a male fan in Dubai, where homosexuality is criminalized.
Today, Healy is bunking up at a countryside recording studio where he recorded much of the new album. His social media presence recently has been wallpapered with photos of his new puppy, Mayhem. As we chat, he stops to kindly congratulate the dog, before diving into the mechanics of their fourth album. From the other end of the phone, it sounds like a slow-paced, normal life, just before the chaos of another, mega-popular album brings him back to center stage.
Notes On A Conditional Form (Notes), out Friday, is a robust example of everything The 1975 is best at. There are a handful of songs you can't help but dance along to. "If You're Too Shy (Let Me Know)", led the upbeat tracks when fans named the pre-release one of the band's best songs yet, and they'll likely be just excited to hear the vulnerable breakup bop "Tonight I Wish I Was Your Boy" that promises to bring up visions of exes past.
Fans are used to a celebratory sound from the band, and it's not lacking on this album. But it's begun to evolve into something new. Deeper topics drive the messages. Religion, sexuality, personal identity, relationships and mental health are prominent in the collection, whether it's mentioning forgetting to eat again, or questioning what, exactly, comes next.
Made of members Healy, George Daniel, Adam Hann and Ross MacDonald, The 1975 has led the charge to change pop music and incorporate heavier topics. On their last album, A Brief Inquiry Into Online Relationships (ABIIOR, released in November 2018), Healy revealed he was recently out of rehab and quoted President Donald Trump's controversial phrasing in the political track "Love It If We Made It," named Pitchfork's best song of 2018.
The same momentum that propelled ABIIOR is found on Notes, this time, even more expansive. The political moments are there. So are the songs that sound purposely cosmetic, like "If You're Too Shy" with lyrics that talk of FaceTime sex. But that pop facade is quickly evolving.
The album is a perfect descendant of ABIIOR. Originally created in tandem, they could be considered twins. If ABIIOR was a tangled ball of wire, strongly holding concepts in place, Notes is the same, but made of yarn. One end may be fraying, ready to break the whole collection loose and watch the band spiral into something else entirely. The start of something fresh is found in each song, while the cherished, personal parts will still feel nostalgic and true to dedicated fans. But it also hosts an opportunity for fans to learn the band is capable of something completely untapped.
It may just be Healy's ego unraveling.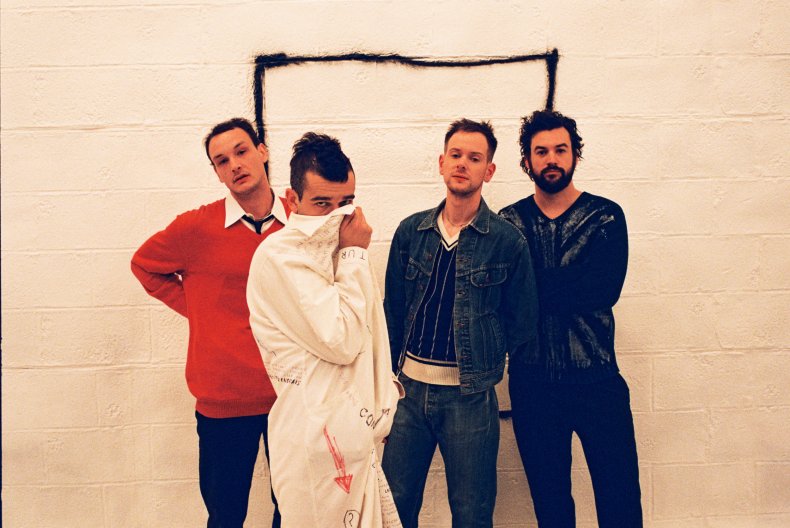 The artist told Newsweek Notes holds new topics, this time that focus on the fundamental encounters of human life. "I'm just a different person. I've been through it," he explained. "My second record was all about my ego and negotiating it—what I was scared of. All of those kinds of things. I'm at a different place now."
He continued. "Every time I write a record I put everything into it and then, especially because my fans are so obsessed with, like, every f***ing song, every time I come to write again, I'm not going to look backward and go over the same things because I have no desire to."
Healy's own experiences have been stripped back, each time finding deeper images to pull from as he experiences them in his own life. "It's not that the well is dry every time I make a new record, it's just that the things that I do have to talk about become way more refined and way more fundamental. It's way more about the truths—love, fear, death, whatever it is."
It's simple to see Healy's thought process throughout, as it's undeniably one of the most vulnerable collections from The 1975. "Playing On My Mind," an acoustic song starts with the introspective line "Will I live and die in a band?" Lyrics follow Healy evaluating his present and his future in questions like "Will I get divorced when I'm old?"
The emotion mirrors the more upbeat "I Think There's Something You Should Know" that blatantly addresses mental health. It's refreshing, with stripped references and honest lines that talk about feeling entirely out of body. The vulnerable content is perfectly balanced with a bubbly beat that boasts one of the most charismatic second verses in the band's history.
To Healy, it all fits. "Like I said, by now, the bigger things, the most important to me, those are the things that make it into the record. Those things are kind of the same for everybody else."
Notes also offers the first collaborations from the band. FKA Twigs, Phoebe Bridgers, Greta Thunberg and Cutty Ranks lend vocals to the diverse collection, which allows Healy to take a step back from being the album's nucleus.
The true center may be this moment in time, one that's terrifying and unpredictable. The pushed-back release of Notes is inherently eerie because of the album's lyrics: many which point to a naturally introverted lifestyle.
As Notes gears up to release in the middle of a global pandemic, more than a handful of the tracks talk about staying inside and mention anti-social tendencies. The first song that advertised this viewpoint was a metal-inspired rock track called "People," which was released all the way back in August. It's most relevant lyrics read: "I don't like going outside, so bring me everything here," an echo of evergrowing Instacart deliveries and Amazon Prime reliance.
Healy clearly didn't know the state of the world while writing the album, and he still doesn't think he predicted the future.
"The record just feels justified. I don't know whether it feels prophetic. It is an exaggeration of all of these ideas. The lyrics in 'Yeah, I Know,' they're all very now and weird."
One of the song's lines says: "Time feels like it's changed, I don't feel the same."
And things certainly have changed. Covid-19 appears to be an undeniable catalyst to societal change, whether that's better personal attention to hygiene, or an unprecedented artistic awakening. Healy expects creation will need to adjust, as it has in times of turmoil and trauma in the past.
"Remember after 9/11? 9/11 f***ed up people so hard and we had no idea—protest music after 9/11 went in the opposite direction because we didn't know what to do. That's why we were listening to Katie Melua and Nora Jones and Jack Johnson. Because we wanted this idea of idealistic, safe escapism. Maybe we'll go somewhere like that. Maybe that's what's needed," he predicts.
Now, Healy sees a similar trauma throughout the world. "That was certainly an antidote to the fear of time. And that's not something I'm judging: I kind of agree. It was such a universal trauma, it felt like something like punk, aggression or violence—it felt like it could be met with anything. Now, we've learned what it's like to be attacked on a global level—on a societal level. I think now, bands like myself, are being able to stand up to bigger ideas."
The concept puts Notes ahead of its time, whether that's because of its lyrical predictions—or validations—or Healy's pledge to make meaningful art. Healy says there's a possibility Notes acts as "the lost campaign" among the stay at home orders, already-canceled tour and global readjustment. If it falls through the cracks, he's okay with it.
"Notes will be what it is. Notes might be this statement in the pandemic. It might be the lost campaign," Healy says. "It might be lots of different things. I'm very willing to let it be what it is."
Regardless of what you call it, or how it shapes up in time, Notes is an ambitious project from the band that certifies their less-than-concrete image as genre-bending and willing to evolve. Still, it places them right where fans want to see them: creating a dimensional album full of memorable moments and holding up their part of the deal to never cheat an album's full potential, even if it takes time.
As for The 1975's future, Healy notes regardless of the evolution of the band, he sees music in his future. "We'll still make albums, I imagine," he said.
"Whether we'll be putting out albums regularly, I'm not sure. But that is what I do. It's not like the formal way that I curate my expression. Like, the album itself is my creative expression. I'm comfortable with singles coming out and that, as much as I will play the game. I think—that's what I do. I'll always do that, in the way that I think that an artist who starts with painting will probably always paint."