Max Brooks's Graphic Novel 'The Harlem Hellfighters' Tells the Story of a Black Regiment in World War I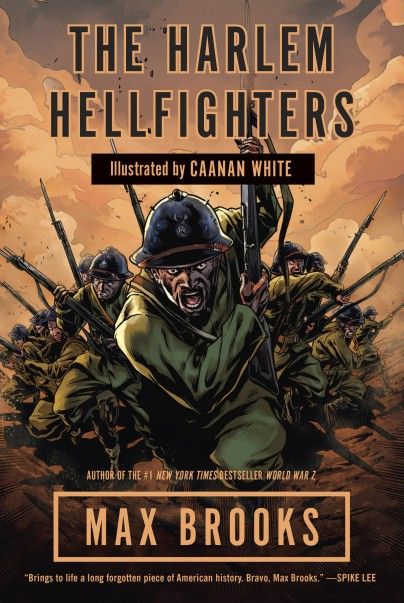 Any review of Max Brooks' graphic novelThe Harlem Hellfighters should really be conveyed in pictures. It is Canaan White's stunning illustrations of gassed-out trenches and a corpse-strewn no-man's-land that define this book about a heroic but long forgotten black regiment in World War I.
The 369th Infantry Regiment, nicknamed the Harlem Hellfighters, was an African American unit that fought for the US Army in WWI despite discrimination at home. Extraordinarily, these soldiers spent longer in combat than any other American unit, white or black. Their story of bravery, sacrifice and perseverance remained long overlooked in favor of other black wartime heroes like the Tuskegee Airmen and the Buffalo Soldiers.
For over two decades, Brooks (son of Mel Brooks and Anne Bancroft) researched the Hellfighters' story. His fact-finding mission paid off in his attention to historical detail, like the nicknames the soldiers gave to each type of German artillery or the specific type of gas used on the battlefield.
The blurred line between fact and fiction is the book's greatest strength -- and weakness. The book jacket features blurbs from a Pulitzer-prize winning author, a Harvard professor and, yes, director Spike Lee, all trumpeting the importance of Brooks' book to the narrative of black history in America. But where does the history end and the mythologizing begin? Do such books turn actual heroism into a cartoon? Does fabrication diminish the story's "truth"? Or perhaps it is just what's needed to make this piece of history accessible to a younger generation of readers.
Brooks, best known for zombie books like World War Z (the basis for the Brad Pitt film), applies much of the same blood lust and horror to the battlefield in World War I. Harlem Hellfighters reads like a movie, too, and (perhaps unsurprisingly) it was just optioned by Will Smith's Overbrook Entertainment for a film to be distributed by Sony. The drama unfolds quickly as the recruits sign up in Harlem, battle racism while training in South Carolina, then jump across the Atlantic to fight the Germans in scene after scene of bombs and bullets. The dialogue throughout is short and snappy. The violence practically jumps off the page and punches the reader in the face.
All for a war that receives surprisingly little attention nowadays. Despite being referred to as the "Great War," and "the war to end all wars," World War I "is not a popular subject," according to Brooks. (Did you know that this July 28th will mark the 100th anniversary of the beginning of WWI? Me neither.) Hence the action-movie template: Injustice, check. Graphic violence, check. Sex, okay, not so much, but war isn't exactly sexy.
Harlem Hellfighters ultimately is a story of contrasts. Whites vs. blacks. Germans vs. allies. Hatred vs. camaraderie. It is a novel about blacks and whites that is literally, and figuratively, in black and white. (Illustrated by a guy named White, no less.) Such symmetry between subject matter and presentation highlights the racial injustices of the times and the strength needed for a black man to be a hero in a white man's war.
The book also contains great subtleties, though, where the humanity of Brook's tale can be found. Between horrifying images of a man's body blown apart - his vertebrae, and nothing else, protruding from his waist, the skin of his face melting off - there are less drastic snapshots of war: a book of poetry being passed from one struggling soldier to the next, or the shared songs of the 369th infantry regiment like "How Ya Gonna Keep 'Em Down On The Farm" or "Over There."
Some of Brooks' characters are more three-dimensional as well: Henry Johnson, the first American soldier to win the Croix de Guerre, the French military's honor for acts of heroism in combat. Brooks portrays Johnson as a man honored for unleashing his anger on the battlefield but struggling to control that same rage away from the frontline. At one point while on leave Johnson snaps and mercilessly beats a group of drunken bigots.
Like the regiment of African American soldiers it depicts, Harlem Hellfighters can't be stereotyped or pigeon holed. It might not be your typical history book, but it packs one hell of a punch.
The Harlem Hellfighters, by Max Brooks, illustrated by Caanan White, Broadway Books, April 1