Max Verstappen Slams Fans for Burning Hamilton Merch Following Hungary Win
Max Verstappen slammed his fans who appeared to burn Lewis Hamilton merchandise after his win in Hungary.
The Formula One world champion, who took first place in the Hungarian Grand Prix on Sunday, branded his Orange Army fans' alleged actions as "disgusting" in a post-race interview.
"Yeah, that's of course not acceptable," the 24-year-old Red Bull Racing driver told reporters. "These individuals, I definitely don't agree with that."
He added, "Overall, I think the majority of the fans were cheering a lot throughout the race, and also on the podium, for every driver. I think that's how it should be."
Footage of Verstappen fans apparently setting fire to the seven-time world champion's merch at the Hungaroring racetrack started circulating on social media over the weekend. One clip, which was posted on Twitter, has been viewed more than 617,000 times.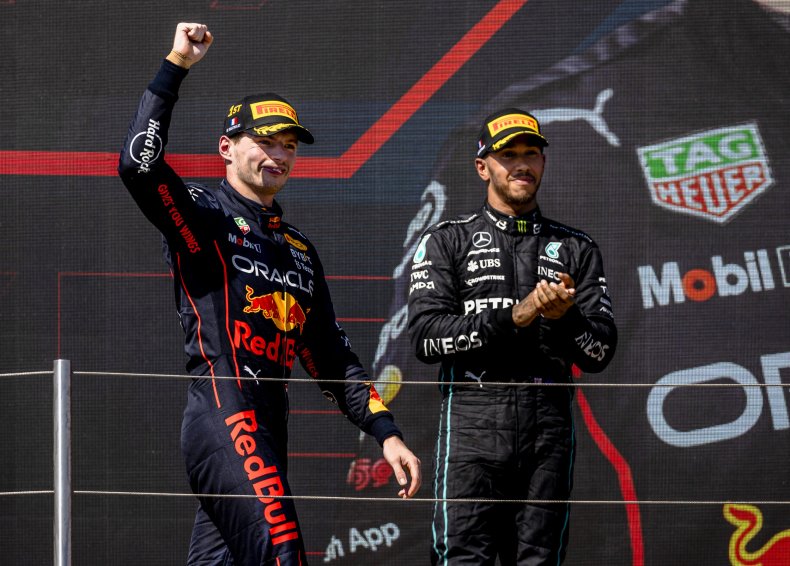 The incident comes just weeks after a slew of racist, homophobic and sexist abuse allegations were made at the Austrian Grand Prix, Red Bull's home race.
Senior figures in the sport have since come forward condemning the abuse, including Mercedes-AMG Petronas team principal Toto Wolff.
"It's just people being stupid," he said. "I have no other explanation for people abusing in whatever way, sexist, homophobic or racist—you are just simply brainless. No alcohol can excuse that."
Wolff continued: "If you are a real Formula One fan, whatever team, whatever driver, you can't be a racist, you can't be homophobic and you can't be sexist because then you don't fit to Formula One and we don't want you." He later told members "of that group" to "stay away" and "f*** off."
Hamilton, 37, who drives for Mercedes, wrote via his Instagram Stories at the time that he was "disgusted and disappointed" to hear of the weekend's events.
"Attending the Austrian Grand Prix or any GP should never be a source of anxiety and pain for fans, and something must be done to ensure that races are safe spaces for all," he said.
Meanwhile, four-time world champion Sebastian Vettel said the abusive fans should be banned from attending future races.
"Whoever these people are, they should be ashamed of themselves, and they should be banned from racing events for their lives," the Aston Martin driver, 35, told reporters.
The occurrences in Austria pushed Formula One to launch an investigation and take a stand through its Drive It Out campaign, which aims to end abuse of any kind, whether online or on track.
"Formula 1 is all about competition and rivalries, but also respect. Respect as competitors. Respect for our fans. Respect for the whole F1 family. Abuse of any kind is not welcome online, or anywhere in F1," a statement posted via Formula One's Instagram on Saturday read.
"We are united and ask you all to join us in driving this out of all sport and society. We have a duty to call this out and say—'no more.' Those who hide behind social media with abusive and disrespectful views are not our fans. If you cannot be respectful, then don't be a part of our sport."
Verstappen is Formula One's youngest race winner and first Dutch world champion. This year, he's enjoying an 80-point lead against Ferrari's Charles Leclerc as the teams head into the summer break. Last year at this stage, he and Hamilton were separated by just eight points.
Newsweek reached out to Hamilton's representative for comment.