Actor Max von Sydow Dies Aged 90
Max von Sydow has died aged 90, as confirmed by his wife, filmmaker Catherine von Sydow.
Catherine von Sydow said in a statement: "It's a broken heart and with infinite sadness that we have the extreme pain of announcing the departure of Max Von Sydow on March 8."
The actor was known for starring in movies including The Seventh Seal, The Exorcist, Flash Gordon and Star Wars: The Force Awakens. He appeared in more than 100 films and TV shows throughout his career.
Born Carl Adolf von Sydow in Lund, Sweden, in 1929, von Sydow died on Sunday at his home in Provence, France.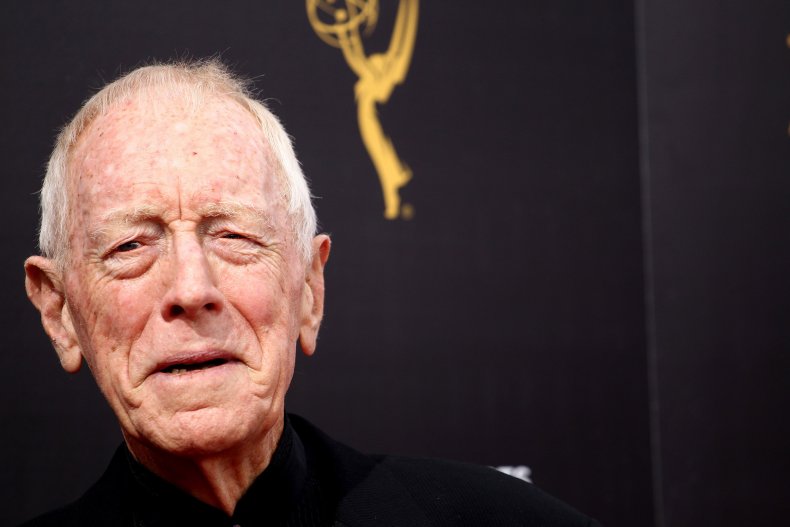 Max von Sydow first gained recognition for playing Antonius Block in The Seventh Seal in 1957 and went on to appear in movies including The Exorcist (1973), in which he played Father Lankester Merrin, and Flash Gordon (1980), in which he played the Emperor Ming, or Ming the Merciless.
More recently, audiences will have seen von Sydow play Lor San Tekka in Star Wars: The Force Awakens (2015), and the Three-Eyed Raven in Game of Thrones.
The actor had been married to Catherine Brelet von Sydow since 1997, and together they had two children, Cedric and Yvan. Von Sydow also had two sons, Henrik and Clas, with actress Christina Olin, to whom von Sydow was married from 1951 until 1979.
In 2002, von Sydow became a French citizen, and had to relinquish his Swedish citizenship.
The Max von Sydow official Facebook page shared a tribute video, in which von Sydow talks about what it means to be a movie star. "Some people say I'm a movie star. F*** 'star', that's not what I'm after," says von Sydow in the video.
"I want to work with interesting things. I want to work at the theatre, I want to work in a film, with interesting material that you can do something with.
"All the rest, I'm not interested in, at all. It is something the press has invented, and the movie industry, they have invented this. They make stars. It's the press that makes the stars. So they are not more talented or genial than most other good actors, they just, maybe as private persons, maybe they have a little more charm than [middle smiths], or whatever."
Filmmakers have paid tribute to von Sydow on Twitter.
Director and screenwriter Edgar Wright said: "Max Von Sydow, such an iconic presence in cinema for seven decades, it seemed like he'd always be with us. He changed the face of international film with Bergman, played Christ, fought the devil, pressed the HOT HAIL button and was Oscar-nominated for a silent performance. A god."
Filmmaker and actor Kevin Smith said: "The legendary actor who gave us both Brewmeister Smith and Ming the Merciless has finally laid down his King in the eternal chess match. Farewell, Max von Sydow. You were in many much more respected movies than Strange Brew and Flash Gordon but I loved you for those flicks first."
Director Ted Geoghegan said: "Max von Sydow portrayed so many amazing characters over his 90 years on this rock, but I'll always remember him as Ming the Merciless in 1980's Flash Gordon. It perfectly showcases a classically trained master thespian's grasp of melodrama and camp."
And Sweden's official Twitter account also celebrated the Lund-born actor, in a tweet that said: "Max Von Sydow, one of Sweden's greatest actors has passed away. This silver screen legend will be missed by many! R.I.P."