Maxine Waters Accuses Trump of Being 'Putin's Apprentice'
Representative Maxine Waters, a Democrat, has continued her feud with President Donald Trump, calling him "Putin's apprentice."
The California congresswoman made the comment in an interview with MSNBC's AM Joy on Sunday, during which she also suggested the Republican Party should be trying to rein in the president.
"I'm not surprised about what happened in Helsinki. I'm not surprised about the private meeting. I'm not surprised about this president standing up for Putin. As a matter of fact, I think he is Putin's apprentice. He's been under his tutelage for a long time now, and he intends to get it done and the American people are standing idly by. And the Republican Party should be ashamed that they are allowing it to happen," Waters said, also suggesting the relationship between the two all came down to lifting sanctions on Russia.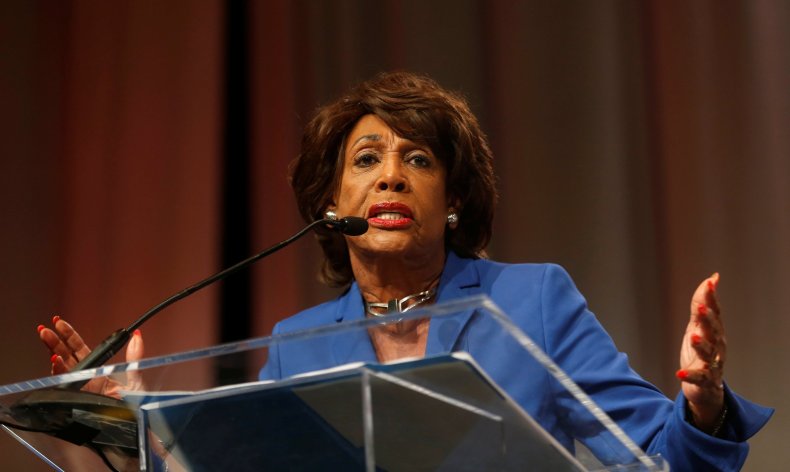 "They have no courage. They're not standing up for America. I dare them to talk about how patriotic they are given what they are allowing this president to do," she added.
Waters's latest comments come as she discussed Trump's behavior in Helsinki—a performance that prompted widespread criticism after the president appeared to suggest he believed Russian leader Vladimir Putin's denial of election meddling over the conclusion reached by U.S. intelligence agencies.
Waters has been particularly outspoken about Trump of late, particularly following the backlash over his now defunct border separation policy—encouraging people to confront members of the Trump administration if they saw them in public.
"The American people have put up with this president long enough. What more do we need to see? What more lies do we need to hear?" Waters said at a rally last month, The Washington Post reported. "If you see anybody from that Cabinet in a restaurant, in a department store, at a gasoline station, you get out and you create a crowd, and you push back on them!"
Her comments prompted a strong reaction from the president, who seemed to issue a warning to Waters while accusing her of encouraging people to harm Trump supporters and members of his Cabinet.
"Congresswoman Maxine Waters, an extraordinarily low IQ person, has become, together with Nancy Pelosi, the Face of the Democrat Party. She has just called for harm to supporters, of which there are many, of the Make America Great Again movement. Be careful what you wish for Max!" Trump tweeted.
Maxine Waters Accuses Trump of Being 'Putin's Apprentice' | U.S.