Maxine Waters: Trump Should 'Keep His Mouth Shut' About California Wildfires, GOP Scared of a 'Strong Black Woman'
Representative Maxine Waters of California warned President Donald Trump to "keep his mouth shut" about the wildfires ravaging the state, and said that the GOP feared a "strong, black woman" chairing the House Financial Services Committee.
Waters, the committee's top Democrat and next in line to take charge of it, responded to Texas Republican Representative Jeb Hensarling's comments the day after the midterm elections in which he fretted that Waters would turn the House committee into "a Spanish Inquisition" to harass and "intimidate" the Trump administration.
Waters recently stated her intention to investigate Wells Fargo & Co. and Deutsche Bank—two massive financial institutions with a long history of lending money to Trump's businesses.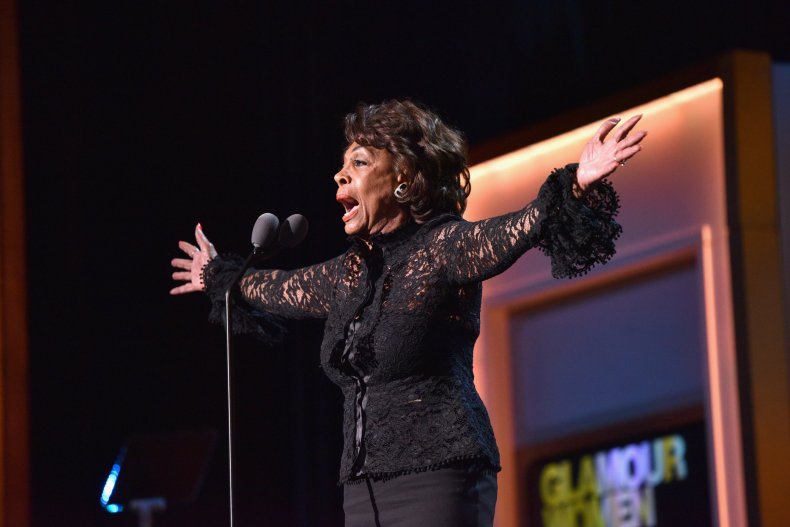 Speaking with MSNBC's Joy Reid Sunday, Waters also said her California constituents living in the line of the wildfires that killed 42 people this past week wish Trump would stop criticizing "things that he does not know." Over the weekend, Trump ridiculed what he said was gross incompetence by California's Forest Management agency for not containing the fires quickly enough.
"The president of the United States attempts to talk about things that he has no knowledge of," Waters said on AM Joy Sunday. "He doesn't even understand what goes into fighting a fire, and for him to come out talking about poor management is just another indication that the president is not willing to learn anything. He does not really care about others, and he's on the attack all of the time. If you listen to the president, he starts out attacking, and so we wish he would keep his mouth shut. California does not need him to be talking about things that he does not know."
Later in the segment, Waters responded to Hensarling's comments about her "99 percent chance" of becoming the House Financial Services Committee chair after Democrats captured the House majority in last week's midterm elections.
"There's a tale of two Maxines, on the one hand she is capable of being a serious legislator, but we also know, speaking of leaders, she has led the charge for impeaching President Trump and she was the one who makes incendiary comments about harassing the president's Cabinet and his staff in public places," Hensarling told CNBC last Wednesday. He predicted she wouldn't be able to undo Republican deregulation efforts, but that she could still negatively affect the country's current economic growth.
"The question is, will the House Financial Services Committee continue to be a beehive of legislative activity...or will the committee basically be turned into a Spanish Inquisition or the Star Chamber to harass the administration, to intimidate the administration?"
Waters responded on MSNBC Sunday: "That's the opposition talking about what would happen if this strong, black woman Maxine Waters is the chair of the Financial Services Committee. They've never seen anybody like me before. There's never been a woman in the history of this country that's been the chairperson of the Financial Services Committee, and certainly never a black woman."
Trump and Waters have exchanged personal attacks since June, when the California Democrat encouraged a Los Angeles crowd to harass members of the Trump administration should they see them in public. Waters's comments came after reports that the Trump administration's immigration policy was resulting in migrant children being separated from their parents.
Trump has called Waters an "extraordinarily low IQ person" and "crazy." Meanwhile, Waters has called the president "Putin's apprentice" and has been the target of several racist comments from right-wing politicians and pundits. ,