Maxine Waters on Marjorie Taylor Greene: 'We Can Expect Anything From This Crazy Woman'
Democratic Rep. Maxine Waters of California addressed extremism in the Republican Party on Sunday, singling out Rep. Marjorie Taylor Greene of Georgia as the leader of a group of hard-right, pro-Trump lawmakers that she called the "GOP crazy caucus."
Greene introduced a bill on Tuesday to award the Congressional Gold Medal to Kyle Rittenhouse, who fatally shot two men and wounded a third in Kenosha, Wisconsin, on August 25, 2020, during anti-racism protests sparked by the police shooting of Jacob Blake, a Black man.
"I think that's so ridiculous," Waters said of Greene on MSNBC's The Sunday Show, "but that is typical of who she is and how she acts and what she will say she has no respect for anything, anybody, the Constitution, the Congress of the United States, so we can expect anything from this crazy woman."
Since a jury found Rittenhouse not guilty of homicide, former President Donald Trump's staunchest congressional allies embraced the 18-year-old defendant as a symbolic figure for the America First agenda.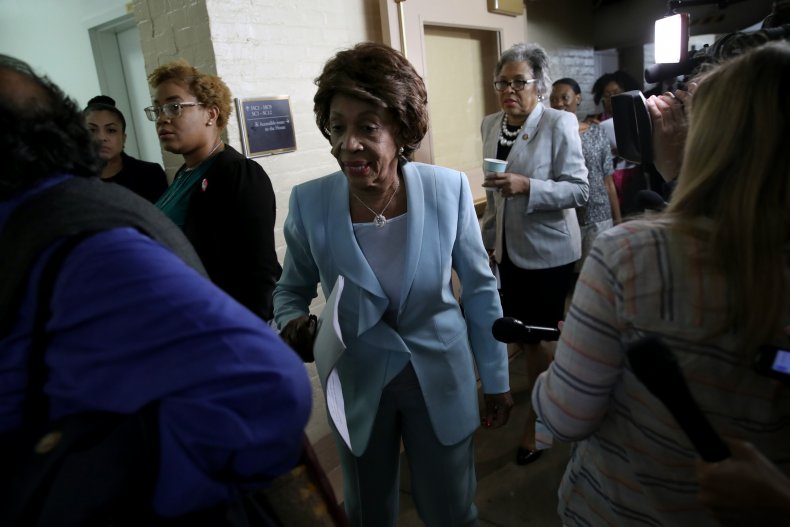 Reps. Madison Cawthorn of North Carolina, Matt Gaetz of Florida, and Lauren Boebert of Colorado floated the idea of offering Rittenhouse an internship in Congress. Afterward, Rep. Paul Gosar of Arizona tweeted: "I will arm wrestle [Gaetz] to get dibs for Kyle as an intern."
Boebert then took the offer to another level. "Now I do have some colleagues on the Hill who have, just like me, offered Kyle Rittenhouse an internship in their office," she said on Newsmax. "Madison Cawthorn, he said that he would arm wrestle me for this Kyle Rittenhouse internship. But Madison Cawthorn has some pretty big guns, and so I would like to challenge him to a sprint instead."
Their remarks came as Trump revealed in a cable news interview on Fox News on Tuesday night that Rittenhouse had visited him at his Mar-a-Lago resort in Florida.
The group of pro-Trump Republicans are the central figures of a MAGA squad of Trump loyalists, and Waters identified Greene as their "leader," who goes further than the rest to buck Republican tradition and decorum.
"She has no committees. She's been stripped of her committees because of her outrageousness," Waters said. "So she walks around the floor with her jeans on sometimes, with a telephone in our back pocket, like you see some of the street guys do. She outbursts oftentimes."
"So she's the leader of the outrageousness. But there are several of them, including Boebert and of course others," she added.