Maxine Waters's Office Building Evacuated After 'Anthrax' Threat
Representative Maxine Waters's office building in Los Angeles was partially evacuated after the Democrat was sent an alleged anthrax threat on Tuesday.
Waters said she had received a number of death threats after encouraging people to confront members of President Donald Trump's Cabinet over the now-ended border-separation policy.
Her office building received a letter addressed to "Anne Thrax." The Los Angeles Fire Department, reported. Hazardous materials crews declared the package safe, the Los Angeles Times reported, but the Los Angeles Police Department's Major Crimes Division initiated an investigation. One person had come into contact with the package, but did not report any medical complaints, the Los Angeles Fire Department said on its website.
Waters had previously acknowledged that she had received death threats after stating at a rally in June: "If you see anybody from that Cabinet in a restaurant, in a department store, at a gasoline station, you get out and you create a crowd, and you push back on them."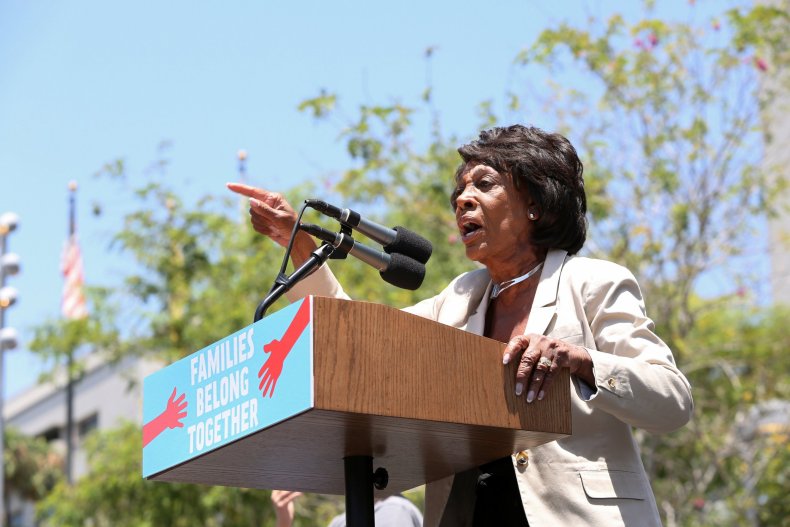 President Donald Trump accused Waters in a tweet of calling for harm to his allies.
"Congresswoman Maxine Waters, an extraordinarily low IQ person, has become, together with Nancy Pelosi, the Face of the Democrat Party. She has just called for harm to supporters, of which there are many, of the Make America Great Again movement. Be careful what you wish for Max!" Trump tweeted.
Following the incident, Waters said she had been sent death threats, at least one of which was so serious that she canceled events, CNN reported.
But Waters remained defiant, telling a rally that she would not be intimidated by the threats. "I have no fear. I'm in this fight," Waters told a crowd gathered in Los Angeles, according to the Huffington Post.
"I know that there are those who are talking about censuring me, talking about kicking me out of Congress, talking about shooting me, talking about hanging me. All I have to say is this: If you shoot me, you'd better shoot straight. There's nothing like a wounded animal. I am prepared to make whatever sacrifices need to be made."
Waters did not immediately respond to a request for comment.
Maxine Waters's Office Building Evacuated After 'Anthrax' Threat | U.S.