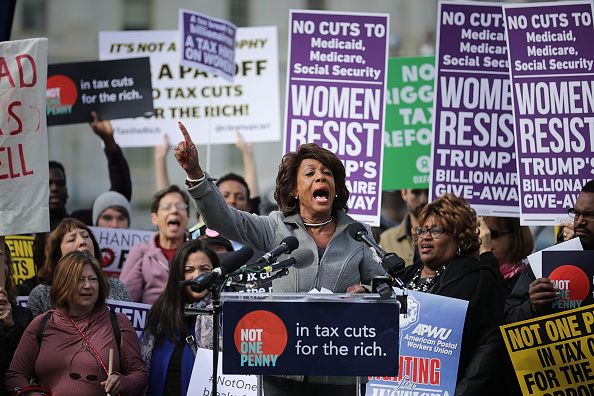 Representative Maxine Waters of California slammed President Donald Trump in a series of tweets on Wednesday, calling the administration the "kremlin klan" and suggesting that he should be impeached.
The Democrat's first set of tweets was a message to special counsel Robert Mueller, whose team is currently investigating Russia's influence in the 2016 election or any Trump campaign officials tied to it. She calls the administration the 'Kremlin Klan' and that Democrats look forward to the day those involved in the alleged interference will go to prison.
"A message to Mueller: Stay strong and stand tall. Continue to investigate them all. You are indeed answering the people's call. The Kremlin Klan is going to fall. Around you, the Democrats are building a wall. We look forward to the day, to prison they will all be hauled," Waters tweeted.
Waters's second tweet fires back at Trump while quoting poet and civil rights activist Maya Angelou. She also suggested that impeaching the president is the only way to stop nuclear war threats.
"The famous poet Maya Angelou said, "when someone shows you who they are, believe them the first time." America, what more do you need to know about 45? Now nuclear war threats?! Impeachment is the only answer," Waters followed.
The California Democrat is referring to Trump's tweet from Tuesday night when he said he had a "much larger and more powerful" nuclear button than Kim Jong Un's.
"North Korean Leader Kim Jong Un just stated that the "Nuclear Button is on his desk at all times." Will someone from his depleted and food starved regime please inform him that I too have a Nuclear Button, but it is a much bigger & more powerful one than his, and my Button works!" Trump tweeted.
Waters also slammed other Republicans who stand by Trump after his nuclear button tweet from last night—and said they "will all go down with him."
"Trump said his nuclear button (what button?) is bigger than Kim Jong Un's nuclear button. So are Trump's gargantuan ego, pathological lies, and his obvious insanity. Ok Republicans. Keep standing with him and you will all go down with him," Waters tweeted.
This is not the first time Waters has criticized Trump. In November, Waters led a crowd of women, celebrities and other influencers in a chant demanding Trump's impeachment as president during the Glamour Women of the Year Awards in New York City.