Maxine Waters: Trump Is 'a Day Late And a Dollar Short' on Trying to Walk Back His 'Inappropriate' California Wildfire Comments
Democratic Representative Maxine Waters has put Donald Trump on blast for his response to the deadly California wildfires, telling him to "keep his mouth shut" if he can't offer some aid and kind thoughts.
"If Donald Trump is not offering prayers, sympathy and assistance to the people of California, he should keep his mouth shut," Waters said in a statement on Wednesday.
The California lawmaker said that Trump's criticism of the state's forest management team was a "shocking and utter disgrace.
"After receiving widespread criticism for his response to the California wildfires, Trump is now trying to walk back his inappropriate comments," she said. "I'm afraid that he is a day late and a dollar short, and the people of California will never forget his shameful lack of respect and compassion."
The fires, which are among the deadliest and most destructive in California history, have killed at least 86 people. More than 500 people were missing or unaccounted for as of late Wednesday evening, according to Butte County Sheriff Kory Honea. The vast majority of the deaths were in the area of the Camp Fire, which is ablaze in Northern California.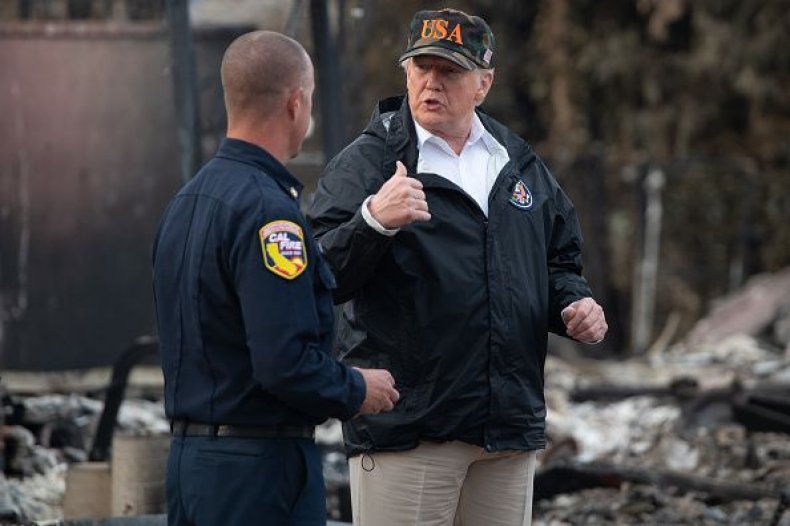 Trump, who traveled to the West Coast last weekend to tour the destruction, repeatedly put the blame on the state's forest management team and dismissed any notions that climate change could be playing a role in the fires. He has also threatened to cut off aid to the state.
"Hopefully this is going to be the last of these because this was a really, really bad one," Trump said while visiting a recreational vehicle park in Paradise. "Right now, we want to take care of the people who have been so badly hurt."
Before his visit, Trump tweeted that there was "no reason for these massive, deadly and costly forest fires in California except that forest management is so poor. Billions of dollars are given each year, with so many lives lost, all because of gross mismanagement of the forests. Remedy now, or no more Fed payments!"
The tweet received immediate backlash, some of it from Hollywood royalty, many of whom live in the affected areas and saw their homes destroyed. Music star Katy Perry called the president's comments "heartless," and Ava Duvernay said Trump was "demented."
Waters, a longtime critic of Trump, said that "instead of running his mouth about things he knows nothing about, he should learn to show some empathy and sympathy for the suffering of others."