Maxine Waters Isn't Running for President, She Just Wants Trump's Impeachment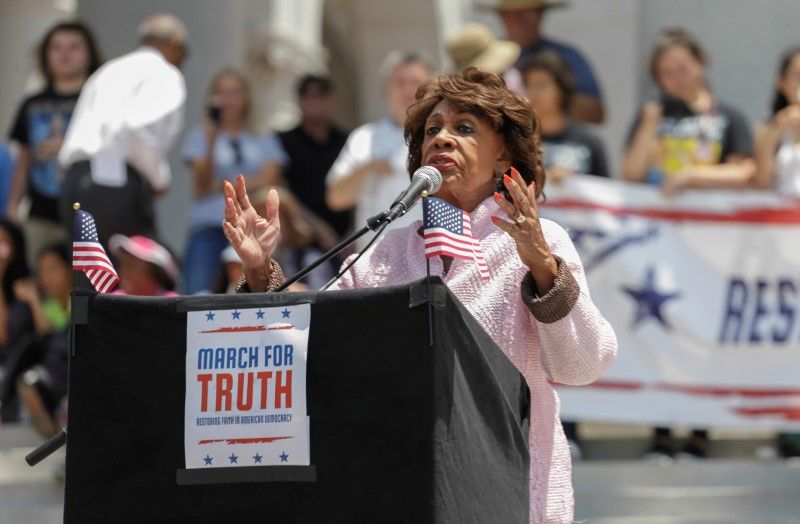 Maxine Waters has no interest in running for president—she just wants to impeach President Donald Trump. That's what the Democratic congresswoman from California told ABC's The View Friday as she continued her outspoken criticism of the 45th president.
Her comments about Trump have helped garner the 14-term representative a national spotlight and growing online popularity. That, as well as her recent appearance in New Hampshire, which plays host to the first-in-the-nation presidential primary, has sparked speculation about Waters making a possible run at the White House in 2020.
But Waters insists she has eyes for only one fight: removing Trump from office before he makes it to the next election.
"That's simply a rumor, everybody," the 78-year-old said in response to a question about a possible presidential run, before adding to big cheers from the gathered studio audience, "I am not running for anything except the impeachment of Trump."
Leading Democrats such as Nancy Pelosi have been reluctant to openly call for Trump's impeachment. But not Waters, who said in May that "we don't have to be afraid to use the word 'impeachment.' We don't have to think impeachment is out of our reach."
Trump faced claims that his actions warranted impeachment even before he took office. Allegations over his campaign's links to Russia have been front and center of those calls, with current investigations underway in the House and the Senate as well as one led by Special Counsel Robert Mueller. There also have been reports that Trump is under investigation for obstruction of justice regarding his contacts with, and firing of, former FBI Director James Comey.
Speaking to MSNBC's Morning Joe earlier on Friday, Waters stated she had little doubt that Trump was guilty of something.
"I've long thought that there was a lot of smoke, even fire, and that everything that I have learned about this president, starting with the campaign itself, that people should have understood that there was something terribly wrong with him," she said.
"As a matter of fact, I have said over and over again: I think he's the most deplorable person I've ever met in my life."
One of Waters's fellow California Democrats in the House, Brad Sherman, last month formally introduced articles of impeachment against Trump, accusing him of obstruction of justice. But any hopes Democrats have of impeaching Trump before the 2018 midterms appear slim to nonexistent. A majority vote in the House and a two-thirds majority in the Senate are needed in order to impeach a president, and Republicans currently control both chambers.