Donald Trump in the White House: Maxine Waters Says 'Indecent' President Doesn't Belong in Office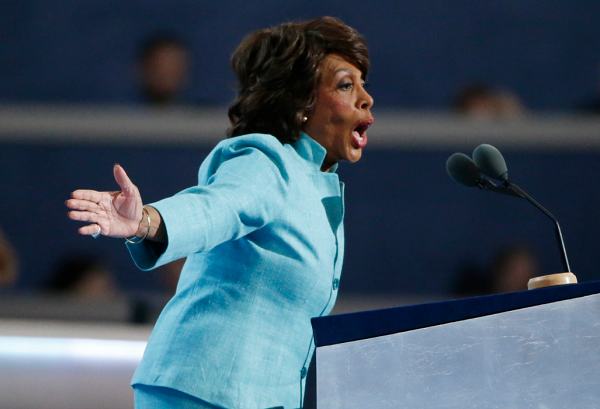 After recently telling some 211,000 followers to "get ready" for President Donald Trump's impeachment, Rep. Maxine Waters, D-Calif., took to Twitter once again to blast the commander in chief.
Waters hasn't been shy about using her social media to condemn policies and laws proposed by the Trump administration.
"Trump is a lying, indecent man who has offended so many people in this country [and] around the world–except [Vladimir] Putin. He doesn't belong in the [White House]," Waters wrote.
Waters' tweet comes after she hinted last week of her hopes for Trump's impeachment following the ongoing FBI investigation of several Trump cabinet members and their alleged affiliations with Russia.
During a recent interview with Elle magazine, Waters explained why she alluded to impeachment even though some of her fellow Congressmen thought talk of Trump's potential eviction from the White House was much too soon.
"I have dared to use the word 'impeachment' to the dislike of even some of my colleagues who think that, 'Oh my god, that's premature. It's not time to talk about that.' But that's my goal. My goal is impeachment," she said. "And after Comey admitted and revealed that the former President of the United States [Barack Obama] had not wiretapped Trump and that they did have an investigation going on to try to determine the interaction between the Trump campaign and the Kremlin or the Russians and [Vladimir] Putin, there was some movement. Because when I started talking about this, I know people had to wonder, "What is she talking about?" I was a little bit ahead of the game."
Waters has said she is confident that as the investigation continues and more information is released, Trump could be headed towards impeachment, especially now that his former campaign manager Paul Manafort's ties to Russia have been exposed. Before joining the Trump campaign, Manafort worked with a Russian billionaire on a plan that aimed to "greatly benefit the Putin Government," the Associated Press reported Wednesday.
"This country will not stand by a president who is proven to be in support of undermining our democracy. Whatever Trump's reasons are, this love of Putin is not gonna eventually play well. People may be a little bit slow in getting it, but his connection to Putin and the Kremlin and all of those allies of his that have connections with Ukraine and with Russia are going to be revealed, and that's gonna be his downfall and my goal is impeachment," Waters said.