Congresswoman Maxine Waters of California said former President Donald Trump initiated the riot at the U.S. Capitol Building on January 6 and that he should face premeditated murder charges for the lives lost in the day's violence.
Waters, who represents California's 43rd District in Los Angeles County, discussed during a Tuesday appearance on MSNBC's The ReidOut how she felt "lucky" to be locked in her office amid the riots. Even so, Waters said she has faced threats for years and can relate to the fear that Rep. Alexandria Ocasio-Cortez felt on that day, which the New York congresswoman detailed in an Instagram Live earlier this week.
"Because I took on this president early, I called for his impeachment early, I have been threatened time and time again," Waters said.
After listing some of the threats she has dealt with at her California office over the years, Waters shifted to discussing the source of the January 6 threats and told The ReidOut's Joy Reid that Trump "had advance planning" of the Capitol invasion.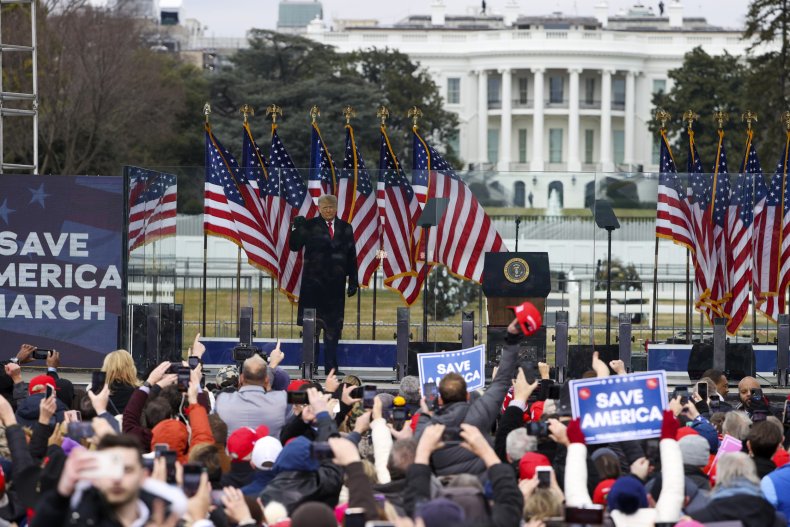 "They are following the president of the United States of America, who had advance planning about the invasion that took place in our Capitol," Waters said of the rioters. "There's information that some of the planning came out of individuals working in his campaign. As a matter of fact, he absolutely should be charged with premeditated murder because of the lives that were lost with this invasion, with this insurrection," Waters said of Trump.
Waters said she has learned over time how to look out for herself and de-escalate threats as they arise and added that she and other minority women in Congress "are often threatened."
"Yes, we are threatened. But we can't back off," Waters said. "We've got to fight as hard as we can to see to it that there's some justice."
Trump spoke at a "Save America" rally on January 6 as both chambers of Congress convened at the Capitol Building to affirm Joe Biden's Electoral College victory in the 2020 presidential election. Protesters marched to the Capitol after the rally, and some later broke into the building. Four civilians and one Capitol Police officer died in the violence that ensued. Two Capitol Police officers died by suicide in the following weeks.
Trump was impeached in the House of Representatives on January 13 for "incitement of insurrection" in connection with the events on January 6. His impeachment trial in the Senate is expected to begin next week.
Trump's impeachment lawyers responded Tuesday to the article of impeachment on which his trial will focus. Their response argued that it was unconstitutional to convict a president who is no longer in office and asked the Senate to vote to acquit him of the charges if the trial moves forward.
Newsweek reached out to Trump's communications team for comment but did not receive a response in time for publication.