Maxine Waters Warns of Armed Protesters Outside Her Office, Urges Supporters Not to Confront Them
Democratic Representative Maxine Waters of California warned her supporters not to "be baited" into confronting a band of protesters who planned to begin demonstrating Thursday outside her office in Los Angeles.
The group is known as the Oath Keepers and plans to protest against Waters because of her position on immigration. Members include current and former military officers, police and first responders who have all pledged to "defend the Constitution," according to their website. They have drawn national headlines for turning up at protests heavily armed.
Waters said in a Facebook post late Wednesday night that she's "requesting those individuals and groups planning a counter-protest to not be baited into confronting the Oath Keepers with any demonstrations in opposition—such an occurrence would only exacerbate tensions and increase the potential for conflict."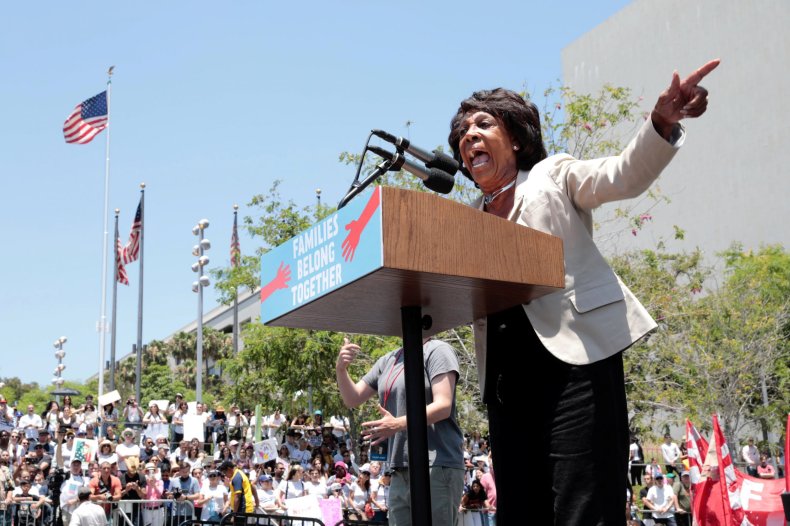 The Oath Keepers are targeting Waters because of her stance on abolishing the U.S. Immigration and Customs Enforcement agency and her outspoken criticism of Border Patrol, they said in a statement. They also accused Waters of "incitement of terrorism."
The Anti-Defamation League has called the Oath Keepers a "right-wing fringe organization," and the Southern Poverty Law Center has said the group is based on "a set of baseless conspiracy theories about the federal government working to destroy the liberties of Americans."
In her social media statement, Waters accused the Oath Keepers of having a "history of engaging in violent and provocative behavior" and said members are known to carry various "assault weapons" during demonstrations.
The Oath Keepers have participated in protests around the country, including the demonstrations in Ferguson, Missouri, following the police killing of Michael Brown in 2014. It is legal in Missouri for people with concealed-weapons permits to carry them openly, according to a report by USA Today, and several men who called themselves Oath Keepers brought semiautomatic weapons to Ferguson.
Waters has consistently spoken out against the Trump administration's "zero tolerance" immigration policy and has released statements demanding that the White House reunify separated families as quickly as possible and condemning the administration for missing its first deadline for reunification.
President Donald Trump has been outspoken in his dislike of Waters, calling her an "extraordinarily low IQ person."
Earlier this month, a California official said he wondered why Waters hadn't been "shot" yet. "Being a loud-mouthed c*** in the ghetto you would think someone would have shot this bitch by now," Michael Selyem, the deputy district attorney in San Bernardino County in California, said when commenting on a video of Waters, according to The San Bernardino Sun.
The Oath Keepers have said they plan to protest outside Waters's office for several weeks.
Waters affirmed in her statement that Los Angeles police officers will be at the site to "ensure safety and security."