Maxton Soviak, a Navy Medic From Ohio, One of 13 Service Members Killed in Kabul Attack
Maxton William Soviak was one of 13 U.S. service members killed in the Thursday attacks in Kabul, Afghanistan, his mother confirmed with the Cleveland-based news station WKYC on Friday.
Of the service members killed in the Kabul attacks, Soviak was the first identified to the media by his family.
Soviak was from northern Ohio and serving as a medic with the U.S. Navy, his mother told the station.
The Navy said on Friday one of its sailors was killed in the attack outside the international airport in Kabul but added it would not publicly identify the sailor until their family had been notified.
"One Sailor was killed during the August 26 attack at the Abbey gate of Hamid Karzai International Airport in Kabul," the Navy said. "We mourn the loss of this Sailor and we offer our deepest condolences to the loved ones of our fallen shipmate."
When contacted for further comment, the Navy told Newsweek it could not yet discuss the sailor's identity but said it would be sharing an updated statement once its next of kin notification process concludes.
Soviak's mother told WKYC her family members are requesting privacy as they mourn their loss.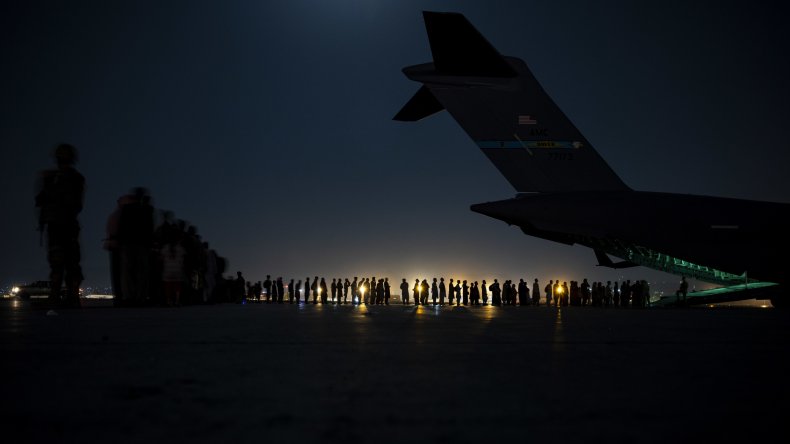 Before joining the Navy, Soviak was a student at Edison High School in Milan, a small village west of Cleveland. The superintendent of Edison Local Schools said Soviak was a 2017 graduate of the high school in a statement shared with Toldeo-based newspaper The Blade.
"He was well respected and liked by everyone who knew him," Superintendent Thomas Roth said in the statement. "Max was full of life in everything he did. Our schools and local community are mourning the loss of Max. He and his family are in our thoughts and prayers."
A chapter of the nonprofit Veterans of Foreign Wars based in Sandusky also paid tribute to Soviak in a Friday Facebook post.
"We lost a local hero," the post said. "Navy Corpsman Maxton William Soviak of Berlin Heights was KIA in yesterday's suicide attack in Kabul, Afghanistan. Max attended Edison High School and Ehove prior to joining the Navy and becoming a Corpsman.
"Max was with his Marines right up until the end," the post continued. "Till Valhalla Doc Soviak."
Soviak was one of 13 U.S. service members who died in the attacks, which also killed at least 100 Afghans. The attacks occurred amid evacuation efforts in Kabul after the Taliban takeover of the Afghanistan government.
The Islamic State militant group (ISIS) took credit for the attacks on Thursday.
President Joe Biden vowed Thursday to avenge the service members whom he said gave their lives "in the service of liberty, the service of security, in the service of others, in the service of America."
"To those who carried out this attack, as well as anyone who wishes America harm, know this: We will not forgive. We will not forget. We will hunt you down and make you pay," Biden said. "I will defend our interests and our people with every measure at my command."
Newsweek reached out to the U.S. Navy for comment but did not hear back in time for publication.
Updated 8/27 at 2 p.m.: This article has been updated to include comments from the U.S. Navy.
Updated 8/27 at 1:16 p.m.: This article has been updated with additional information and background.