From Harry Styles to Snoop Dogg: Eight May Albums We Can't Wait to Listen To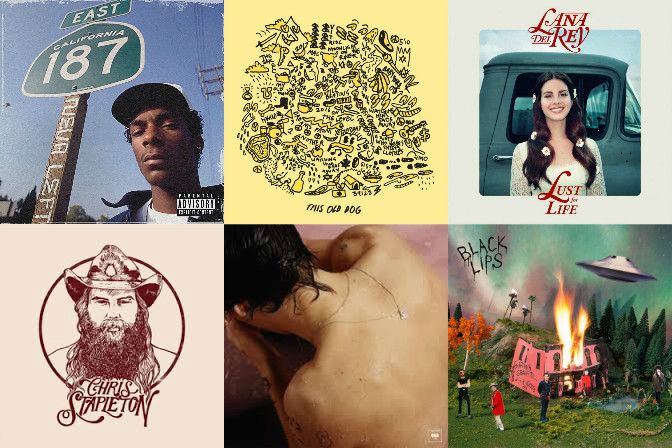 Spring is finally here, and with it a diverse array of new music. In the coming month, Snoop Dogg will grace us with his 15th solo album, while Harry Styles will drop his first. Shoegaze group Slowdive will release their first LP in 22 years, and fellow '90s indie rockers Helium will provide fans with a collection of rarities (and two reissues). Lana Del Rey is back, and despite some lineup changes, the Black Lips—like Snoop Dogg—never left. Here's all that we're looking forward to dropping the needle on in the month of May.
Related: The 15 greatest double albums since Prince's 'Sign O' The Times'
Mac Demarco, This Old Dog
Release Date: May 5
Label: Captured Tracks
"Chill" is a word that is overused when describing popular music, and especially the type of disaffected, reverb-heavy independent music that has become popular in the past decade. But dare we say that Mac Demarco embodies the word in a way that others don't, both through his music and his easygoing, take-it-as-it-comes approach to success. This Old Dog may be Demarco's most mellow effort yet, with each song drifting from chord to chord as if someone dropped a 45 rpm single onto a turntable set to play a 33 rpm LP. In the case of Demarco, indie rock's gap-toothed Buddha of Chill, this is a good thing. —Ryan Bort
Slowdive, Slowdive
Release Date: May 5
Label: Dead Oceans
Slowdive was one of those bands that made a couple of phenomenal albums and made it look easy and then dissolved way too quickly, felled by band strife and press sniping and all manner of pettiness. The English band was crucial to the early '90s shoegaze movement; I've gone so far as to argue that Souvlaki, the 1993 masterpiece, is even better than My Bloody Valentine's Loveless. The follow-up, Pygmalion, explored more abstract and eerie soundscapes. On this new, self-titled album—the band's first in 22 years—Slowdive essentially returns to the sound of Souvlaki: dreamy vocals, thick melancholia, heavy guitar treatments. And "Slomo," the opening track, is a goddamn minor miracle. Welcome back, shoegaze friends. —Zach Schonfeld
Chris Stapleton, From A Room: Volume 1
Release Date: May 5
Label: Mercury Records Nashville
Chris Stapleton was crowned real country music's savior—whatever that might mean—when he won Album of the Year at the Country Music Awards in 2015, beating the modern stars that skewed ever closer to producing pop music. Once a relatively unknown songwriter and bluegrass front-man, songs from his 2015 album Traveller—like "Tennessee Whiskey" and "Parachute"—quickly became hits as Stapleton rose to No. 1 on the Billboard charts.
He's following up his breakout with two releases in 2017, with From A Room: Volume 1 dropping first on May 5. Stapleton's got a distinctly throaty, powerful voice that, paired with a classic country sound, helped him stand out—and it seems like more of the same on his latest work. He has released two From A Room tracks thus far: "Broken Halos" and "Last Thing I Need, First Thing This Morning," a crooning, rich re-imagination that adds just the right amount of flourish to a Willie Nelson ballad. Stapleton has a way of locking you in, something the country at large found out two years ago. —Tim Marcin
Black Lips, Satan's Graffiti Or God's Art?
Release Date: May 5
Label: VICE Music
The Black Lips have been one of the most consistently entertaining bands of the past 15 years, but the flower punks have undergone some major changes since their 2014 release Underneath the Rainbow. Ian St. Pé, their longtime, grill-wearing guitarist, left the band to pursue a solo career. Also out is original drummer Joe Bradley, who had been with the band for nearly 20 years. In their stead they've added guitarist Jack Hines, who was with the band before St. Pe, drummer Oakley Munson and a saxophonist, Zumi Rosow. Their first release together is Satan's Graffiti Or God's Art?, and if its swirling lead single, "Can't Hold On," is any indication, the Lips haven't skipped a beat. —Ryan Bort
Harry Styles, Harry Styles
Release Date: May 12
Label: Erskine/Columbia
It's been a long two years since Zayn Malik left One Direction, about 14 months since the remaining guys embarked on their hiatus-slashed-maybe-breakup, and Harry Styles is finally ready to get real. The 23-year-old crooner, who is arguably the Justin Timberlake of the wildly popular British band, has described his 10-track solo album as "honest." And judging by its first single, the slow but powerful ballad "Sign of the Times," it certainly seems to be. No matter whether the songs are inspired by his brief relationship with Taylor Swift, his whirlwind fame or his strange adoration of Nicholas Sparks, the unfailingly loyal 1D fanbase will almost definitely propel them to the top of the charts. As for us, well, we're just excited to hear what Styles came up with on his own. —Julia Glum
Snoop Dogg, Neva Left
Release Date: May 19
Label: Doggystyle/Empire
Since debuting as a hard-hitting, anti-establishment gangster rapper in the early '90s, Snoop Dogg has been steadily creeping deeper and deeper into the heart of mainstream America. He's even starring in a cooking show with Martha Stewart called Martha & Snoop's Potluck Dinner Party. His latest album, his 15th, seems to be a reaction to anyone who may feel the Doggfather has lost its edge. Not only is it titled "Neva Left," the cover is a throwback image to a young Snoop posing in front of a road sign for highway 187, which runs through Los Angeles. The video for his new single "Promise You This" features a couple watching Snoop and Stewart on TV. It also features Snoop smoking weed in front of a piano, rapping in front of a private jet and rhyming about how he's still on his grind. Some things never change. —Ryan Bort
Helium, Ends With And
Release Date: May 19
Label: Matador
Helium: A quick explainer:
Who dis?
This is Helium.
You mean the colorless, odorless, non-toxic gas that is designated as "He" on the Periodic Table of Elements?
No! Helium the band. Fronted by Mary Timony?
Mary Timony? Wasn't she in Wild Flag and Ex Hex?
Yeah. But long before that, she was in the great rock band Helium, which put out two albums on Matador in the mid-1990s. The band is sometimes grouped in with the Riot Grrrl movement, because of its outspoken feminist politics, though Helium was formed in Boston, not the Pacific Northwest. And none of its members have starred on Portlandia.
Were there any other notable members of Helium?
Yes! The band's founding vocalist was Mary Lou Lord (who went on to a solo career and played a substantial role in Elliott Smith's career). Also, Ash Bowie, of the fantastic noise-rock band Polvo, played bass for them. If you don't know Polvo, get the 1993 album Today's Active Lifestyles and play it loud.
Ash Bowie? Is he David Bowie's son?
No.
Nephew?
No.
Grandson?
No. Stop it.
OK. So Helium reunited and made a new album?
Not exactly. Ends With And is a collection of rarities and lost tracks from the band's glory days. It's being released on May 19, the same day that Matador is reissuing the band's two albums on vinyl: The Dirt of Luck (1995) and The Magic City / No Guitars (1997). Cool! —Zach Schonfeld
Lana Del Rey, Lust For Life
Release Date: TBD
Label: Interscope
It's unclear when Lana Del Rey's fifth album, Lust for Life, will drop, but if her latest single drops are any indication, fans should start dusting off their broomsticks. The sleepy-voiced, witchy songstress recently debuted the title song from her upcoming album featuring The Weeknd that seems to trickle through your eardrums like a potion of dark and brooding euphoria. The album will also feature collaborations with Sean Ono Lennon and the mother of musical spells Stevie Nicks, which certainly alludes to "something with a little spice" and "something with a little bitterness that is ultimately sweet" like Lana suggested in the eerie album trailer. —Janice Williams