In New York, Mixing May Day and Freddie Gray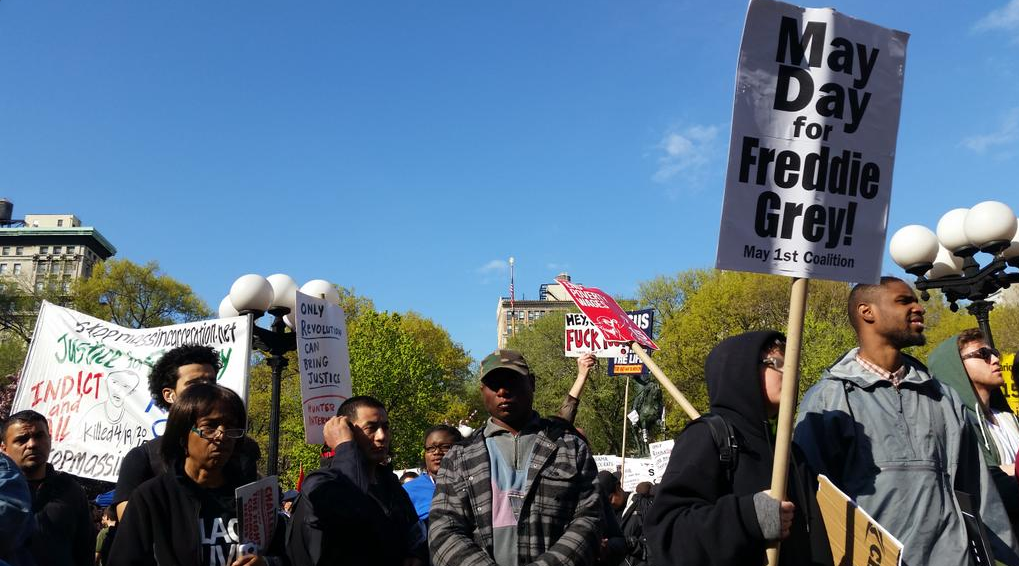 On Friday, two protests converged in New York City, the May Day Parade and Rally and a demonstration by Disarm NYPD, an organization that protests police brutality. The May Day Parade began in midtown Manhattan, while Disarm NYPD took over Union Square then began marching onto Second Avenue.
"Perhaps the most appropriate meaning of May Day is that it is a day of commemoration for these demonstrators," Disarm NYPD said in a statement. The group began gathering around 3 p.m. Police officers told Newsweek the unofficial estimate for the Union Square crowd that began to march was around 1,000 people.
"Women need jobs with a liveable wage, not police terror," read one sign in the square.
Some of those in Union Square celebrated Friday's arrest of six Baltimore police officers for the wrongful death of Freddie Gray, who died of injuries sustained during an arrest. Not all were enthusiastic in their expectations about the outcome of the trial against the officers. "I have mixed emotions about it because it has happened in the past but the police still got off," Khadija Amon-ra told Newsweek. "Unless all six of them go to jail, justice will not be served."
In midtown, traffic closures were put into effect. The May Day commemoration is an official parade and will have the right to walk in the streets; the Union Square group does not have a parade permit, and therefore cannot walk in the streets. "It's unfair," said Dakem Daniels, a student at the Disarm NYPD protest. "If you looked at American history, you 'd see America has a history of fighting back."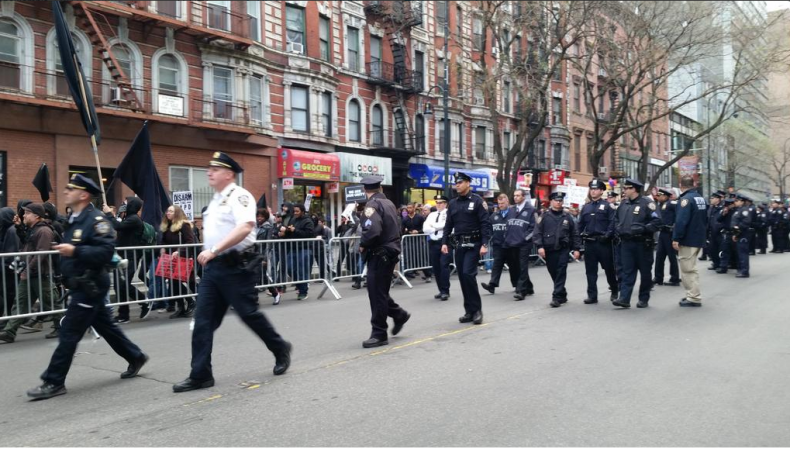 Barricades were used to keep protesters from taking over the entire street and there was a notable police presence. At least one person was detained by officers, though whether or not they were charged for any wrongdoing remains unclear.
On Wednesday night in New York, a number of arrests during a police brutality protest were tied to people walking in the streets. More than 100 people were arrested, many for traffic violations and disorderly conduct. At one point, protesters blocked traffic on the West Side Highway.
By 5:30 on Friday, a small group of about 25 people from the Asbestos, Lead and Hazardous Waste labor organization had gathered in midtown, as May Day is traditionally a celebration of the labor movement.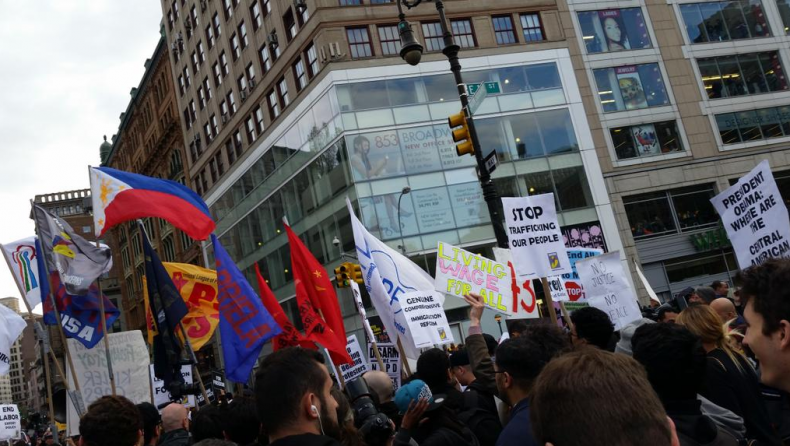 Some members of the May Day parade said they attended to stand in solidarity with Freddie Gray. "I am here for Freddie Gray and for everyone who has been killed from police brutality, racism and anything inhumane," said Priscilla Castillo, 23, who was marching with Union DC37.
"Stop the carnage that is going on in the streets of this country. We've had enough," Oliver Gray, associate director of Union DC37, said. He held a sign that read, "Black Lives Matter," and he called on celebrities, including rappers Jay-Z and Kanye West, to "step up to the plate."
The Union Square rally also drew some Some counter-protesters, mainly in protest of May Day.
Jim MacDonald, 65, told Newsweek he had come to counter-protest because he felt illegal immigration kept the minimum wage low. "We think the way to achieve a $15 an hour minimum wage is not let any more illegal aliens have work permits," he told Newsweek. No counter-protesters were spotted in midtown.