Maya Angelou Google Doodle: Quotes From the American Poet and Activist
Dr. Maya Angelou held a variety of jobs in her incredible life and started writing relatively late, but what a prolific writer she was. One of America's best-known poets, she boasts a vast bibliography, and her perhaps most famous poem, "Still I Rise," is celebrated in today's Google Doodle on what would have been her 90th birthday.
Her work includes seven memoirs, three books of essays, several collections of poems, two recipe books, as well as numerous interviews and speeches. She even penned Hallmark cards, a choice made in 2002 that caused an uproar—one that Dr. Angelou easily dismissed, claiming she wanted her writing to be accessible even to people who may not otherwise pick up a poetry book.
Before her death on May 28, 2014, Dr. Angelou contributed countless memorable words to her readers, listeners and fans across the world.
Here are some of the most poignant quotes, on a variety of topics.
On courage
This quote about courage is one of Dr. Angelou's most well known: "Courage is the most important of all the virtues because without courage, you can't practice any other virtue consistently."
She returned on the topic during an interview with the Harvard Business Review in 2013. According to the poet, courage isn't innate, but learnt, trained and honed over time.
"One isn't born with courage. One develops it by doing small courageous things—in the way that if one sets out to pick up a 100-pound bag of rice, one would be advised to start with a five-pound bag, then 10 pounds, then 20 pounds, and so forth, until one builds up enough muscle to lift the 100-pound bag. It's the same way with courage."
On struggle
Dr. Angelou dedicated her third collection of essays "Letter to My Daughter" to a daughter she never had and to the women all around her, giving precious words of advice that have been quoted in various forms ever since.
"You may not control all the events that happen to you, but you can decide not to be reduced by them. Try to be a rainbow in someone's cloud. Do not complain. Make every effort to change things you do not like. If you cannot make a change, change the way you have been thinking. You might find a new solution."
In an 1986 interview published in Girl About Town, she encouraged young women "to go out and kick ass."
"I love to see a young girl go out and grab the world by the lapels. Life's a bitch. You've got to go out and kick ass."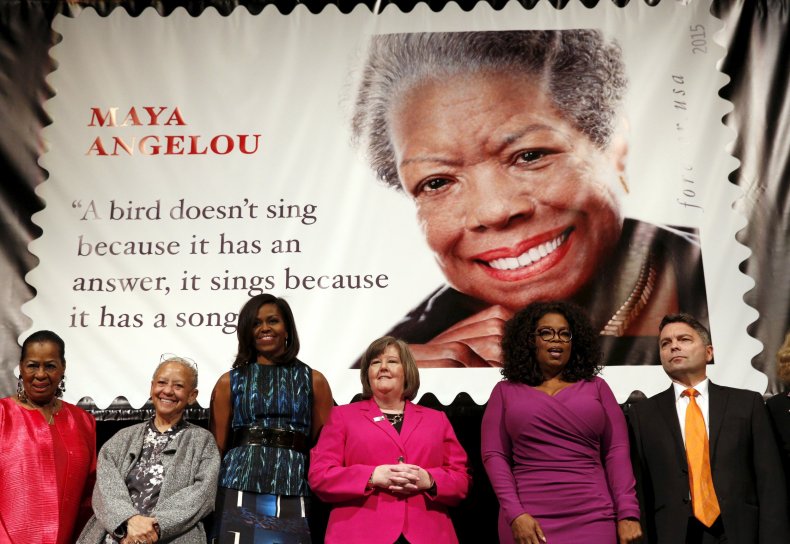 And when things don't work out at first, keep persisting, Dr. Angelou said in an interview to The Atlantic published just after her death, in June 2014.
"We understand that these prejudices, these walls have been built over centuries, and we must not be disheartened that we can't knock them down in three months or four years. We must understand we need some heavy artillery."

"So we mustn't run out of steam. Sometimes young women think 'Dammnnn, I've been doing this nine years and I don't think anything has budged.' But keep plugging away. Nothing succeeds like success. Get a little success and then just get a little more."
On success
"Don't make money your goal. Instead pursue the things you love doing and then do them so well that people can't take their eyes off you."
On being a single mother, from Harvard Business Review.
"It would seem the priority is to keep a job so you can pay the bills. But the priority is to let the child know he or she is loved."
On relationships
"I've learned that people will forget what you said, people will forget what you did, but people will never forget how you made them feel."
On being American
"I'm grateful to be an American. I am grateful that we can be angry at the terrorist assault and at the same time be intelligent enough not to hold a grudge against every Arab and every Muslim."
On food, from "Hallelujah! The Welcome Table"
"A respect for food and its preparation could obliterate distances between sexes, languages, oceans and continents."
On Hillary Clinton, from The New York Times
"Each time a woman stands up for herself, without knowing it possibly, without claiming it, she stands up for all women."
Dr. Angelou strongly supported Clinton over Barack Obama in the 2008 Democratic Party presidential primaries, writing a poem "State Package for Hillary Clinton" in her praise after saying "I made up my mind 15 years ago that if she ever ran for office I'd be on her wagon," as The Guardian reported.
"There is a world of difference between being a woman and being an old female. If you're born a girl, grow up, and live long enough, you can become an old female. But to become a woman is a serious matter. A woman takes responsibility for the time she takes up and the space she occupies. Hillary Clinton is a woman. She has been there and done that and has still risen. She is in this race for the long haul. She intends to make a difference in our country. Hillary Clinton intends to help our country to be what it can become."
On Obama's election, from Newsweek
"To African Americans, his election validates the belief of the slaves that we'll be better by-and-by. During slavery, people used to sing, 'By-and-by, I'm going to lay down this heavy load.' And they really believed it. At a time when people had the right to sell them and buy them, kill them and rape them, they believed that one day they'd be free. For America, it's an indication that we may at last be growing up, growing beyond racism, sexism, ageism and all those other ignorances. This is why we see faces radiating with hope. They wanted this burden of guilt and stupidity off of us. This is a wonderful thing."
On leadership, from Harvard Business Review
"A leader sees greatness in other people. You can't be much of a leader if all you see is yourself. Only equals make friends. A man or woman who sees other people as whole and prepared and accords them respect and the same rights has arranged his or her own allies."