What Makes Twitch Streamer Maya Higa So Special? Might Be the Falcon
Twitch is a live streaming platform full of memes, gossip and occasionally even some video game play. Streamers from a seemingly infinite number of niches worldwide flock to the Amazon-owned website to broadcast daily to an audience eager to escape from their own lives into theirs. According to Twitch, 15 million daily active users spend an average of 95 minutes a day watching everything from pro-level Fortnite to outlandish personalities speaking directly into their webcams, as if connecting with a long-lost friend.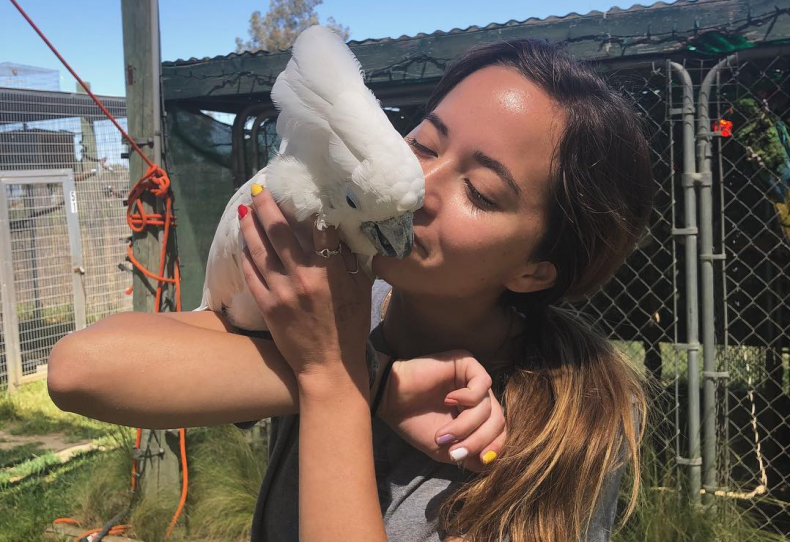 Maya Higa is a streamer who knew little about Twitch until four months ago. The 21-year-old Cal Poly student has since become a superstar on the platform, gaining more than 76,000 followers. Her content mainly consists of her talking in front of the camera, watching YouTube videos, singing and interacting with fans. "I have a couple of friends that stream on Twitch and I made an account just so I could talk in their chat," Higa told Newsweek. After enjoying clips of her singing on Instagram, her friends encouraged her to try out streaming and show off a bit more of her personality.
"It was kind of a joke that blew up, so I kept doing it," Higa said.
Higa stands out among college students and Twitch streamers because she owns a horse (which she rides regularly), works at a zoo and is working towards getting her license in falconry. On April 15, a clip of Higa with a "juvenile red-tailed hawk" named Bean she had been nursing back to health caught reddit's attention, garnering more than 275,000 views.
Amassing a substantial Twitch following in such a short time was emotionally challenging for Higa. "When my channel started blowing up, there was a point where I wondered if I should delete my channel," she said. She recalled that going from a couple of people to 100 "was super overwhelming, and I was worried that I was going to say or do something wrong."
The LiveStreamFails reddit, with over 500,000 members, posted about her constantly. A clip of her eating cereal posted as a joke became her most-watched clip with more than 450,000 views."For the most part (reddit) been very supportive, though there are people who are annoyed about seeing so many clips of mine go up on there," she said. " But I don't really have control over that."
When Higa's viewership skyrocketed, responding to every comment became an impossibility, as the wall of memes, questions and emotes moved faster than the human eye could process. After her first stream with over 100 viewers, she went back into the archived video and personally responded to anyone who's question she couldn't answer.
After a few more weeks and LSF reddit posts, thousands of viewers were tuning in to watch her react to videos, play with her parrot or simply talk. Speculating on the factors that have contributed to her success on the platform, she said that "people see that I'm different. I don't really understand the ins and outs of Twitch and that's refreshing for some people."
Higa told Newsweek she hopes to use her platform to help others. In May, Higa decided to host a live stream on her birthday where all the money she earned through donations would go to the 5 Cities Homeless Coalition, which gives resources to homeless families in the South San Luis Obispo County area. She had been volunteering at the charity since her freshman year of college and knew how desperately the coalition needed funding.
She raised more than $32,000 from more than 700 donors using a StreamElements add-on over the course of one night. "Twitch is an untapped reservoir for doing good," she said There are so many people around the world who want to help, which feels good. If you're a streamer who's giving them the opportunity to do that, they will."
Higa made friends with some of the other large streamers on the platform including Mizkif, a streamer who started out creating compilations before becoming a personality himself. With over 188,000 followers on Twitch gathered over 11 months, he plays video games, chats with fans and shares personal details about his everyday life. Mizkif messaged Higa after watching her fail to put together a PC on stream and the two hit it off. The pair continued to talk off stream, evolving into something more than just a way to create "content." Though she denied that they are dating or in a relationship, "I do like him, and he likes me so people see that," Higa said.
When Newsweek asked Mizkif about the situation, he said that they are "legit" and "might get married in a few years" though "you'll have to tune in to see." (Higa laughed off the implication and denied they are dating, saying "he's such a troll and is just meming.")
In early June, Higa traveled to Austin, Texas to visit the house where Mizkif and a collection of other popular streamers live. It was the first time she had traveled by herself and met people she had met online, which was nerve wracking. Streaming from inside the house with Mizkif, thousands of fans speculated, commented and wondered about their relationship.
"It's a little weird because I am not used to people paying attention about what I do," Higa laughed. "I also have to worry about my relationships now."
When the line between content and real life becomes blurred, it can be difficult for influencers to maintain a sense of authenticity. Twitch streamer Guy Beahm, who goes by Dr Disrespect, was recently banned from the platform after streaming from a bathroom at E3. In a tweet he apologized on behalf of his "brand."
"Real-life personas are so difficult to pull off, especially in today's society," Beahm wrote. "Doc is edgy, highly opinionated, cocky, etc. and that certainly adds to the difficulty in staying authentic."
What Higa thinks makes her stand out is that she is genuine. She acknowledges that streaming can be "stressful" but "in return, I get a platform where I can do good for people and animals."