Lord Nil and his fiancée Maya's lives were in danger during their act in Tuesday's live shows on America's Got Talent.
Instead of watching, as she had with the previous escapes involving scorpions and alligators, Maya was part of the quarterfinal act. Lord Nil was in chains and locked underwater in a tank, while Maya was in a cage being lowered onto 20 deadly rattlesnakes. Lord Nil had to free himself and reach up to hit the button on top of the tank to stop Maya's cage, then she had to help him escape from the tank before he drowned. Host Tyra Banks called it "the ultimate double death escape."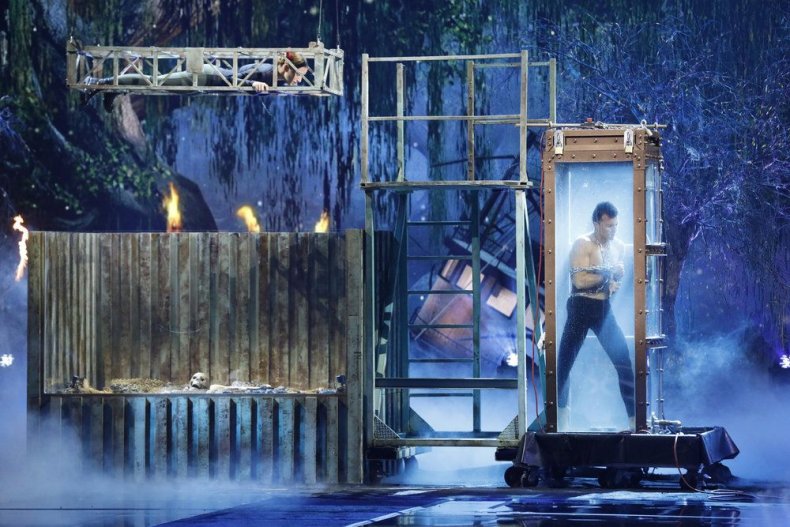 Lord Nil hit the button just as Maya's cage was level with the platform at the top of the tank. She had a lockpick in her hair for him to use to escape the tank. When she dropped the pick, Mel B hit her buzzer. Maya got the pick to Lord Nil, who opened the locks on the tank and escaped.
"I just don't get it," Mel B said to explain why she hit her buzzer. "Why would you do that to your wife? Why would you do that to your husband?" For her, losing the lockpick was "too dramatic." "I didn't like it. I don't like it," she told the escape artist and his fiancée. "You just love each other and go live on an island."
While the previous acts had won over most of the judges and terrified Mel B, Heidi Klum also hit her buzzer after the live shows performance. "That was a close call," she said. "It is always very entertaining, but you have to be alive to spend that $1 million."
Simon Cowell praised them for once again stepping up their game. "I think we need something more deadly, more dangerous in the tank next time," he said. He had previously suggested Lord Nil use alligators after his audition involved scorpions, and the escape artist did just that during the Judge Cuts.
Howie Mandel called the act the "first viral moment of the evening because it was special, it was terrifying and it was dangerous."
"Still can't believe we performed live on THAT stage! Thanks for this amazing opportunity @AGT," Lord Nil tweeted after the act. "I'm now realizing what happened tonight at @DolbyTheatre [sic] Those moments and emotions will be etched in our hearts and memories for a looong [sic] long time."
America's Got Talent Season 13 continues with the Live Results Show Wednesday at 8 p.m. ET on NBC. Tune in to see which seven acts America voted through to the semifinals.