Maya Rudolph's 'Hot Ones' Skit Viewed Over 7M Times: 'Comedic Genius'
Maya Rudolph's comedy prowess has been hailed on social media after a clip from her new TV show Loot went viral over the weekend.
The beloved actress is currently starring in a new series Loot for Apple TV where she plays recently divorced billionaire-turned-philanthropist Molly Wells.
Going through a humiliating public divorce from her tech-mogul husband John, played by Adam Scott, Molly decides to become involved in her charitable foundations and embarks on a PR tour which included a stint on the YouTube series, Hot Ones.
In reality, the wildly popular series regularly hosts A-list celebrities who are interviewed by host Sean Evans as they eat chicken wings that gradually increase in spiciness.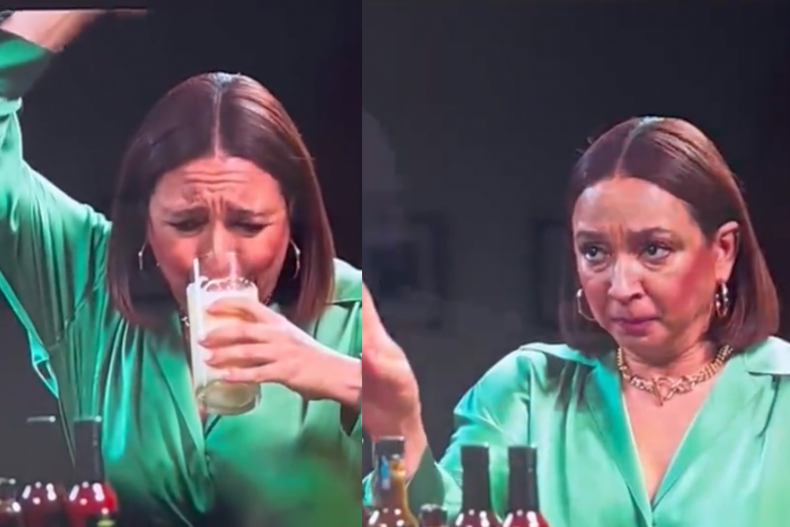 The show and its hot wings are responsible for countless viral moments and some infamous celebrity meltdowns.
In Loot, Rudolph's character has one such meltdown while eating the wings in a scene that has completely delighted social media.
"Maya Rudolph is a comedic genius," reads one viral tweet, with a clip of the show that has been viewed more than 7 million times at the time of writing.
Another viral tweet by English TV presenter Jamie East reads: "Finally someone behaves exactly how I would behave on Hot Ones."
While another added: "I'm screaming I thought Maya Rudolph was actually on hot ones but it's her character from LOOT."
In the clip, Molly starts off composed but the scene quickly descends into chaos as the character berates Evans for talking to her as the spice builds up.
"I'ma need you to shut the f*** up," she tells Evans in the hilarious scene before she starts downing beer from a pitcher.
She then rants about how her "a**hole husband" is the only reason she's getting her "f****** face melted off" by "these little tiny spicy pieces of s***."
"Let me tell you something, Sean. I have $87 billion. I could buy you and this whole studio and every mother****er in it and I could shut it down. I could kill everybody in here and get away with it," the character rants.
Rudolph famously took part in a skit about Hot Ones on SNL in 2021 when she parodied Beyoncé.
Despite having taken part in Hot Ones twice as characters, Rudolph revealed that she will never take part in the show as herself.
"I told [host] Sean [Evans], 'No, don't ever ask me because I'm not coming,'" she told TVLine. "I'd be happy to go sit with him and talk, but I refuse to put any of that inside my body!"
She added: "I was talking about it with Sean, and he was explaining all of the sauces and the [Scoville] numbers they go up in, and I realized: I don't think I could even get past one! I don't think I'd make it. I would internally combust or something!"