Is 'Mayans M.C.' a Political Show? 'Sons of Anarchy' Spin-off Set on the Border of the US and Mexico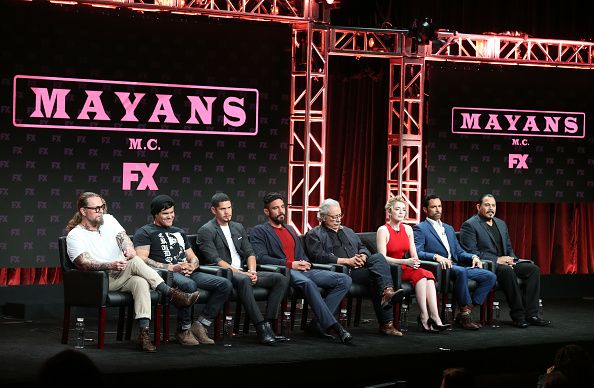 The series premiere of Mayans M.C. aired Tuesday on FX.
Co-created by Elgin James and Kurt Sutter, Mayans is the next chapter in Sutter's Sons of Anarchy saga. It follows Ezekial "EZ" Reyes (JD Pardo) who was recently released from prison and is now a prospect in the Mayans motorcycle club. The Mayans have previously appeared in Sons, first as enemies, then as allies.
The spin-off biker drama is set in the fictional town of Santo Padre which rests on the border of California and Mexico. Though the first scene of the show opens with the words "Divided we fall" scrawled on the wall of the United States/Mexico border, Sutter insists that the show is not political.
"No one ever utters a political ideology or a lean right or left," Sutter said in an interview with The Hollywood Reporter, published Tuesday. "But the world is the world. The climate is the climate. The tensions are the tensions. There are people of color who have struggled from the jump and are being squeezed even more intensely in this current climate. So, they're going to have a point of view about it."
The message of "divided we fall" did not come out of the current political climate in the United States as the script for Mayans was ordered six months prior to the 2016 election.
"What I loved about it was it was a comment about the border and the two cultures and the two nations," Sutter said. "It spoke to the MC world. It spoke to everything that the show is about in terms of brotherhood and camaraderie and all that stuff. That was my intention of including it in the story."
At first, Sutter was worried the show might be perceived as too political. He didn't want this initial message to be perceived as "jamming something down someone's throat." While the current political climate outside of Santo Padre is not discussed by the characters, they have their own political dichotomies to deal with. Specifically, the Galindo cartel and the Mexican resistance fighters. But, why set it on the border?
"The truth is, I set it on the border because I wanted the physical distance between mythologies," Sutter told THR. He didn't want characters from Mayans running into characters from Sons of Anarchy. The border town setting was made to keep the two "mythologies" separate from each other.
"I had to step away and realize that if I'm not going to let externals dictate how I tell stories, I can't do it in reverse either," Sutter continued. "I had to step away from it and let it be what it's going to be and be perceived as whatever it is it's going to be perceived as."