Mayim Bialik Faces Calls to Step Down as 'Jeopardy!' Host After Mike Richards Departure
Mike Richards stepped down Friday from his recently-announced appointment as Jeopardy! host due to controversial comments he made years ago. Now, some people on social media are calling on Mayim Bialik, who was hired to host the primetime version of the show and specials, to do the same.
Bialik, an actress known for her roles on Blossom and The Big Bang Theory, has been scrutinized for remarks she's made in the past on vaccines, as well as an opinion article she wrote for The New York Times which critics called an example of "victim blaming."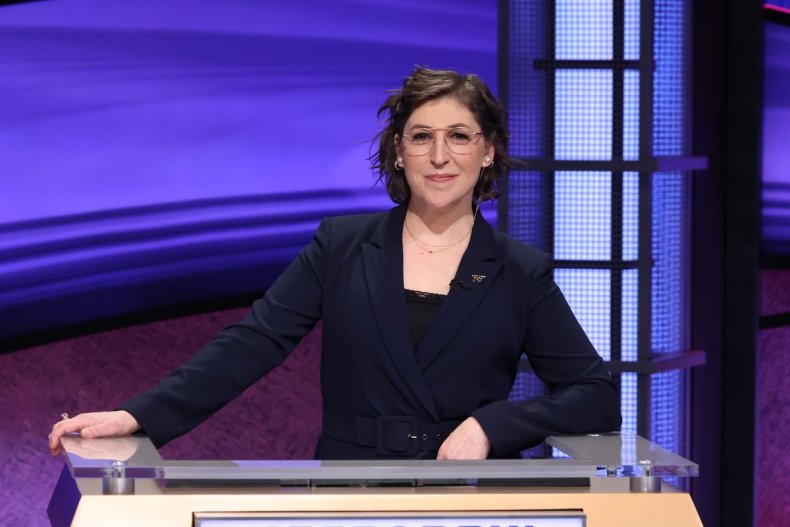 Jeff Jarvis, a former television critic and current journalism professor at the City University of New York, was one of many on Friday who felt Bialik should also be removed as a replacement for the late host Alex Trebek. He also echoed the sentiment felt by a huge sector of fans that actor/chilren's television host LeVar Burton should take over the position.
On Twitter, Jarvis wrote that Bialik "spreads vaccine doubt and hawks brain quackery. She is no representative for a show about facts and authority."
In 2012, Bialik wrote a book on parenting called Beyond the Sling. In it, she wrote, "We made an informed decision not to vaccinate our children, but this is a very personal decision that should be made only after sufficient research, which today is within reach of every parent who seeks to learn about their child's health regardless of their medical knowledge or educational status."
However, in October 2020, she said in a YouTube video she and her children would be receiving COVID-19 vaccines. She noted it was "very disturbing" for people not to get the COVID vaccine, though she still questioned the efficacy of all vaccines, claiming they're "never 100 percent effective."
Following the announcement she would be hosting Jeopardy!, her previous comments regarding vaccines were brought up. This led to her spokesperson releasing a statement to The Wrap that said Bialik "has been fully vaccinated for the COVID-19 virus and is not at all an anti-vaxxer."
Even still, she has not been able to shake the "anti-vaxxer" label, as noted by Twitter users today.
Another past controversy regarding Biliak deals with an opinion article she wrote for The New York Times in 2017 entitled Being a Feminist in Harvey Weinstein's World.
"I still make choices every day as a 41-year-old actress that I think of as self-protecting and wise," she wrote in the article. "I have decided that my sexual self is best reserved for private situations with those I am most intimate with. I dress modestly. I don't act flirtatiously with men as a policy."
Many people took offense to Bialik's article, calling it "victim blaming" in that it suggested women should dress a certain way to avoid provoking sexual misconduct.
"There is no way to avoid being the victim of assault by what you wear or the way you behave. I really do regret that this became what it became," Bialik said in a tweet days after social media users lambasted her for the article.
That article was being cited again on Twitter Friday in the wake of Richards' departure. Some commenters even suggested Bialik's actions, between the op-ed and vaccine comments, were worse than disparaging remarks made by Richards years ago.
While fans call on Bialik to step down, she and Jeopardy!'s producers Sony Pictures Television have made no indication she will be following Richards out the door. As for Richards' replacement, Sony has said it will continue on using guest hosts for the upcoming season.