Mayo Clinic Fires Employee With Suppressed Immune System for Not Getting Vaccine
A man with a suppressed immune system says he was denied a medical exemption and fired by the Mayo Clinic for not complying with its vaccine mandate.
Robert Kinney, 52, was diagnosed with multiple sclerosis in 2018 by a doctor in the health system.
Although he lives in Rochester, Minnesota, where the Mayo Clinic is based, he traveled to Northwestern University Hospital in Chicago after being accepted onto a clinic trial for a stem cell treatment to stop the disease rather than go on medication for the rest for his life.
After the treatment, his doctor told him to never get a vaccine or do anything that could compromise his immune system.
"Northwestern said do not ever get a vaccine or a tattoo or use IV drugs, don't do anything that is a manual manipulation to your immune system, because you have the immune system of a newborn right now," Kinney told Newsweek.
Mayo Clinic was aware of his medical situation when he was hired as a quality manager in June last year. A required blood test had revealed he didn't have any vaccines in his system, Kinney explained. "They hired me with that understanding and I'm a teleworker," he said.
So when the clinic announced later in 2021 that all employees would be required to get vaccinated against COVID-19, Kinney promptly filed a request for a medical exemption that was supported by his physician.
"My doctor wrote the appropriate letter. I submitted to Mayo Clinic occupational health," he said. "It was denied, so I appealed that. It was denied. So then I filed a religious exemption. That was denied, and I filed an appeal to that exemption. That was denied and it was denied again, so I was terminated as of Monday midnight."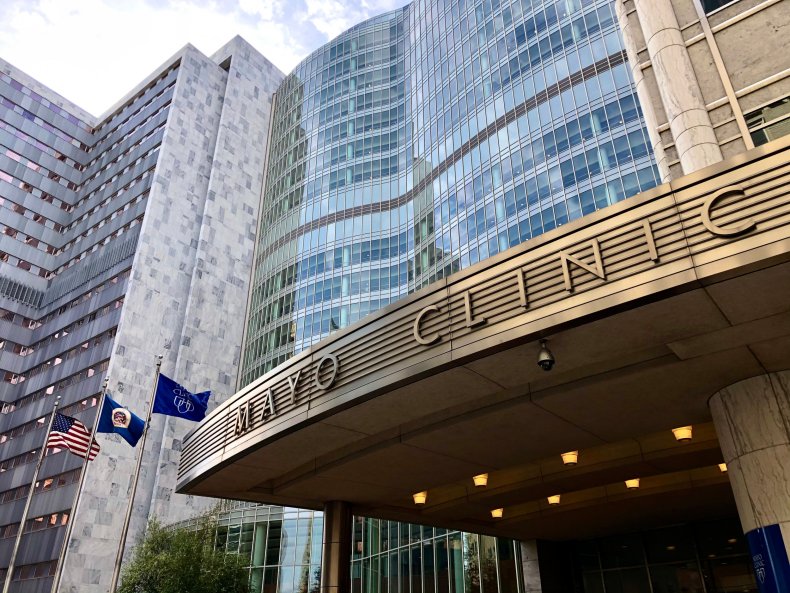 He was one of about 700 workers who lost their jobs for failing to comply with the health system's vaccine mandate.
Mayo Clinic said nearly 99 percent of staff across all locations either got vaccinated or were granted a medical or religious exemption.
"This means that approximately one percent of staff across all locations will be released from employment as a result of the required vaccination program," Mayo told the Star Tribune.
Employees had until Monday to get their first shot unless they had been given an exemption. Mayo told the newspaper that it had granted the majority of exemption requests.
But Kinney doesn't understand why his request was denied, especially as he has never interacted with patients in his role.
"The best haematologist in the world—he literally goes around and teaches other hospitals, how to do this—told me don't ever get a vaccine or a tattoo or anything that could tempt MS to come back into your system," he said.
"And here, Mayo Clinic fired me for not getting a vaccine. Meanwhile, it's okay that I don't have tetanus, rubella, mumps, measles. I don't have any vaccines at all in my system and they know that."
Going forward, Kinney is weighing whether to pursue legal action. But he said what he really wants is his job back.
"I feel actually very betrayed because Mayo Clinic, I was I was very proud to work there," he said. "And then I turn around and see that people are granted religious exemptions, and almost everyone got medical exemptions and I think of anyone on the planet, I should be the first person that's given an exemptions, but I was fired. And I can't figure out why."
He added: "It seems very unfortunate, very unfair. But I like my position, I like my coworkers and my supervisors. So at the end of the day, I would like to just have my job back."
Mayo Clinic has been contacted for comment.
According to the U.S. Centers for Disease Control and Prevention (CDC), most people with underlying medical conditions can get a COVID-19 vaccine including those with autoimmune conditions.
"People with autoimmune conditions were enrolled in COVID-19 vaccine clinical trials. Safety and efficacy of vaccines in this population were similar to the general population," the CDC says on its website.
"People with autoimmune conditions may receive any currently FDA-approved or FDA-authorized COVID-19 vaccine but, as with the general population, mRNA vaccines are preferred over the Janssen COVID-19 Vaccine."