New York Mayor Bill de Blasio Swears Homelessness Is on the Decline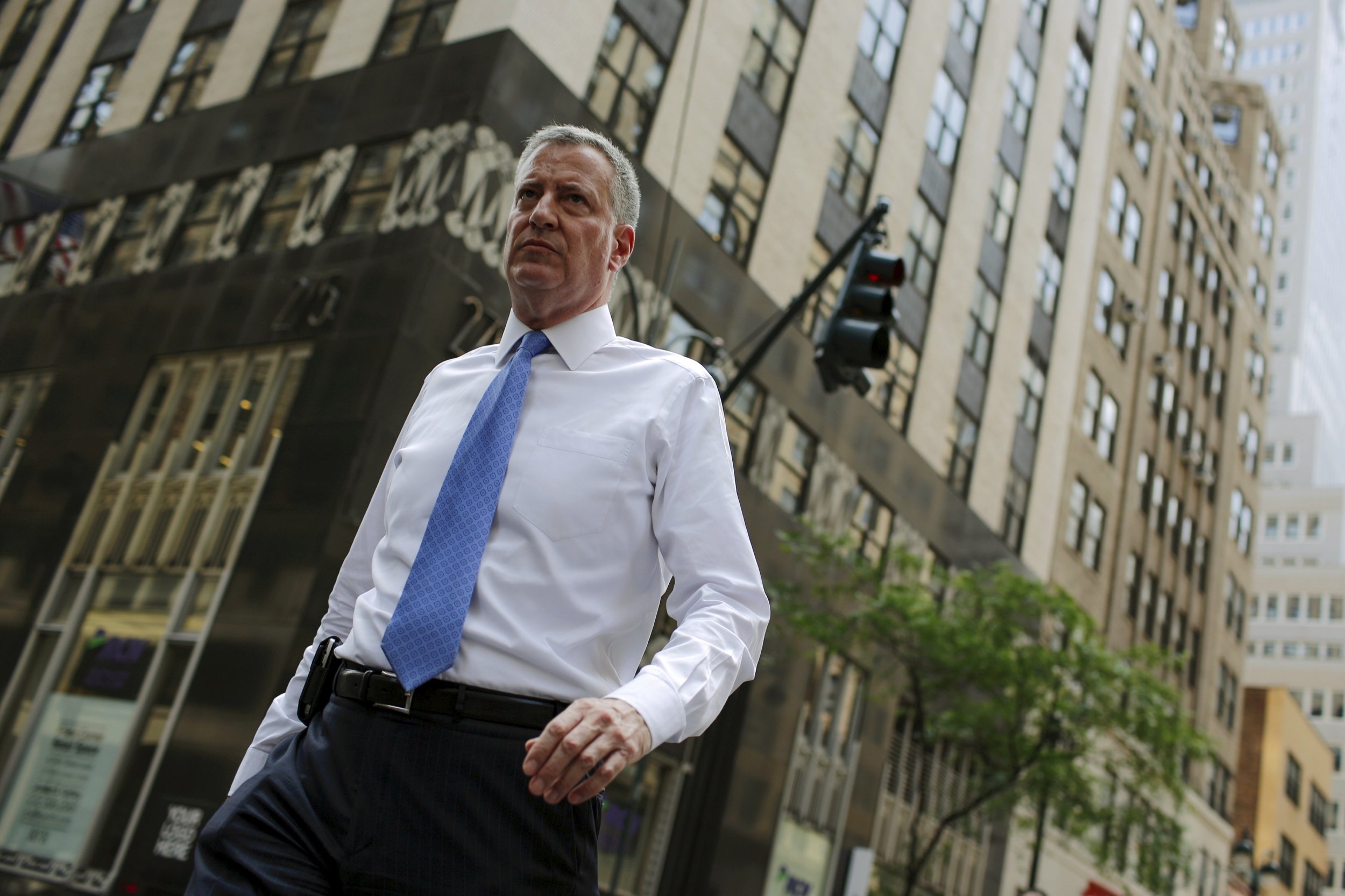 New York City Mayor Bill de Blasio is committed to helping Gotham's growing homeless population but will not "tolerate disorder" such as encampments, he said Tuesday on The Brian Lehrer Show.
The number of homeless-related 311 complaints has surged some 60 percent since de Blasio took office, Lehrer explained, referring to a recent DNAinfo New York report. De Blasio maintains the current homeless population is 56,000, down from a record high of 59,000 in December 2014. De Blasio's office maintains that his work has led to this decrease.
"Under Mayor de Blasio's leadership, homelessness is on the decline," said Karen Hinton, a de Blasio spokeswoman, according to DNAinfo. "Previous administrations drastically reduced the homeless budget and, as a result, the number of homeless jumped from 36,000 in 2005 to 59,000 in 2014."
People agree there's a problem, but they disagree on who needs help—homeless people who need shelter or people who claim the homeless are a nuisance—Lehrer said at the beginning of the segment. Lehrer asked the mayor how he could address the issue from both sides.
"Oh listen, I am very devoted to addressing issues of public order. That's why I believe in the broken windows strategy of policing. That's why I believe in addressing all quality-of-life offenses, whether they're committed by a homeless person or anyone else," de Blasio said.
"But at the same time, we're not going to tolerate disorder; we're not going to tolerate homeless encampments. I've been working very carefully with [New York Police Department Commissioner William Bratton] and his team on this."
De Blasio added: "Homeless encampments, which were tolerated for many, many years in this city, are not going to be tolerated. They will be taken down, but what we'll do is make sure that anyone who's homeless is given ample access to shelter, to drug treatment if they need it, to mental health services if they need it."
De Blasio also faulted former New York City Mayors Michael Bloomberg and Rudy Giuliani's policies for contributing to the problem.
"I think the previous [Bloomberg] administration made a huge policy mistake in 2011 ending the one subsidy program that worked, and it led to a great increase in our shelter population," de Blasio said. "I think the previous administration, the Giuliani administration obviously, sent a very negative message about the homeless, and that is not constructive."
Lehrer played a clip of Giuliani, in which he recently said of the homeless: "You chase 'em, and you chase 'em, and you chase 'em, and you chase 'em—and they either get the treatment that they need, or you chase 'em out of the city."
De Blasio's appearance on the show follows the recent resignation of Deputy Mayor for Health and Human Services Lilliam Barrios-Paoli, who supervised New York City's fight against homelessness. She is leaving her position at the end of September, the mayor's office said Monday night, and will serve as chairwoman of the board of the Health and Hospitals Corporation.
Asked whether Barrios-Paoli's resignation was "because you need new leadership at the top on homelessness" de Blasio said: "I think Lilliam did a great job, and I've known her for many, many years, and I had a lot of faith when I made the decision that she was the right person for the job, and I think she followed through."
De Blasio recently green-lighted emergency rent assistance to those at risk of homelessness,The New York Times reported.