New York City Mayor Bill de Blasio Booed at Columbus Day Parade for Attacking the Italian-American Conquerer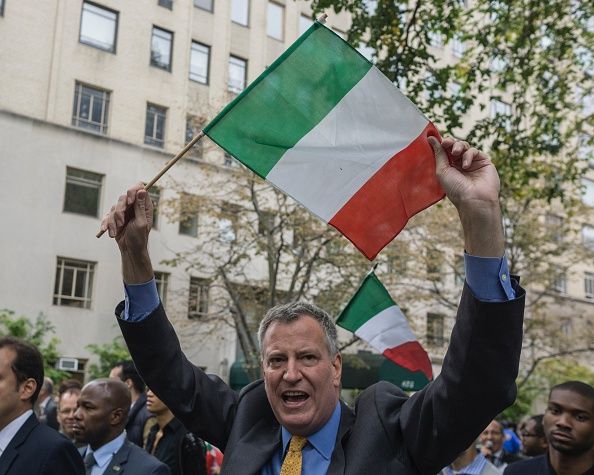 New York City Mayor Bill de Blasio was booed lustfully by crowds at the city's annual Columbus Day Parade—a response to the mayor's creation of a commission to study monuments like the towering Christopher Columbus statue near Central Park to determine which ones are "symbols of hate."
Rain didn't dampen the protesters' fury at de Blasio as he marched in the Fifth Avenue procession, hearing catcalls from the crowd despite his own Italian-American heritage on his mother's side. As part of a national conversation on offensive monuments such as Confederate statues, de Blasio created the commission in September to assess which New York monuments should be removed.
Sure, the Italian explorer is now seen by historians as a conqueror whose arrival in the Bahamas in 1492 led to the death and relocation of millions of indigenous peoples, but the statue had one prominent defender on Monday.
"I'm proud of our Italian people sticking up for Columbus," Timothy Cardinal Dolan told ABC7 earlier. "He's a great hero. Is he flawless? No. But I don't know of too many flawless people around."
Italian-Americans boycotted a pre-parade reception at the mayoral mansion last week. Columbus supporters are demanding that de Blasio remove Columbus from his commission's 90-day review.
Of course, not everyone likes Columbus as a symbol of our nation. After two incidents of vandalism, the New York Police Department placed the statue under 24/7 surveillance to protect the marble monument from vandalism ahead of Monday's holiday and parade. That level of around-the-clock security is typically reserved for only bona fide city landmarks or terror targets such as the Brooklyn Bridge, the Israeli mission to the U.N., Times Square and the mayor himself.
But the mayor's commission will have its clipboards filled. New York isn't filled with Confederate imagery, but everywhere you look, there are monuments that once were uplifting, but now seem abhorrent. A statue of Ulysses S. Grant can remind some of a great war hero who wrote one of the greatest presidential memoirs of all time. But it can also remind some of a Civil War leader who barred Jews from living in three states.
And de Blasio himself has said he hopes the commission will heave a brass plaque commemorating French Nazi collaborator Philippe Pétain.
De Blasio has long publicized his Italian-American roots and the discrimination that some of his family members received because of their heritage. But he hasn't said what he'll do about Columbus, arguably his homeland's central contribution to American life.
"I'm proud of my heritage [and] that's all I care about," de Blasio told members of the news media after the parade on Monday. "I don't care about the critics."