With a Mayor De Blasio, Fate of Charter Schools in Limbo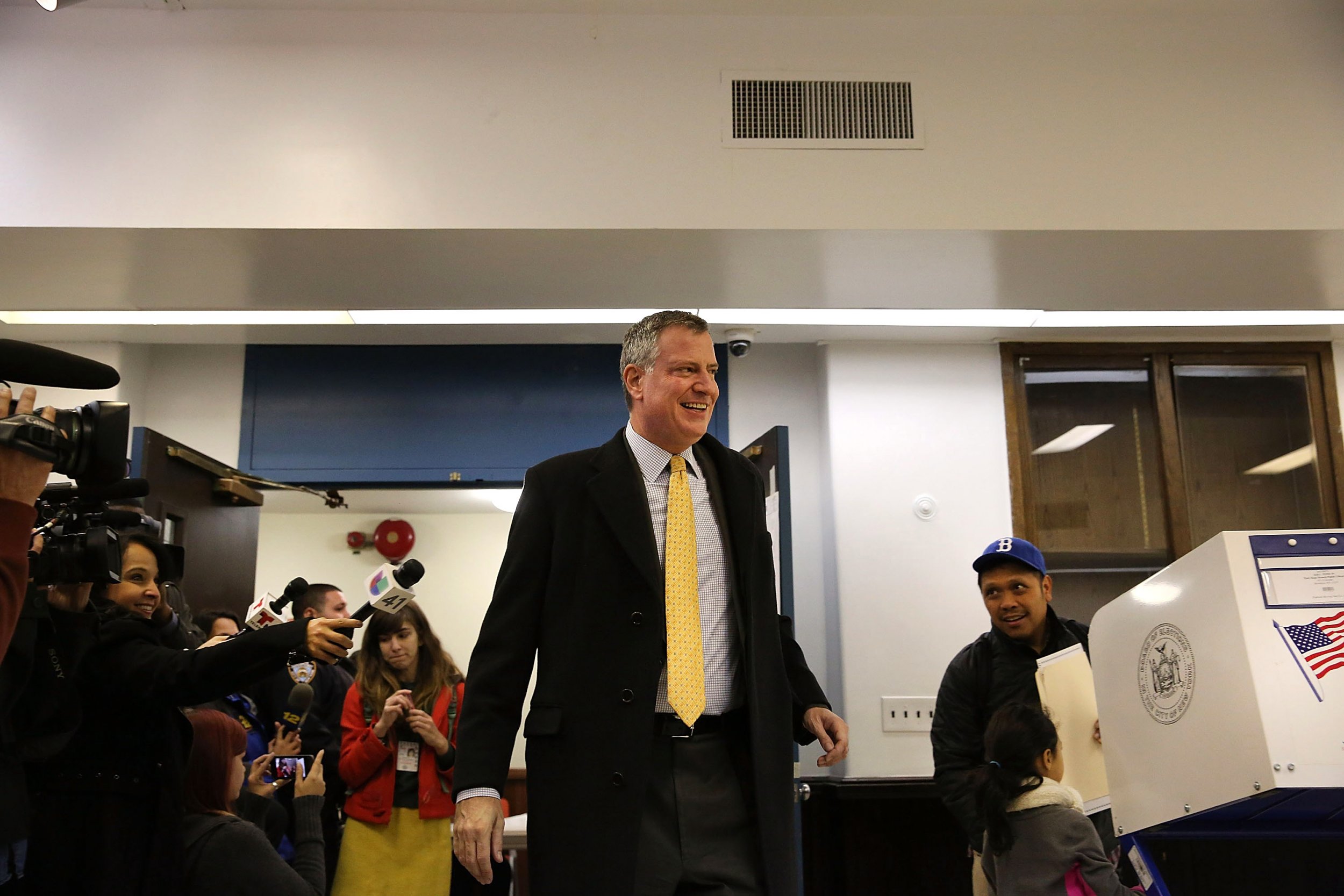 As New York City stands poised to elect its first non-Bloomberg mayor since 2001, the impact of a probable Bill de Blasio administration has put the future of charter schools in question. De Blasio, expected to take office 11 years after Mayor Bloomberg's takeover of NYC public schools in 2002, has publicly skewered charter schools, a hallmark element of Mayor Mike's sometimes controversial education policies.
"We don't need new charters," de Blasio said at a forum in May, echoing his many public proclamations that the city shouldn't welcome charter alternatives to traditional public schools.
An about-face from Bloomberg's pro-charter regime could constitute more than educational upheaval in Gotham, which boasts the nation's largest school system with some 1,700 schools and 1.1 million students: It could also mark a seismic shift in the national conversation about charters.
"Other mayors have always looked to what the mayor of New York City does," Nina Rees, president and CEO of the National Alliance for Public Charter Schools, tells Newsweek. "Everyone who is interested in education reform is looking at New York City."
For fans of charter schools, that view has been pleasant under the Bloomberg administration, during which the number of charters shot from 17 to 183, many of which also benefited from free space in public school buildings. Such measures made New York attractive to "high-performing" schools, Rees says, and provided a "model for other cities to emulate."
Deborah Kenny, founder and CEO of Harlem Village Academies, a prominent charter network of five schools, agrees that what happens in Gracie Mansion does not stay in Gracie Mansion. She expects educational policy to follow the same trajectory of other NYC-pioneered directives, like the smoking ban at bars and restaurants, which has been adopted in some 500 municipalities nationwide.
The rest of the country, Kenny says, is particularly interested in the future relationship between charters and district schools in New York – many of which are co-located, meaning they share a building. She hopes for cooperation, saying that both charters and non-charter district schools fill different, yet equally important, niches.
"Parents are getting tired of the education wars," she tells Newsweek. "It does not need to be a fight. Both are needed."
But charter school advocates are right to be worried. De Blasio hasn't just said the city already has enough charters; he says he would rather spend the city's cash on fixing "traditional" public schools and improving health care and social services.
Moreover, de Blasio is keen on charging charter schools rent for space inside public school buildings (they currently use this space for free). He has said that the failure to do so adds "insult to injury."
Thousands of charter backers marched across the Brooklyn Bridge earlier this month to protest de Blasio's education policies.
De Blasio's competitor, Republican Joe Lhota, stands in stark contrast on the subject of charters, promising to increase by 200 percent the number of them in the city, maybe even by using closed Catholic school campuses. But polls predict the former MTA chief won't win the election, which means de Blasio's policies are poised to become the law of the land.
While charter schools have some powerful friends in the Democratic party—including Barack Obama and Chicago mayor Rahm Emanuel—not everyone sees the potential for scrutiny as a bad thing.
"There's been a kind of wholehearted embracing of charter schools without any acknowledgement of flaws and drawbacks." Pedro Noguera, New York University professor of education, tells Newsweek. "There's not enough transparency."
Noguera hopes that the charter school conversation does not continue to dominate the educational dialogue in New York City and, as such, the rest of the U.S. But de Blasio's opposition to charters could still rekindle calls for accountability, which have long gone unheard with presidential and widespread mayoral support.
"There are so many other issues involving public schools in New York that need attention," Noguera says. "We don't know enough about what the next mayor will do to solve these problems."