Mayor de Blasio to Meet With NYPD Unions After Back-Turning Protests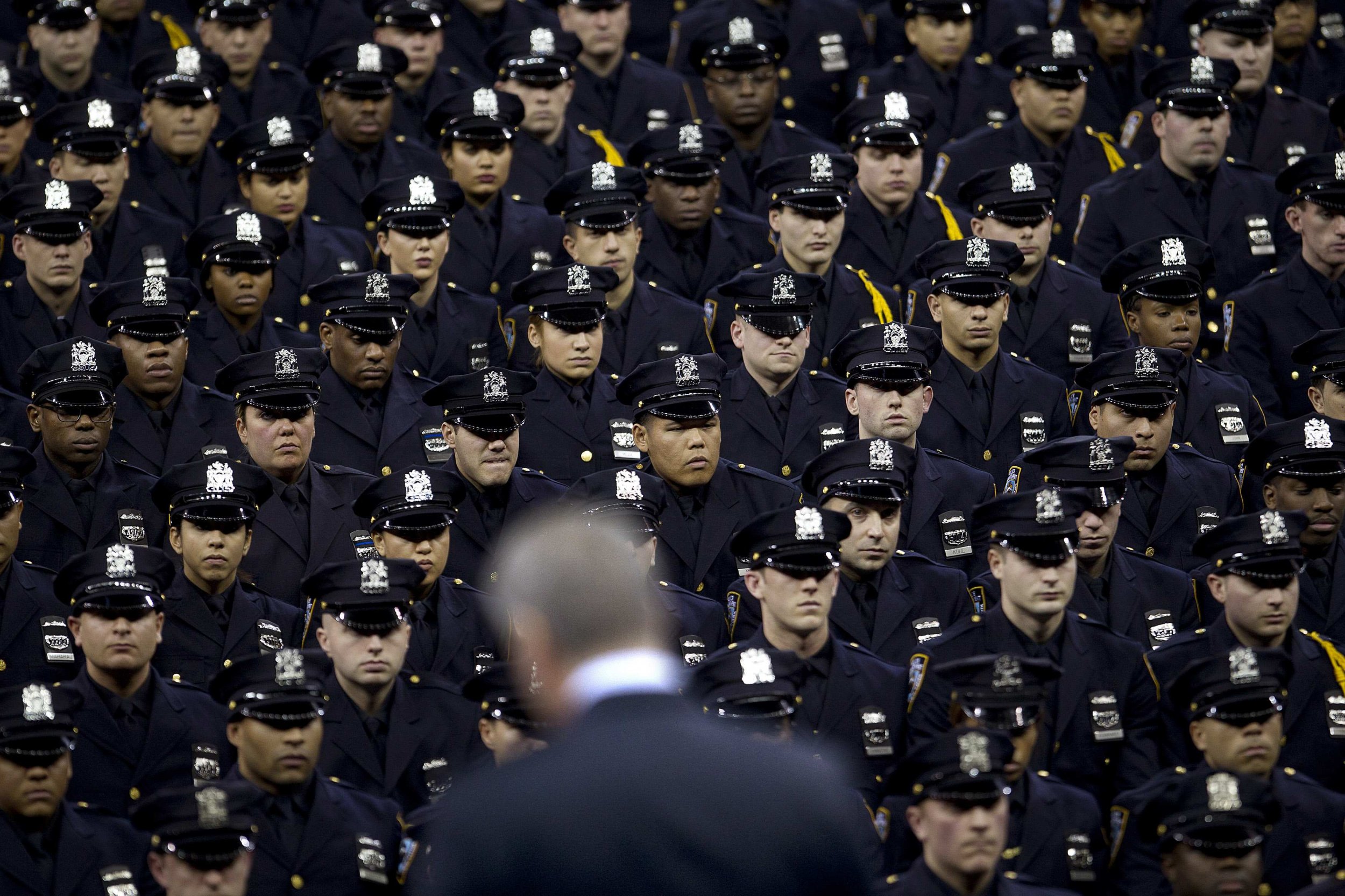 NEW YORK (Reuters) - New York City Mayor Bill de Blasio was to meet on Tuesday with the leaders of police unions who accused him of having blood on his hands after two policemen were shot dead in an ambush 10 days ago.
De Blasio, whose turbulent relationship with his police department has become the gravest crisis of his year-old mayoralty, called the meeting to "foster constructive and responsible dialogue," his press secretary, Phil Walzak, wrote in an e-mail.
The mayor has angered police by saying he understands some of the concerns of protesters who have vilified the police as being hostile to black citizens at rallies in New York City and beyond.
An unarmed black man was killed in July by New York police using a banned chokehold on him as they tried to arrest him for selling loose cigarettes.
The mayor has said he is seeking a greater understanding between the city's police and its citizens.
Some police officers have taken to turning their backs to the mayor at public events in unusual displays of hostility since the deaths of two policemen at the hands of a black man.
Police union leaders were outraged by de Blasio's remarks that he has frequently warned his mixed-race, teenage son about the "dangers he may face" in police encounters.
Frayed relations reached their lowest ebb on Saturday, Dec. 27, when a man fatally shot two policemen as they sat in their patrol car in Brooklyn. The shooter wrote online that he wanted to kill police officers as retribution for the deaths of unarmed black men by police, and killed himself soon after the attack.
That evening, the city's Patrolmen's Benevolent Association, the nation's largest police union, and the Sergeants Benevolent Association said de Blasio had "blood on his hands" for the deaths of Wenjian Liu and Rafael Ramos, the slain policemen.
Police Commissioner William Bratton, who was to join Tuesday's meeting, has said talks were needed to mend deeply frayed relations between police and City Hall.
Patrick Lynch, the PBA's president, was attending with "an open mind", his spokesman said. "We didn't set the agenda," said Albert O'Leary.
The mayor has declined to take questions from reporters for more than a week while, his office says, he focuses on trying to "bring our city together."
"This is where all of our attention needs to be in this time of tragedy," Walzak, the mayor's press secretary, wrote in the e-mail.