Mayor de Blasio Says He Would Veto a Ban on Police Chokeholds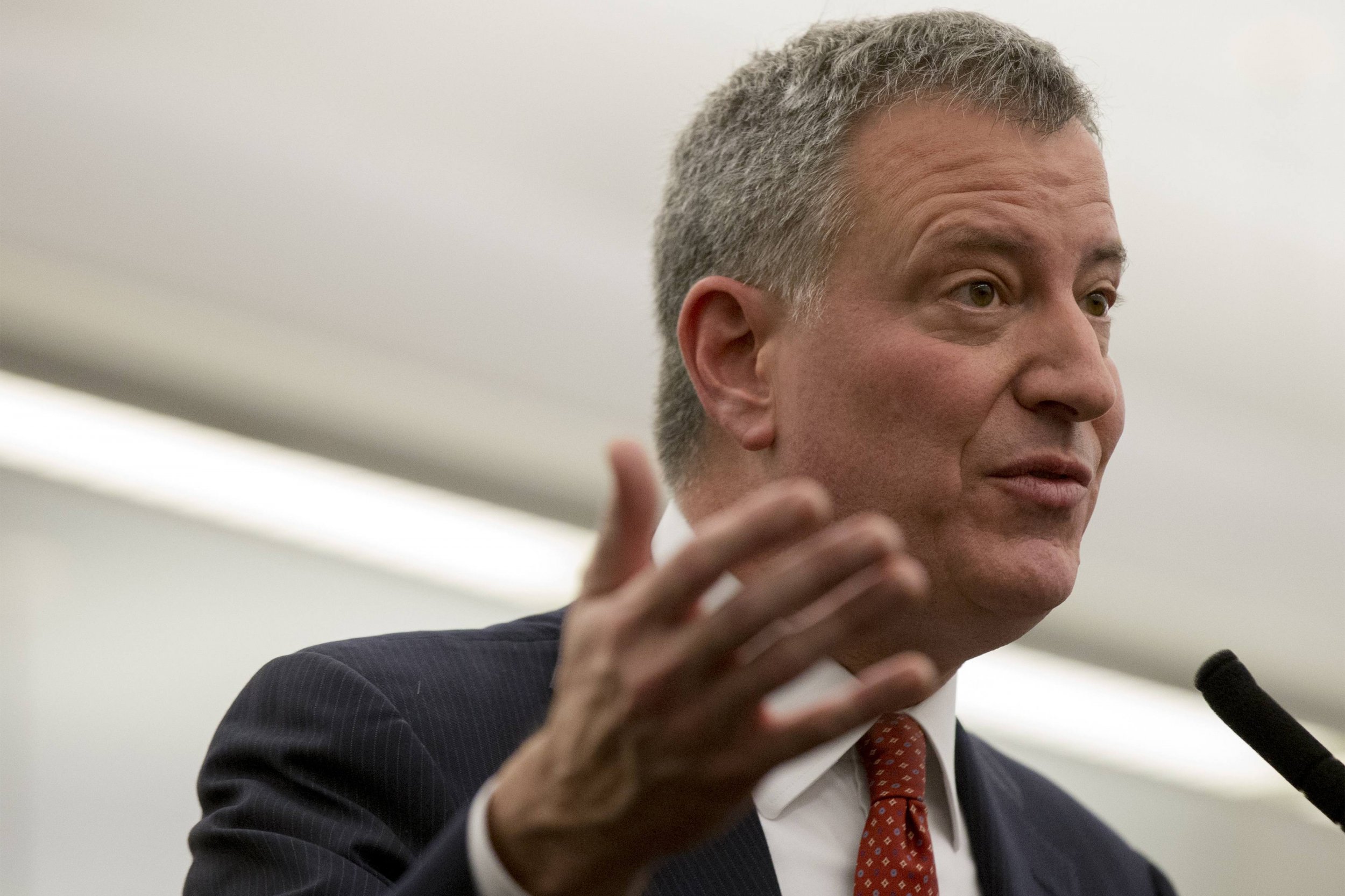 NEW YORK (Reuters) - New York City Mayor Bill de Blasio said on Wednesday he would veto a bill by city lawmakers that would make it illegal for a police officer to put a person in a chokehold during an arrest.
The maneuver, which has come under intense scrutiny since an unarmed New Yorker died last July after a policeman gripped him around the neck, already is banned under the police department's internal rules.
De Blasio said ensuring officers follow those rules was sufficient, while still allowing for "exceptional" instances where the hold could be justified.
"One officer and one perpetrator in a death struggle - in that instance the officer has the right to use any and all tools he can to save his life," de Blasio said when asked about the bill during an unrelated news conference. "I'm not going to agree to a situation where an officer is in that life-and-death struggle, thank God survives, and then faces criminal charges. That's unacceptable."
The proposed law would make a chokehold during an arrest punishable by up to a year in prison or a fine of $2,500.
Stephen Davis, the police department's chief spokesman, has said that other wrestling-style holds the city teaches police can sometimes inadvertently slip into a chokehold during an unpredictable street struggle.
The council's bill was prompted by the death of unarmed Eric Garner, 43, who was killed by Officer Daniel Pantaleo compressing his neck while arresting him for selling loose cigarettes on a sidewalk. A grand jury voted against indicting Pantaleo.
The mayor's support for protesters angered by Garner's death has lead to an acrimonious rift with police that he has struggled to heal.
Louis Turco, president of the city's Lieutenants Benevolent Association, said in an interview he welcomed the mayor's veto promise as an encouraging step.
Rory Lancman, a Democratic co-author of the bill, said Garner's death and other instances of chokeholds showed the department had failed to eradicate the practice.
"In many circumstances it's not a maneuver of last resort," Lancman said in an interview. "It's the first technique that they applied."
Asked about the mayor's "death struggle" objection, Lancman said an officer in that scenario probably would not even be indicted because state law allowed a self-defense justification.
No date for a vote on the bill has been set. The council can override a mayor's veto if two-thirds of its members vote to do so.