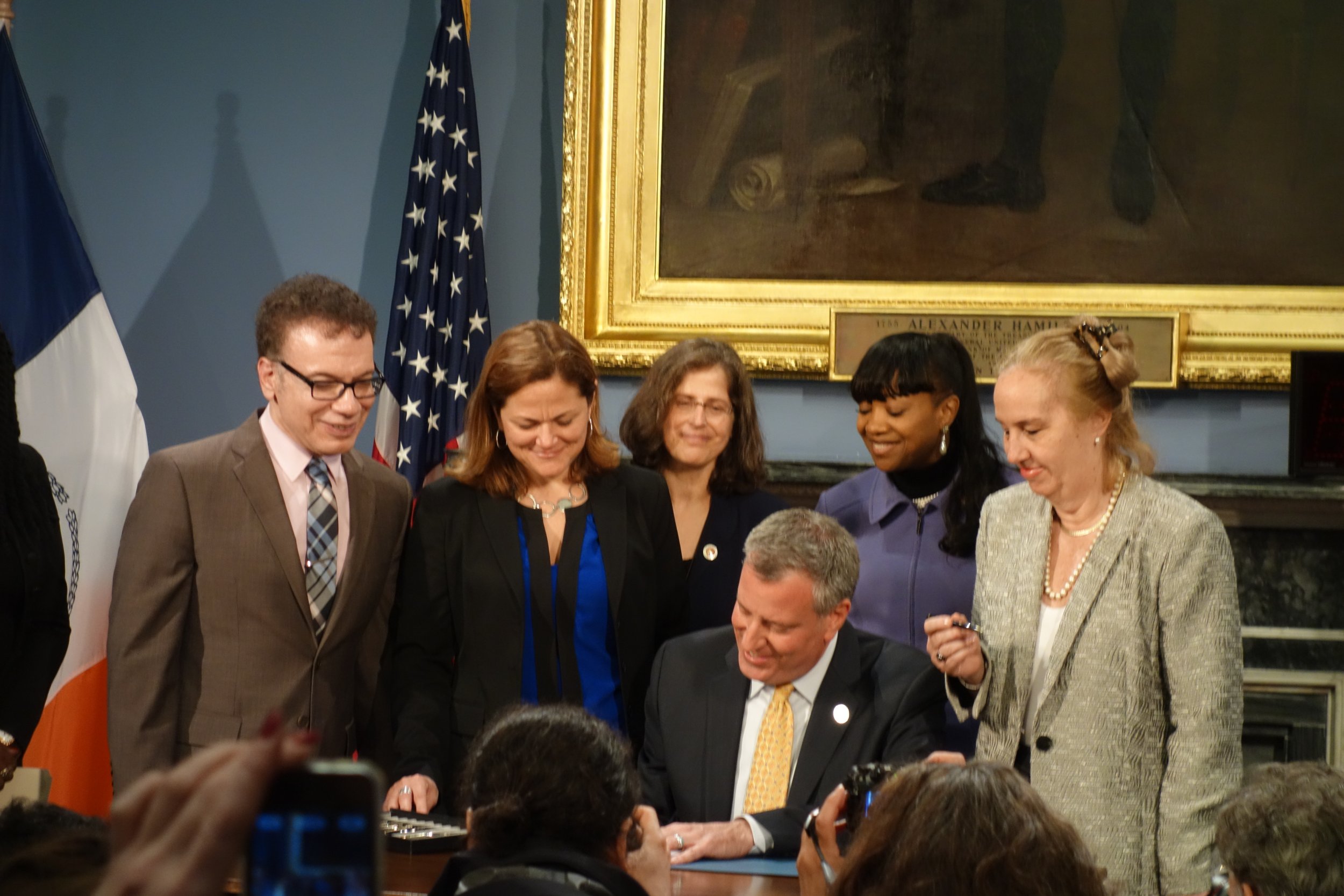 Mayor Bill de Blasio signed a bill protecting unpaid interns against sexual harassment and workplace discrimination at New York City Hall on Tuesday afternoon.
"New York City is fortunate to have one of the most expansive human rights laws in the nation," the mayor said as he prepared to sign the legislation in the Blue Room. "More work, nevertheless, is needed to ensure that New Yorkers are fully protected from discrimination. This legislation will clarify that interns, paid or unpaid, are guaranteed the full protections guaranteed to employees under the human rights law."
He was accompanied by Bronx councilman James Vacca, who sponsored the bill; Manhattan Borough President Gale A. Brewer, who worked with Vacca on it; City Council Speaker Melissa Mark-Viverito; and Human Rights Commissioner Patricia L. Gatling, all of whom made brief remarks in support of the law. A group of city hall interns also posed with the mayor during the signing.
"The notion that someone would be an intern in the private sector and not have this support is outrageous," Brewer stated.
The bill is just the third piece of legislation de Blasio has signed since taking office. It was largely spurred by the case of Lihuan Wang, a former unpaid intern for Phoenix Satellite Television who sued after allegedly being harassed by her supervisor. The case was thrown out by Judge Kevin Castel, who found that as an unpaid worker she did not qualify as an employee.
At the signing, Vacca read from an email Wang had sent him thanking him for his efforts to close the loophole.
Wang told Newsweek last month that her unsuccessful suit was "an unexpected victory." It brought public attention to unpaid interns' precarious legal standing amidst a flurry of other activist efforts—and lawsuits—that have primarily focused on the fight for fair compensation.
But several activists at the bill-signing argued that the legislation doesn't go far enough in its protections. It requires an internship to fit Labor Department guidelines in order to qualify for legal protections.
Most internships in the city do not conform to those legal criteria, members of the group Intern Labor Rights argued. The legislation would force interns to prove the legitimacy of their programs if they are alleging harassment.
"We feel that this will largely exclude large numbers of precarious workers not otherwise covered by the law," Dedunu Suraweera, a former unpaid intern and organizer with the group, testified. "Additionally, it would further reinforce the perceived legitimacy of unpaid internships—especially in the for-profit sector, which are in violation of state and federal labor laws."
Greg Riestenberg, a fellow member of the group, urged the mayor to reject the bill and revise the language.
De Blasio did not acknowledge those criticisms as he signed the legislation, which takes effect in June.